Archivo
New Stuff
[hide]
Photos of the Day
[hide]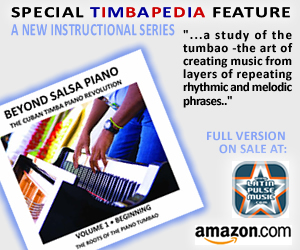 Pa' Ponerte en Talla
New Cuban Music Videos & Updates - 2012, Feb 6
New HDP - Sara González R.I.P. - Island of Music Documentary - Charanga w/ Yulién
The latest Alexander Abreu & Havana D' Primera video features dance guru Maykel Fonts and the London-based Key2Cuba dancers. This video is dedicated to, and in memory of the writer, Simon Gavron and directed by Kerry Ribchester. The video tells the story of two Cuban boys who grow up in the same barrio fighting and enacting an 'Eye for and eye, tooth for a tooth ' mentality with each other until Alexander Abreu shares with them his philosophy of rising above injustice with elegance.
Nueva Trova Icon Sara González has died - Singer-songwriter Sara Gonzalez, one of the original voices of the New Cuban Song Movement, has died in Havana, official media reported. She was 60. Gonzalez produced music for film, television and radio as well as her solo albums, and she also participated in several album collections. She studied guitar and viola and began her professional career in the early 1970s as a member of the musical group Los Dimos and in an occasional duo with singer-songwriter Pedro Luis Ferrer. During the course of her career, Gonzalez shared the stage with artists such as Joan Manuel Serrat, Mercedes Sosa and Pete Seeger, among others. source
New Cuban music documentary "Cuba: Island of Music" - , Filmmaker Gary Keys' tribute to Afro-Cuban jazz, the film is a behind-the-scenes look at music's role in the daily life of Cubans. Filmmaker Gary Keys (Memories of Duke and Dizzy's Dream Band) brings the audience into the heart and soul of Havana, through a vibrant mosaic of street musicians, big bands, dancers, religious rituals, and classic cars. Keys shows us Afro-Cuban music in New York City, with the music and commentary of jazz legends Billy Taylor, Candido Camero, and Chico OFarrill. See the full 1:17 minute film here.
New timbatón video: Vampira Malvada Charanga Habanera feat Yulién Oviedo - courtesy of our Italian reporter extraordinaire Cuba Soy Yo.
continue reading Pa' Ponerte en Talla