Archivo
Lo Nuevo
[hide]
Fotos Del Día
[hide]
Pa' Ponerte en Talla
viernes, 13 enero 2012, 01:05 pm
Upgrade your salsa band to TIMBA! - No more excuses
Beyond Salsa for Ensemble Vol.1 Released
Includes full sheet music for Pupy's El Buenagente (2005 Pepito Gómez version)
Upgrade your salsa band to TIMBA! The motherlode has finally arrived. It is now impossible to argue against this instructional behemoth. "Well I love it and I can play in that style, but of the band doesn't, so I can't do my thing .... We can't get charts for the songs we like ... The charts are always wrong and incomplete". NO MORE EXCUSES. 365 pages and 465 audio tracks (753 MB) later, INCLUDING the full sheet music transcription for César Pupy Pedroso y los que Son Son's EL BUENA GENTE (2005 version w/ Pepito Gómez), Beyond Salsa for Ensemble is HERE !
Immediately download the FREE, 46 page sample PDF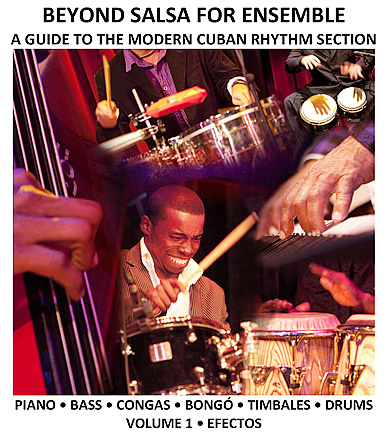 order the hard copy book order the eBook & audio (sold separately)
Once you taste TIMBA you can ask for the salsa on the side. Beyond Salsa for Ensemble Volume 1 is now THE STANDARD for instruction of modern tropical dance music styles. This new series is designed to teach modern Cuban rhythm section techniques to college and high school bands, and working professional bands. Each volume contains extensive exercises that systemically teach each of timba's many rhythmic and formal innovations and each contains a full chart of an important timba hit, ready to play at concerts and gigs.
The most frequent question I've heard people ask about Cuban music is: "What's the difference between timba and salsa? "
There are many answers to this question, most of them having to do with lyrics, dancing, melody and chord progressions, but if we limit ourselves strictly to the percussion instruments and the rhythms played by the bass and piano, there are still many key differences and that's what these books are about. read the full details >>>
---
BEYOND SALSA for ENSEMBLE Volume 1
COMPLETE AUDIO TRACK LIST (465 tracks - 753 MB)
4 piano training tumbaos in 2-3 & 3-2 fast & slow
2 traditional salsa marcha arriba in 2-3 & 3-2
2 piano & bass (tumbao) tracks for El BuenaGente
2 piano & bass (complete) tracks for El BuenaGente
10 coro harmony training tracks for El BuenaGente
24 marcha arriba training tracks fast & slow
70 efecto bongó tracks 2-3 & 3-2 fast & slow
70 efecto conga tracks 2-3 & 3-2 fast & slow
70 efecto timbales tracks 2-3 & 3-2 fast & slow
70 efecto drums tracks 2-3 & 3-2 fast & slow
70 efecto bass tracks 2-3 & 3-2 fast & slow
70 efecto no piano tracks 2-3 & 3-2 fast & slow
continue reading Pa' Ponerte en Talla