Archivo
New Stuff
[hide]
Photos of the Day
[hide]
Pa' Ponerte en Talla
Calle Real in Japan - Isla de Salsa Festival
by Patricio Sobrado (tres & director of Calle Real)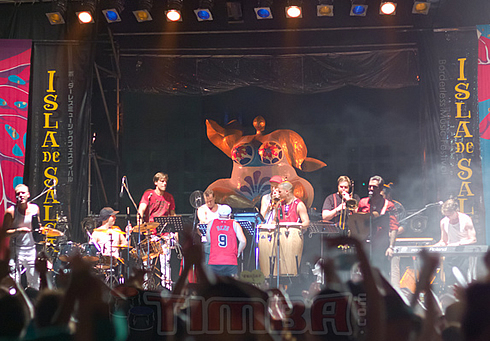 view the complete photo gallery here
fotos cortesía de Peter Cheyne y Patricio Sobrado
In the first weeks of August 2011, Calle Real was invited to play in Japan on a tour named Vivela Salsa tour 2011 = http://www.vivela.jp/2011/info_en.html
Since I moved to Santiago, Chile in 2010, I had played with the band in Israel in April 2011, and now I looked forward to meet the boys again for a 10 days tour in Japan.
I had a vague idea of what Japan was! But mostly from movies and design, a modern high-tech society on top of a disciplined aged culture with a passion for rituals. It pretty much summed my impression of Japan before the tour.
Visiting Japan with Calle Real, it did not change my generalized view of Japan in its essence, but it made me view it from the inside and added soul and flesh to the picture already in place. But to be honest, Japan vastly exceeded my expectations!
I had the wrong impression that the disciplined part of the culture would not let the Japanese people enjoy themselves unless very rigid conditions were fulfilled. And I was astonished by the vivid and joyful spirit of the salseros and timberos from Japan when partying, listening or actively receiving our music into their hearts, or when showing us appreciation as the dedicated fans they were.

I got enchanted by the details of the rituals in normal Japanese life. When waiting for the elevator as an example.

Everybody entering an elevator respectfully agrees with their eyes communication and body language who is going to enter first, the children, followed by the women and the man last of course, and if you are already are in the elevator, the entering people do nicely great you. This is different from many other cultures where entering the elevator is almost a race. read more...
continue reading Pa' Ponerte en Talla