Festival Latino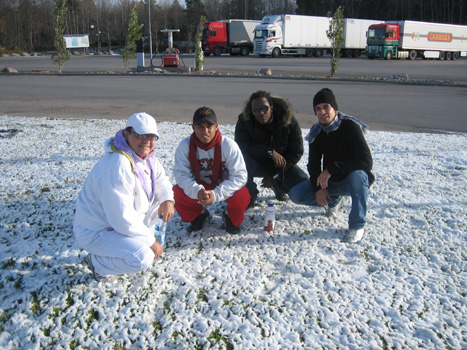 Los Mayores experiencing snow for the first time
Osvaldo, Raydel, Antonio and El Noro
The guys got to bed around 04:00 and wake-up call was at 07:00. This foreshadowed the rest of the tour, which was really tough with very few nights where they could sleep for more than a couple hours before moving on to the next city. But hey, they're young and energetic, and, in fact, they were pretty excited to see the thin blanket of snow that had fallen in Sweden the night before.
The trip to Denmark was uneventful and we arrived at Amager Bio at about 16:00 (that's 4pm to those of you in El Yuma). The guys were amazed at how dark it gets early in the evening. They were also amazed to see ice in the streets. Click on the image of the poster below to watch the arrival of Los Mayores in Copenhagen and for a few words from Maykel.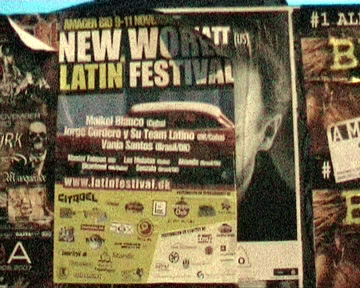 Maykel y Los Mayores llegando a Dinamarca para la prueba de sonido
The soundcheck was kind of cool, not only the icy temperature in the venue, but also because the guys worked on No pido tanto (Marisela) a little bit and Cimarrón. When it was time for a little audience participation, Maykel himself took over the mic talking and singing to demonstrate something to Ricardito. It was interesting to see Maykel as a singer rather than corista.
The concert in Denmark was the annual New World Latin Festival and there was more to the program than headliners Salsa Mayor. The opening band, Jorge Cordero y Su Team Latino, was more salsa than timba but featured Pepe Espinoza on bongo. Some of the guys didn't recognize him and were commenting, "Man, that bongocero is really good!". After Jorge Cordero, there was a DJ and then two dance shows featuring some lovely, all-girl dance groups.
While the band waited to go on, I reminded Maykel of his promise that he would dance for Timba.com. So he good-naturedly decided to dance a few steps in front of the camera. I suppose he just wanted to get me off his back. Click on the image below to see Maykel Blanco tirando un pasillo.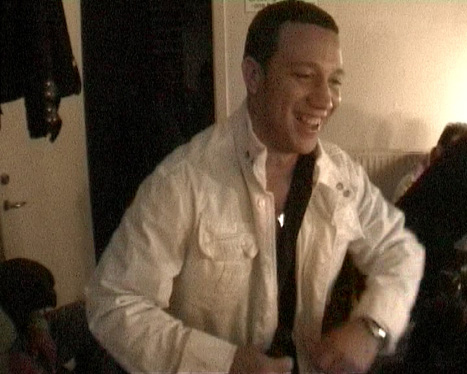 Maykel tirando un pasillo para timba.com

Salsa Mayor at Amager Bio in Copenhagen
Finally it was time for the main event and Salsa Mayor took the stage with their Intro/Anda pégate. I'm pretty sure I've said it before and I'm going to say it again: what's with the smoke machines? Look at that picture (above)! When they get the smoke machines going it obscures the stage and makes for poor photo and film opportunities. I've even see it get so bad that they guys on stage can hardly see anything at all. I mean, if it is illegal to smoke cigarettes in a venue, then smoke machines should also be banned. OK, I've said my piece
This night Maykel followed Anda pégate with Recoge y vete and then Cimarrón. Common wisdom says that Danes are more cosmopolitan than Swedes, but they actually seemed shyer this night. Most of the time they kept a respectful distance from the stage, and when Norberto invited ladies up to dance onstage during Ella dice, he really had to coax. In the end only one Cubana took him up on it.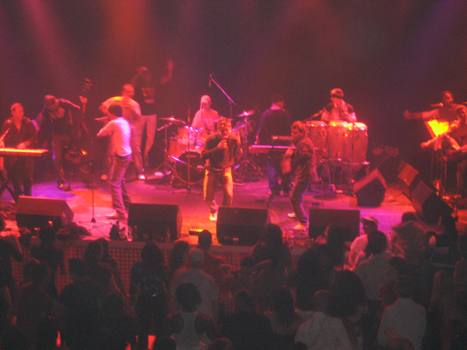 After Ella dice they performed a 12 minute version of Control and towards the end of this song, Pepe Espinoza came out and quietly took over the congas. I say quietly, not because you didn't notice that he was playing, but because he just played along with the band rather than doing any solos.
The playlist was pretty much the same as in Stockholm except for the order of the songs. they did Lo bello por dentro and ended with La masa during which the ladies in the audience kept insisting that they were not tembas but rather niñas.
What had seemed like a shy and mild mannered audience made their feelings known when Salsa Mayor left the stage. They clapped and chanted "otra" and stomped on the wooden floor until the guys came back. They performed Esto está as the encore and Pepe once again took over on congas for a few minutes. Again it looked like the DJ was motioning them off the stage so Maykel started up the "Se va, se va" coro " while El Noro improvised a bit.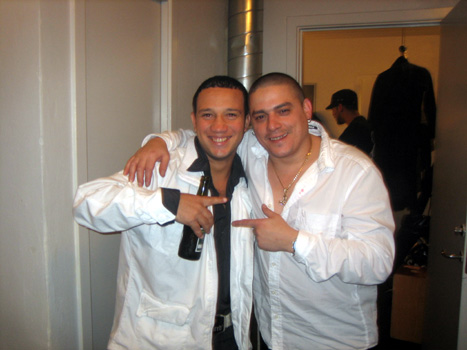 Maykel & Pepe after the concert
After the concert we spent some time backstage trying to be sure that no Carlsberg was left in the refrigerator before returning to the hotel at about 03:00.
viernes, 24 mayo 2019, 03:58 pm