New Stuff
[hide]
Photos of the Day
[hide]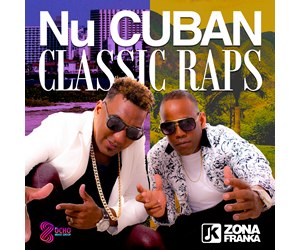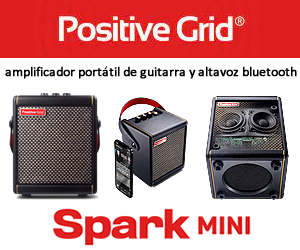 Concert Reports - 2006-01 - Stockholm
La Charanga Que Te Encanta
Stockholm 2006-01-27
by Michelle White ©Timba.com 2006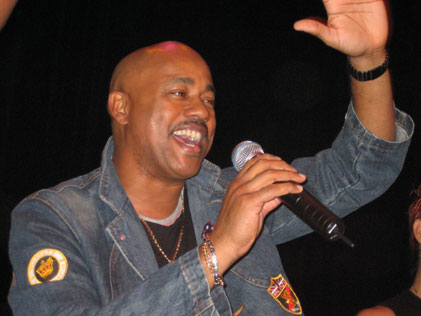 David Calzado - El Charanguero Mayor
Introduction
The last time I saw David Calzado y su Charanga Habanera live, they were riding the crest of the wave of popularity that followed the release of the CD Soy Cubano Soy Popular. While la Charanga Habanera has been one of the leading timba bands since Calzado and his fellow musicians turned their talents from traditional Cuban music to timba, Soy Cubano Soy Popular was their most successful album to date in terms of record sales, and their fan base was larger than ever. With the talented and charismatic front line of Aned Mota, Leonid Torres, Ebblis "El Boni" Valdivia and Noel Díaz backed by some of the absolute best young musicians in Cuba, the band seemed unstoppable.
And then Ebblis Valdivia and percussion prodigy Yulién Oviedo decided to leave the band to pursue their own projects. Fans wondered if Calzado would be able to find replacements for these two well-loved band members. Would the band ever be the same without them?
But this is hardly the first time David has faced changes in the line-up. Following the now legendary "Suspension Concert" he had to replace the entire band when Danny Lozada and Juan Carlos Gonzáles left to form Danny Lozada y Su Timba Cubana, and shortly thereafter everyone else left to form Charanga Forever, with the exception of Michel Maza who remained with Calzado for a while before also joining La Forever. There was a period of uncertainty which we refer to as the charanga wars, or, if you don't mind bad puns, the "charanguerras", when both groups wrote songs dissing each other and staking the claim of being the "real" charanga. But when the dust settled, David Calzado was still El Charanguero Mayor and his new group was loved both on and off the island.
This time Calzado found replacements for El Boni and Yulién in Leo Garrido, formerly of Los Ángeles de La Habana, and Randy Malcom Martínez, former member of El Clan. I happened to see a video of a performance with the new line-up filmed in Italy at the beginning of 2005, and I have to honestly say that I was concerned. It didn't seem to me that the band had really been able to recover from the changes. So with this in mind, I was not sure what I could expect from the Stockholm concert. A year had passed since the Italian concert. Had the new members grown into their roles as Charangueros under Calzado's expert tutelage or had the Charanga lost its edge?
The Concert
The concert started a little differently than in 2004, the musicians came on stage one by one, beginning with Lázaro Mengual on bongos, followed by his brother Orlando on congas and Randy on percussion. As the musicians took their places, it turned into an instrumental mambo, the purpose of which was really to make adjustments to the microphones and monitors.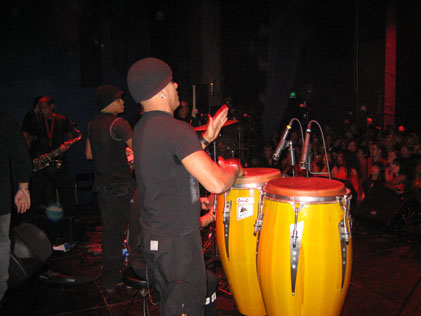 The percussion section
When the singers came out, the opening song was Soy Cubano Soy Popular. The concert really emphasised the new repertoire. The songs were taken from the three most recent CDs: Soy Cubano Soy Popular, Charanga Light and the latest release El Ciclón de La Habana. The audience sang along throughout the entire concert, including the newest songs, which shows just how strong their following is here in Sweden.
As always the show was high energy from start to finish. Soy Cuban Soy Popular was followed by a short, instrumental dance number in which Randy came forward to show his dance moves. If you've seen the Charanga before, you know how dance-intensive their performances are. The coristas are always dancing as are the musicians. How many musicians can play flawlessly while dancing?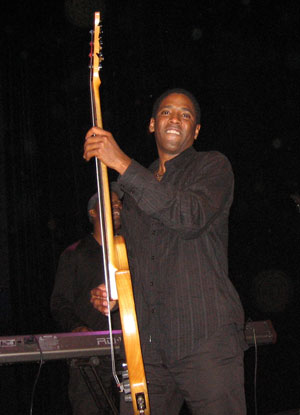 Randolph both plays and dances with his bass
Soy Yo
Is it just me or has there been a trend in the past year towards songs with this name? Off the top of my head I know that El Clan has a song entitled Ese Soy Yo , which Boni & Kelly have covered and Maraca has a CD and song by the name Soy Yo. So here we have Charanga Habanera's contribution to the theme, with Aned on lead in Soy Yo.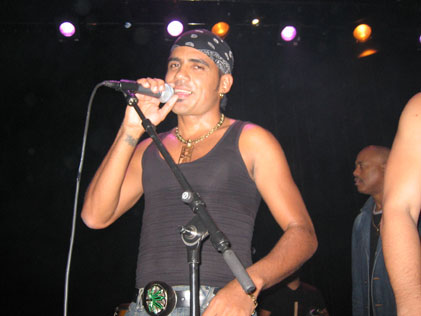 Aned Mota
Aned and Noel are always doing some sexy, over-the-top stuff that makes the ladies scream. The show is very physical and in fact, in addition to doing mid-air flips and the splits during Soy Yo, Noel even did pushups during Juan Manuel's solo in Píntate los Labios María. No wonder these guys are in such good shape doing a workout like that day after day!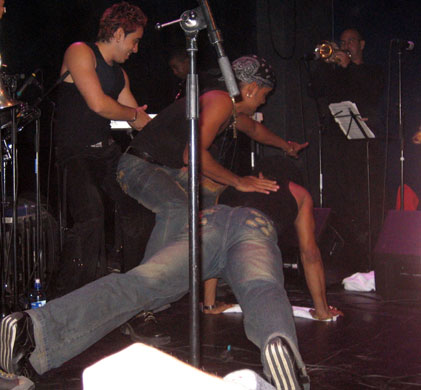 Juan Manuel plays & Noel does pushups with a little "help" from Aned
Hit Parade
From the start I forgot that I was supposed to be comparing the new line-up with the old one, which is proof that they have indeed developed into fully-fledged Charangueros. There wasn't a moment where I felt anything was lacking. But the true test was when Leo sang Hit Parade (ella me dejo), one of the big hits from the new CD.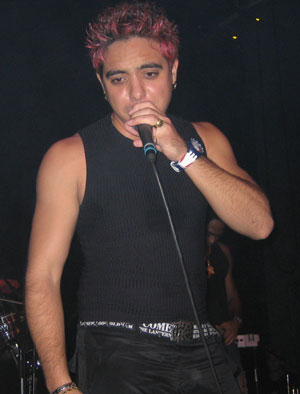 Leo - "Ahora lo famoso soy yo"
Hit Parade tells the story of how Leo's girl left him for a singer from another band who was on TV. You see, she didn't believe that he was growing as an artist, and now she wants to come back to him (of course) because now he's the famous one singing on TV with "the orchestra of the moment". His performance a lead singer was like that of a veteran singer. Leo makes good contact with the audience while singing and is completely at ease both dancing and singing. He has become a integral part of the front line.
Esta Es Mi Charanga
Leo's estreno was follow by Esta Es Mi Charanga, the song from El Ciclón de La Habana that has the most in common with the feel of the previous album, Charanga Light. Again, although the CD hasn't been released in Europe yet, the audience already knew the coro by heart: "Tengo la camisa negra, como negro tengo el alma. Si tú no me das un beso mamá, te suspendo la charanga."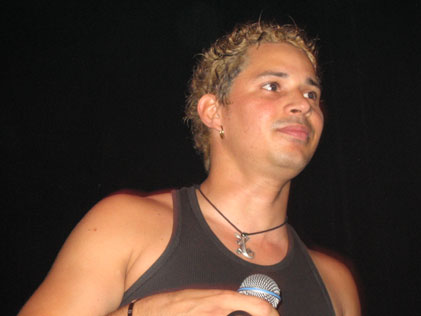 Leonid tiene la camisa negra
This was the song during which David invited some ladies to stage to show their despelote moves. The Swedish girls danced so well that David couldn't believe they were Swedish.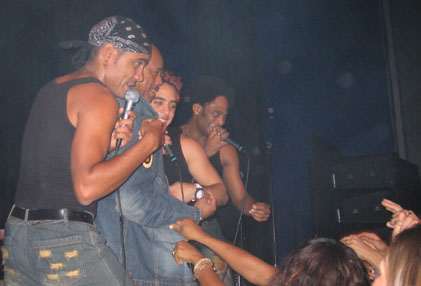 The trombone section of the Charanga
Píntate Los Labios María
One of the surprises on the new CD is the cover of Píntate los Labios María where trumpet player Junio Romero steps up to the mic to sing lead. His voice is well suited to the song. The song also serves as a showcase for the metales to perform solos. The first being a sax solo by Osmani, with Junio and Juan Manuel both performing trumpet solos.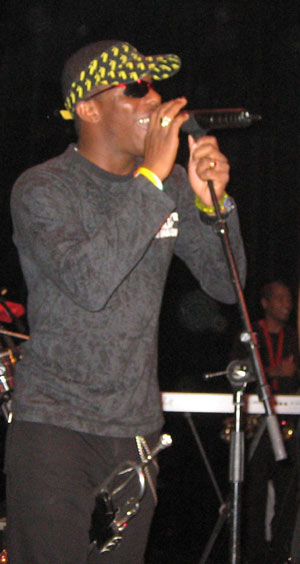 Junio - trumpet player and now singer
Chera Mía
Another guaranteed hit from the new CD is Chera Mía. As usual, Aned sings lead on the most hardcore timba songs. This song is an example of the Charanga's return to true timba. While not the timba of 1997, it is the Charanga of today but still with the aggressiveness that long-time fans associate with the group. After Charanga Light, David promised us a return to timba and this is an example of him making good on that promise.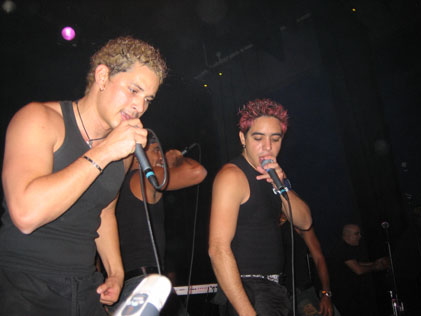 Leonid & Leo
The band also performed hits such as Abusadora, El Se La Llevó (the only ballad in the concert), Ay Amor, Mi Estrella (the Charanga Light version) and a shortened version of Timba con Moña with choreography so we got another look at Randy's dance skills. The only classic song they performed was the encore, Nube Pasajera (agua mala). They took a page out of Bamboleo's book when the coristas began throwing water from their water bottles into the audience. For a report on Bamboleo's use of water see Linda Rodriguez blog Farandulera from December 28 complete with video.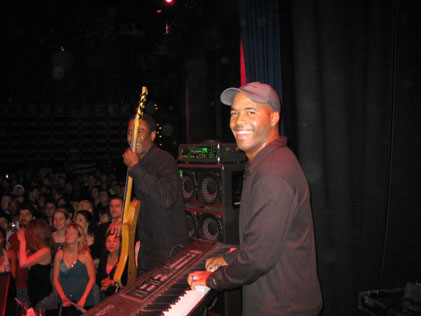 Helder is always smiling when he plays - you can't help but have fun too.
La Charanga Que Te Encanta
So let this be a lesson to everyone who would doubt that Calzado knows what he's doing. No matter what you think of the new style of the Charanga, David continues to demonstrate his skill for finding and shaping new talent. If you go to see a Charanga Habanera concert you can expect good music, great entertainment and most importantly, you are guaranteed to have fun.
Tuesday, 22 March 2011, 07:31 PM