New Stuff
[hide]
Photos of the Day
[hide]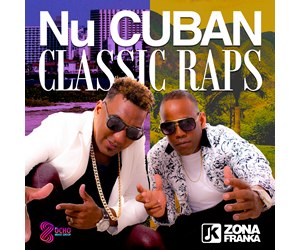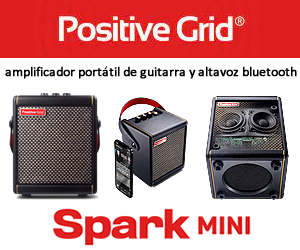 SpanishEnglishHistory - The Breakup and Beyond
by Kevin Moore
We pick up the story of La Charanga Habanera from the fateful August 1997 concert that led directly to their government-imposed six month suspension.
Almost immediately, pianist/arranger Juan Carlos González and singer/writer Dany Lozada left the group and formed a new band which they called "Dany Lozada y su Timba Cubana". This led to the album "Tanto le pedí". Many Timba fans aren't even aware of its existence, but it's one of the great treasures of Timba, and is the most direct successor to "Tremendo delirio", even more so than the more famous subsequent releases by Charanga Forever the Calzado's new Charanga Habanera. In fact, at the time of the suspension, the group which recorded "Tremendo delirio" was already performing some material which would ultimately be released on "Tanto le pPedí". This was the only album produced by González and Lozada. We'll have a full article on it in coming months.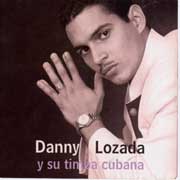 Dany Lozada - Tanto le pedí
When González and Lozada left, Calzado quickly replaced them and continued rehearsing and developing new material throughout the suspension. Lozada's replacement, Sandier Ante, was also a prolific songwriter. In addition to singing his own new songs, Sandier took over the lead vocals on Lozada's biggest Charanga Habanera hit, "Usa condón". González was replaced by Roberto "Cucurucho" Carlos who was also a writer, and he and and Ante became Calzado's principal musical collaborators during the eleven months prior to the big breakup. Cucurucho, who in 2002 is still only 24, has now played for no less than six Timba groups: Charanga Habanera, Charanga Forever, Issac Delgado, Paulito F.G., Sol y Soul, and now Los Van Van. We should add that Charanga Habanera's brilliant and innovative timbalero, Eduardo Lazaga had left after recording Tremendo delirio and been replaced by Gilberto Moreaux, who had previously played with Bamboleo.
This second incarnation of Charanga Habanera never released an album, but they did introduce some excellent new material, including "Jony", which was eventually recorded by Charanga Forever, as well as "Chocolatera" and "Hay que comer La Habana", which were unfortunately never released by anyone.
Although the departure of Lozada and González turned out to be a more significant event from a musical point of view, the highly publicized event that most fans think of as "the breakup of Charanga Habanera" actually occurred a year later, in the summer of 1998. At this point the entire group quit en masse, with two exceptions, who stayed loyal to David Calzado. They were star singer Michel "El Menor de la Salsa" Maza, and long-time soundman Marcos Morales, who along with singer/musicologist Majela Serrano, has been absolutely essential in in our efforts to bring the story of Charanga Habanera to the internet. Morales stayed with the group for seven years before moving to Miami to be with his family in late 2000.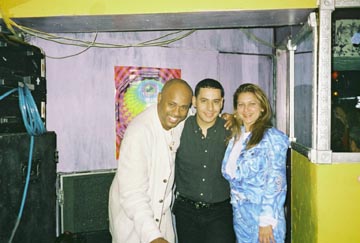 David Calzado, Marcos Morales, Aliet Calzado
So in August of 1998, La Charanga Habanera consisted of one lead singer, one musical mastermind who didn't even play an instrument when the group performed, and one faithful soundman! But as Morales, now a resident of the Yuma, astutely quipped, "in Cuba, the name 'Charanga Habanera' is a franchise -- as 'Coca Cola' is here in the US". When I asked him how Calzado went about acquiring the four top musicians in Pachito Alonso's band, Marcos said, "all he had to do was ask. To play with Charanga Habanera is the dream of all the young musicians." Thus, Calzado quickly, efficiently, and quite brilliantly put together what to this day is one of the tightest and most talented Timba bands ever assembled. On timbales was 15-year old prodigy Yulién Oviedo, son of Calixto Oviedo of NG La Banda. On congas on bongó were the Mengual brothers, Orlandito and Lázaro from Pachito Alonso.On synth was a brilliant young jazz pianist, Helder Rojas. From Bamboleo came bassist Randolf Chacón, who dances with his bass in a way that must be seen to be believed. The horn section, one of the tightest and most exquisitely in-tune in the history of Latin music, consisted of multi-talented pianist/writer/saxophonist/flautist Osmani Collado, Yunior Romero, also of Bamboleo, Juan Manuel Jiménez of Rojitas, and the oldest band member, Carmelo "El abuelo" Andrés. Carmelo is the consummate professional trumpeter and had already had a long and successful career with Paulito y su Élite and Rojitas. Charanga Habanera had always had a very hot horn section but Carmelo brought a new level of discipline and accuracy. One needs to hear a lot of live salsa to fully appreciate how good this horn section is in concert. Michel Maza was joined by Aned Mota and Noel Díaz on vocals. Thus Calzado had a new band comprised of the best young musicians in Cuba, able to learn his material almost immediately and to go head to head with the top bands in Havana. But Calzado's genius is three-fold -- in addition to his own writing, and his ability to assemble and rehearse musicians, he also has an amazing ability to seek out brilliant collaborators and to combine their creativity with his own in a seamless way. Calzado has made the style of Charanga Habanera distinct and clearly recognizable in spite of the contributions of many different creative minds -- Juan Carlos González of course, but major contributions were also made by Limonta, Piloto, Manolín, Lozada, Arranz, Sombrilla, Alejandro y Rember, and many others. Calzado had put together an awesome group of musicians but he needed to replace the creative powers of González if he hoped to create an album which could follow "Tremendo delirio". He found what he needed in pianist/singer/writer Tirso Duarte, who had been playing synth with Pachito Alonso. As we'll see in great detail in the next article, "Charanguero Mayor", Duarte had created his own personal Timba, with an extensive spectrum of musical colors quite different from any ever heard in Latin music. JC Gonzaléz, and then Ivan "Melón" González, and then Sergio Noroña had each created a highly original personal style of this scope, and Duarte's style incorporated many of the older players' innovations, but what he came up with is as different from each them as they are from each other.
And thus, on September 14, 1998, less than two months after being left with only a singer and a soundman, David Calzado y su Charanga Habanera were back on the stage of La Tropical and once again among the elite of Timba. One of Duarte's first contributions was the song "Charanguero mayor" which, along with a never-released gem called "Confianza", was the last song that Michel Maza sang with Charanga Habanera. A radio demo recording was a big hit in Havana, but by the time the group recorded it for the album of the same, Maza was long gone. He left the group in late '98. In the version that was finally recorded, Michel's part is split up between no less than five singers, including the multi-talented timbalero Yulién. Maza was replaced by Dantes "Riki Ricón" Cardosa and this was the group that recorded "Charanguero mayor", the subject of our next in-depth musical analysis. This album was also released in Peru as "El baile del azúcar". The tracks are in a different order and some have different titles, but all the recordings are the same with the exception of an additional live descarga called "El baile del azúcar".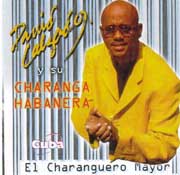 2000 - Charanguero Mayor
The band continued to develop new material, but Tirso Duarte left the band in January of 200, before they recorded again. Osmani Collado now doubles on synth and sax and Helder Rojas has taken over on piano. Tirso's singing duties are now handled by new member Leonid Torres. The 2001 release, which includes a significant amount of Duarte material, is called "Tiene de Cuba, tiene mela'o" in Cuba and "Chan Chan Charanga" in the US.
Having gotten all the way to 2002 with Charanga Habanera, we now return to the summer of 1998 to find out what happened to the original charangueros. They were able to start playing almost instantly. They needed only a new name, "Charanga Forever", and a singer, Armando Cantero, to replace Michel. They kept and recorded several songs from the post-Tremendo delirio period and added new material by Cucurucho, Sandier Ante, Arranz, Sombrilla, and even Calzado collaborators Alejandro y Rember, producing the CD "La Charanga soy yo" to which we'll soon be devoting an article. Charanga Forever, like Dany Lozada, will have a separate set of pages on timba.com.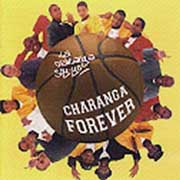 2000 - La Charanga Soy Yo
But the game of musical chairs was only beginning! JC González and Dany Lozada parted ways in November of 1998, and in early 1999, Cucurucho and Sandier Ante, after having recorded "La Charanga soy yYo", left Charanga Forever. Thus it seemed only natural that González and Michel Maza rejoin their old compadres. At this point "La Charanga soy yo" had been recorded, but not yet printed, which the nagging mystery of why González and Michel are pictured on the cover of the album although they don't play on it! (don't you feel better now that that mystery isn't nagging you any more?)
Strangely enough the famous "basketball" CD actually also played an extremely important role in the history of timba.com itself. I had bought a bootleg copy of the album in Havana which, unbeknownst to me, had two bonus tracks: the radio demos of "Somos La Charanga" and "El Menor" which do in fact include González and Michel. The bootleg had a color xerox of the basketball cover, but no other liner notes. As soon as I heard track #5, "Somos La Charanga", I realized that it was one of the hottest Timba tracks ever recorded and I immediately sent it to Bruce to post as a reduced-quality .mp3 so the rest of the world could at least know of its existence! Still later, track listings of the official release of "La Charanga Soy Yo" began to appear on the internet, but we didn't realize that the legit version didn't contain "Somos la Charanga". (are you still following all of this?). So we just counted down to track #5, and jumped to the erroneous conclusion that the incredible "Somos la Charanga" song was really entitled "Me Criticas", and it was this fateful error that resulted in an e-mail from a Cuban musicologist in Germany, pointing out the error. The musicologist in question turned out to be none other that the aforementioned Majela Serrano, who, after Marcos Morales, knows more about Charanga Habanera than anyone on the face of the earth and is one of the principal sources for the vast amount of Charanga information we've been able to provide on timba.com. Majela will also be producing a series of biographies on each of the members of the current Charanga Habanera which will be published in the near future. She's also a talented singer in her own right with the European based Cuban group "Havana Open".
And so, ironically, the first Charanga Forever was formed from the musicians of the second Charanga Habanera, while the second Charanga Forever was in fact nearly a complete reunion of the original Charanga Habanera that recorded Pa' Que Se Entere La Habana. "La Charanga que tú conoces, la que siempre te sofocó", JC González, Pedro Pablo, Sombrilla, Michel, Polledo, Manolito, Vitico & Co., were back in business and they recorded a short, but brilliant album for a French label that included the astounding "Somos la Charanga" which turns out to have been composed by none other than Juan Formell! In fact, on the French release, the track is listed as "Dice Formell". It also contained a great early Limonta song called "El Avión" which the original Charanga Habanera played live but had never recorded, as well as the great "La Menor"and other tracks.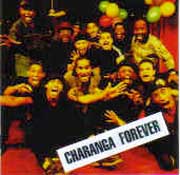 2000 - Charanga Forever
Unfortunately, this band didn't last very long either and band which can now be heard in Cuba as "Charanga Forever" contains only Sombrilla, Polledo and Victor Segarra from the original Charanga Habanera. JCG is in Italy free-lancing, Pedro Pablo has a new group, "Rebambaramba". Manolito Arranz, along with Sandier Ante and possibly other Charagna alumni, have a new band in Argentina or Peru. We're trying to catch up with the illusive Mr. Lozada, and Michel Maza has had several bands including "La Bola" and "Banda Meteoro". We have an in-depth interview coming up with Michel that we hope to publish in early 2002.
Tuesday, 22 March 2011, 07:31 PM