SpanishEnglishBarriendo con todo - European Tour 2007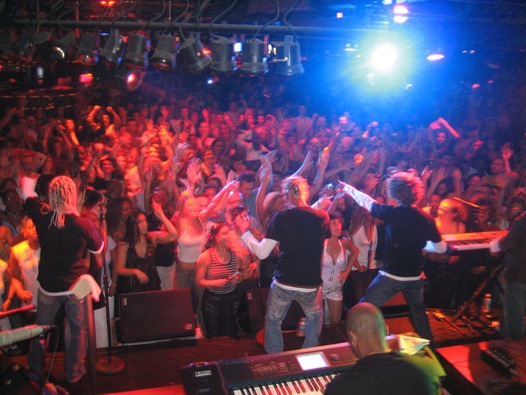 In July 2006 Maykel Blanco y Su Salsa Mayor released their first CD, Recoge y vete. With its classic songo-based timba and irresistible dance grooves, it quickly took Europe by storm. For the past year it has been one of the most heavily played CDs at the clubs, and the fans have become anxious to meet this young group and to enjoy the feel of a live concert and to see how they rate in comparison to veteran Timba groups.
When the news came out that Salsa Mayor would be doing their first European tour this summer, there were people who doubted that it would really happen, but I was not one of them. Although they are a new group trying to make their way into a world populated by well-known giants, I have seen first hand how popular their music is among the dancers. So I decided it was my most solemn timba geek duty to follow the band on this their first tour, and see just how the audiences would react as well as to get to know the band members who are not yet household names. So before we get started on the report let's answer the question...¿Quiénes son los mayores?
During the tour I tried to send short reports as a sort of Tour Diary, but a lack of internet access made this rather sporadic and didn't give me a lot of time for detail, or photos or video. So, now that we've all met the members of Salsa Mayor, here is my detailed report on the Premier European Tour of Maykel Blanco y Su Salsa Mayor complete with photos, video and time for reflection.
The report is written as installments in chronological order.
June 30 - European Premier - Esch-sur-Alzette, Luxembourg
July 1 - Paris Est Incroyable - Paris, France
July 2-4 - Los Mayores en Suiza
July 5-6 - All Roads Lead to Rome
July 7 - Love at First Sight - Lecce, Italy
Monday, 19 March 2018, 08:15 AM