Lo Nuevo
[hide]
Fotos Del Día
[hide]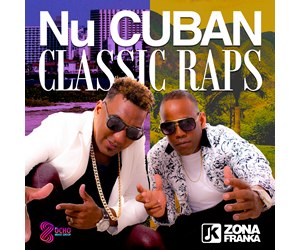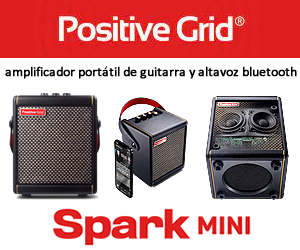 50 años de jonrón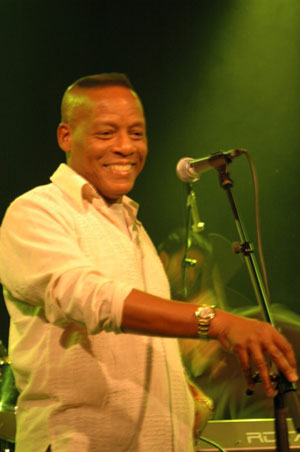 Photo ©Karim Ryde used by permission
This is the most depressing time of year. It's cold and dark, the holidays are over and there is nothing to look forward to but tax time. But the salseros of Stockholm just experienced one of the highlights of 2007 - a night with Elito Revé y su Charangón. A big Thank You to SELAM for bringing Orquesta Revé to Stockholm to heat things up.
This is actually the first time I've experienced a Revé concert from the audience perspective, and let me say it is awesome. They are truly as hardcore and aggressive as you get. They gave us 2 hours of non-stop cubanía dura; no breaks, no mercy.
The playlist was all killer, no filler. They opened with Mi Salsa which hits you like a fast ball and knocks the breath out of you with the clave Sal sal-sa sal-sa, Sal sal-sa followed by the trombones, and Sinsonte says it best when he yells ¡Auxilioooo!. Once the band has you in their grasp they don't let go. ¡Ay que alboroto!
As last echoes of Mi Salsa faded, Wilfredo went straight into the tumbao to Se Fue de Jonrón sung by veteran Dagoberto Vázquez. If you're wondering how well Cuban music makes the transition to non-Cuban environments, let me tell you that even in cold, dark northern Europe, everyone, Cubanos, Latinos and Suecos alike, joined in singing the chorus no se puede evitar cuando suena el charangón, pa'fuera pa' la calle.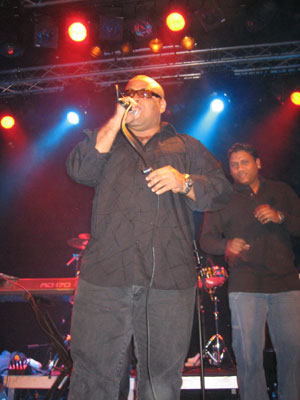 Dagoberto: with the bases loaded, Revé hit a homerun
They segued into Mi Vecina from what is probably my favorite Elito Revé CD, Se Sigue Comentando. I still can't get enough of that CD. During the song El Nene and Eulises had a little singer/trombone contest after which Eulises went into a solo demonstrating why he is Revé's lead trombone and sought after for studio recordings by other bands as well. When he's not playing mambos, Eulises plays the keyboard for La Revé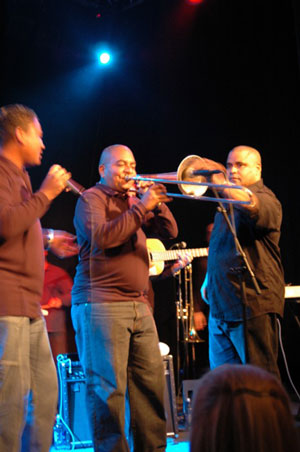 Eulises & El Nene in a little contest
Photo ©Karim Ryde used by permission
Actually, Orquesta Revé didn't always have trombones. They were added by Elio Revé Matos (I need to find out what year that was) and are now a signature part of the Revé sound. The Revé mambos are unmistakable: heavy, powerful and instantly recognizable.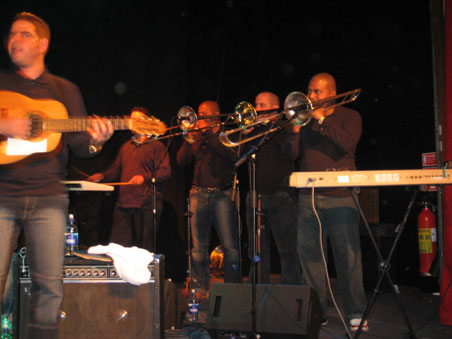 When you hear the trombones, you know you're listening to La Revé
After 30 minutes of non-stop music Elito finally took a moment to address the audience as he presented the next song. It was the theme song for the World Domino Championships and a hit even in the US. Fans already what I'm talking about: Dale Agua Al Dominó...con el doble nueve, pégate si puedes.
It is interesting to see Elito at work. He joined the orchestra at the age of 20 as the pianist. When he took over direction of the band after the death of his father, he began to use another pianist on the new songs so he could concentrate on directing the orchestra. During concerts he still plays the piano on the older songs from the vast Revé repertoire, but on the new songs he moves to the front line with the singers where he sings coro and plays maracas.
="2">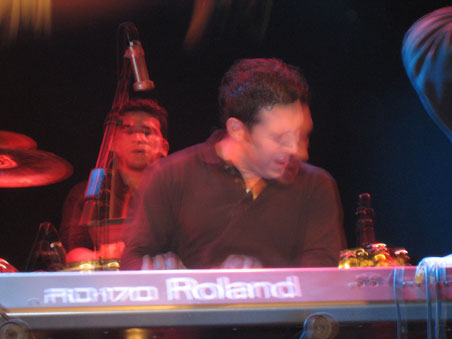 When Elito moves to maracas, Wilfredo takes over piano
Elito is the most animated person on stage. He's always smiling and leading the audience in different choreographies. Occasionally he'll yell out uyuyuy! knowing that, without fail, no matter what country they are in, the audience will respond que veo! It seems to me that Elito directs not only the band but also the audience, and his enthusiasm is unquestionably one of the factors behind the popularity of Revé concerts, both in Cuba and abroad.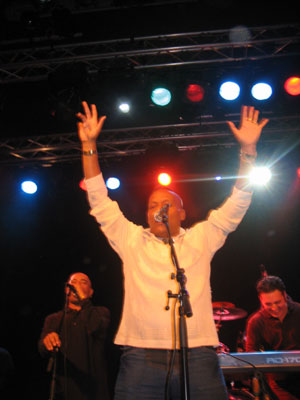 Elito Revé directs the fans as well as the band
Moving a little further back along the Orquesta Revé timeline, they played No Quiero Que Seas Celosa, a hit from around 1990. Sinsonte and Dagoberto shared lead vocals on this song. Sinsonte joined the band in 1994. His voice changes easily from a normal singing voice to voz de vieja, a style of singing that is characteristic of changüí.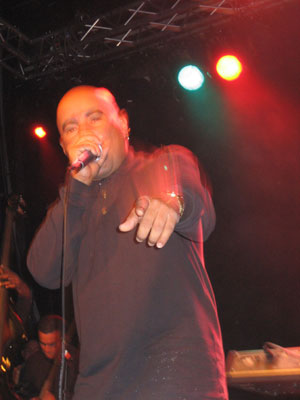 Sinsonte's distinctive voice is a part of the Revé sello
During this song we got to see a short solo by the talented young, new bassist Aisar Hernández. He took over after the departure of Arnaldo Jiménez. Aisar has proven capable of filling the space Arnaldo left behind and has even written some arrangements for some of the new songs. Aisar is a dedicated musician who has worked hard to get where he is today. Keep your eye on him, because I think we will see more from him in the future.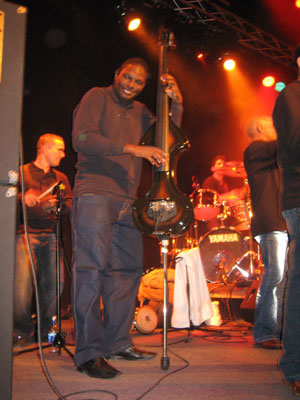 New bassist Aisar
They followed this Revé classic with one of the newest songs: Fresquesito from the 50 Year anniversary CD. This song talks about how generations of Cubans have danced to Revé over the years and yet the band remains as fresh today as when they started 50 years ago. Fresquesito is popular in the clubs in Europe but this is the first time I've seen it performed live. As always the live performance has new coros, in this case avisale a la farandula que la llegué, empezó la fiesta, ahora es cuando es.
Next up to bat, Roberto Morales with Se Me Va, from the Se Fue de Jonrón CD "for the people who aren't going to sleep tonight!". It gets a bit confusing with the Revé/Michel Maza connection and who did which coro first. Here we have another example of this. The coro in question this time is ella es blanca, el es negro, qué bonitos son los dos. Son dos, dos gatitos que se aman, qué bonito es el amor. I know it from La Madrugada on Michel's last CD, but here it is again. So did it develop during his collaboration with Elito? Did Michel make it up or did he just happen to record it first? Either way, the audience loved it and sang along enthusiastically.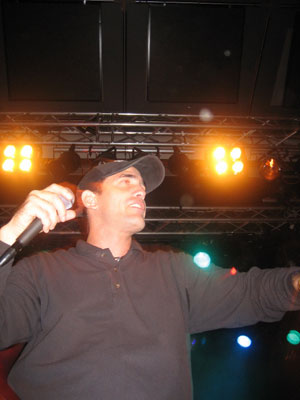 Roberto says si se va deja que se vaya
Orquesta Revé is nothing if not prolific. They continue releasing hit songs such as La Mano en la Masa and Fresquesito, and on this tour they have introduced Europe to another estreno, Ya No Te Doy Más Na' It started with a hot tumbao by Wilfredo. The arrangement, by the way, is by Aisar. Elito said that it will be on the CD they plan to record this spring. If this song is any indication of what to expect, the new Revé will probably knock all other CDs right off my playlist.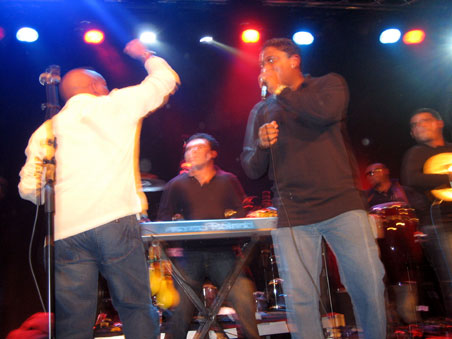 El Nene sings an estreno called Ya no te doy más na'
They tried to end the concert with a double play from Se Sigue Comentando: Lo Mismo Me Da followed by 1999 with that excellent bass and tres combination at the beginning. I'm not much for covers, but I actually prefer the Revé version over the original by Orishas. Somehow Revé has managed to make changüí more duro than hiphop.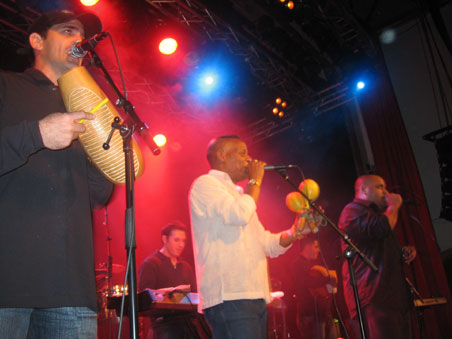 Orquesta Revé tiene lo que tiene por eso se mantiene
When the band tried to leave the stage the audience would have none of it, so they came back for 3 encores. The first was La Ruñidera with a nice tres solo by Jorge and a piano solo by Elito. The tres gives the band that "oriente" feeling and with the way the sound was mixed at this concert, we could clearly hear all his guajeos that night.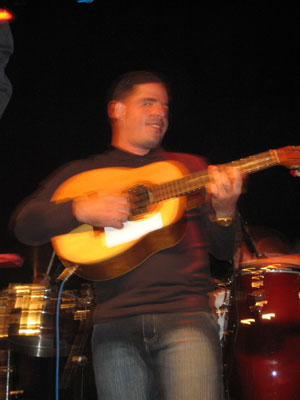 Jorge Luis Vila and his tres. It wouldn't be changüí without him.
The audience was still shouting out for more, so they did the coro from Ya No Te Doy Más Na' again and finished the evening with Se Sigue Comentando. The fans finally got to sing uyuyuy que veo to their hearts' content. But all good things must come to an end, and after 2 hours, the band left the audience in the capable hands of DJ Papito.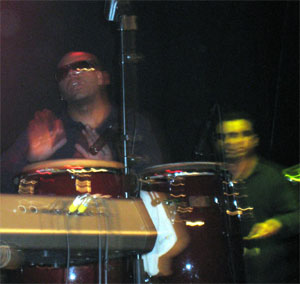 Arian Chacón is the conguero
I was left with an adrenaline kick that lasted 24 hours, and every time I watch the video clips, the adrenaline comes rushing back. The word that keeps coming back to me is durísimo. I don't know how to explain it to someone who hasn't seen the band live.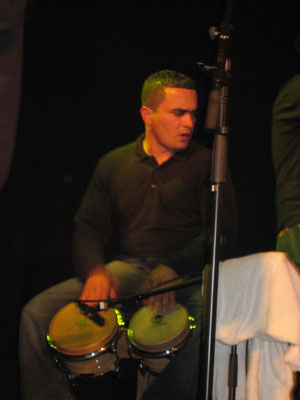 Ariel on bongo & campana
Timbalero Andy Fornet, who has been listening to Orquesta Revé since he was 9 years old, was talking about their style and described it as changüí but modern and aggressive. As the song Fresquesito says: Changüí pa' los nuevos.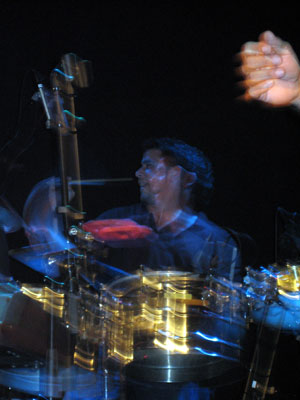 Andy on pailas is always in motion
The band has managed to develop with the times, keeping their basis in changüí, but adding elements of modern timba that keep them popular with grandmothers and their grandchildren alike. Orquesta Revé has a history of over 50 years of homeruns and are still at the top of their game, ahora es cuando es.
jueves, 28 junio 2018, 09:38 am