Concert Report - Sweden - 2004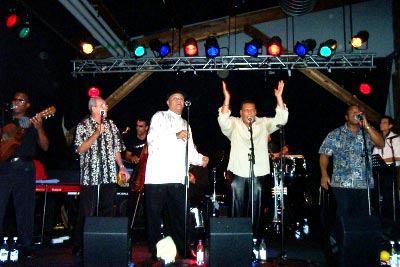 Michelle White ©2004
Cubanismo is a band that defies categorization. Their repertoire includes many classic Cuban songs that could lead you to believe they are a Buena Vista Social Club style orchestra. And on lead vocals they feature two of the great soneros of that period, Rolo Martínez and Laito Jr. On the other hand they also have vocalist Jesús Cantero representing the younger generation of Cuban singers, and one look at the names of the musicians in the rhythm and brass sections and the heart of any timba fan will begin to beat faster. Heading up the orchestra is trumpetist Jesús Alemañy. So with a mix like this, what do you end up with? Classic Cuban rhythms with arrangements that reflect a new era.
It is this versatility and musical variety that is the strength of Cubanismo. During the two concerts I saw they played mambo, cha cha cha, pilón, son montuno, guaracha and probably a few other things as well. This appeals to audiences worldwide and dancers of all styles.
As usual when a Cuban band plays at a jazz venue, there were a large number of non-dancing jazz fans in attendance. This was the case both in Stockholm, at the small and hot club Fasching, and in Uppsala, at the somewhat larger and definitely cooler Katalin. But in both cases even the jazz fans were up and dancing "a su manera" after a few songs. This music just isn't made for sitting still.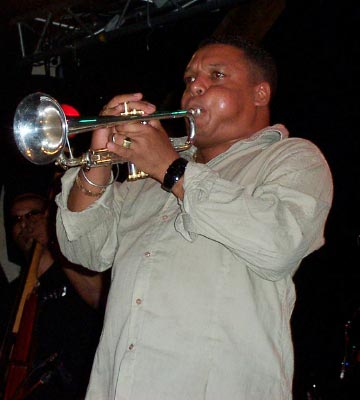 Jesús Alemañy - lider, trumpetista y corista
Bandleader Jesús Alemañy is a pleasure to watch. In addition to his spectacular trumpet playing he shows so much enthusiasm in his dancing and when he sings coro that he really whips up excitement in the audience. He's a very friendly person and this is something that comes through in his performance.
One brilliant move by Alemañy was bringing in Laito Jr. when Gardi left to form his grupo. Laito Jr.s' extensive career includes la Orquesta Maravilla de Florida, Manolito y su Trabuco, Laito y su Sonora, and currently Cubanismo of course.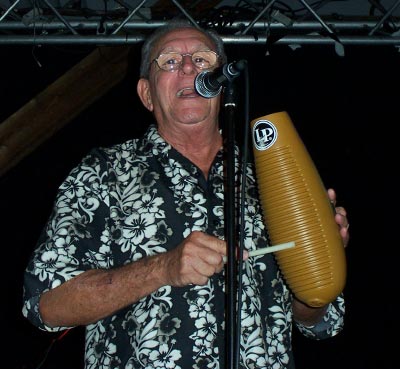 Laito Jr.
The show includes the song Idilio arranged in the Cuban style with Laito Jr. on lead vocals but also featuring the "dream team" combination of Laito Jr. and Rolo Martínez singing in harmony at the beginning of the song. It was absolutely beautiful and a highlight of the concert for me. This is the first time this combination has been brought together, and it is something you don't want to miss.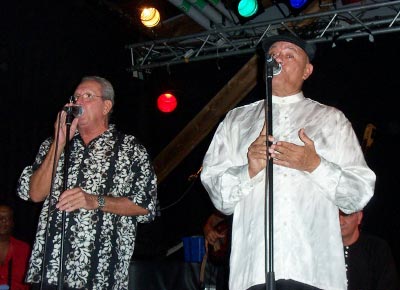 Laito Jr. y Rolo Martínez - qué combinación!
The career of Rolo Martínez has ranged from Banda Gigante to Maraca's Sonando to a solo album with Bamboleo on back up. He is very charming and has a great way of interacting with the public. His facial expressions and sign language overcome any language barriers. And he has a voice that is amazingly powerful. To illustrate, before the concert, the band was relaxing outside the venue enjoying a rare sunny evening in Sweden, when Rolo took a moment to keep his voice warmed up and actually made passers-by jump because it was so loud.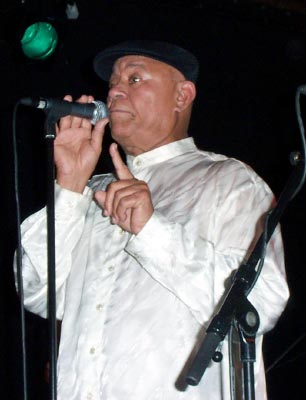 Rolo Martínez - ¡Agua!
El Paso de Encarnación is one of the songs sung by Jesús Cantero. It is a classic of the Cubanismo repertoire and Cantero sings the heck out of it. I really enjoyed both his singing and his dancing. On the occasions when Peruchín breaks into a tumbao and Riverón's hand starts sliding up and down the bass, the duo of Jesús and Jesús (Alemañy and Cantero) start with despelote and tembleque calling for the audience to move "la cintura". Yes, there are timba moments during the Cubanismo concerts.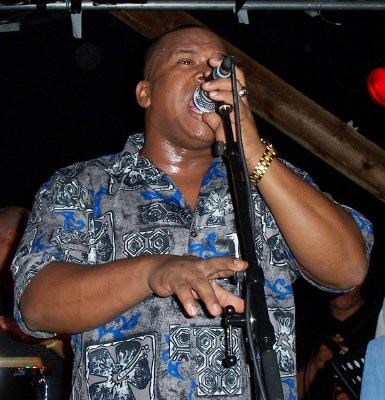 Jesús Cantero
The song that probably surprised me the most was the cha cha cha version of Bob Marley's Jammin' performed by Pablosky on tres. For me it was a very unexpected combination, but it works. He is true a virtuoso of the tres and he also sings coro.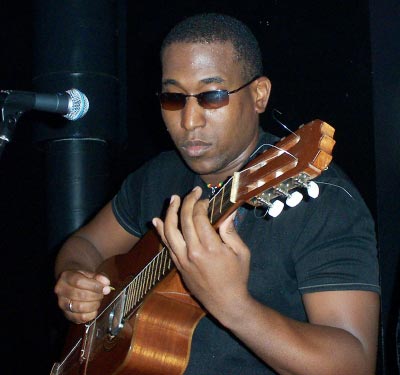 Pablosky Rosales
The descarga they performed was written by Rolando Pérez Pérez who is well known to timba fans for his work over the years with Pachito Alonso y sus Kini Kini and NG La Banda. It allowed the musicians an opportunity to display their skills as they took turns performing solos, and also provided me with my only chance to get a picture of the rhythm section.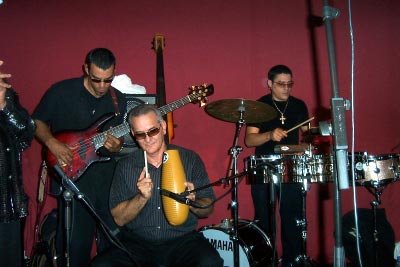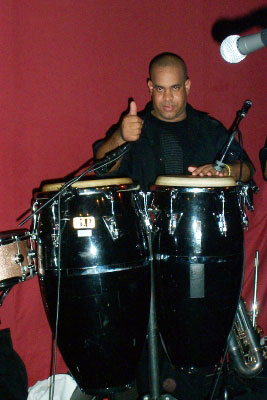 Roberto Riverón, Eduardo Lavoy, Pepe Espinosa & Papiosco
Of course the metales put together by Alemañy are impressive. Maza kept switching between baritone sax, alto sax and flute, sounding equally strong on each and performing some great flute solos. And we had more than one trombone solo from Carlos Álvarez as well. And when they performed Mardi Gras Mambo it certainly gave them a chance to do something a little different. I have to admit that when they hit the New Orleans part of the song I didn't quite know how to dance to it.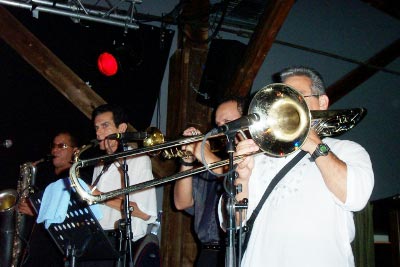 Los metales son Emilio Maza, Rolando Pérez Pérez,
Eduardo Rodríguez y Carlos Álvarez
But of course, as a timba fan one of my favorite aspects of the show was when Peruchín would start one of his signature tumbaos. That is something that I know how to dance to.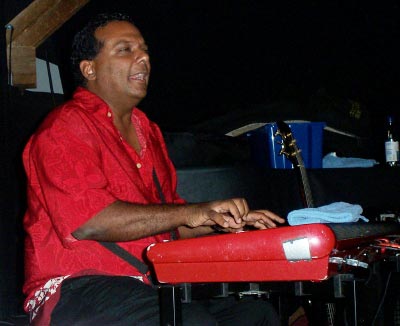 Peruchín
Cubanismo is winding down their summer tour with only 2 dates in France left: August 7 at the Festival Porto Latino in Corsica and August 8th at the Arenas de Marsiac. If you get the chance, go to see them. You really don't want to miss this combination of musicians and singers. It's a shame that the 2004 tour of the US was cancelled due to the policy of denial of visas to Cuban musicians. I hope for the sake of Cuban music fans in the US that 2005 will bring an end to "la bobería".
Tuesday, 22 March 2011, 07:31 PM