Concert Report - Pupy in Paris - Feb. 27, 2009
Tranquilo que Pupy controla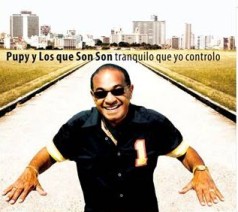 ©2009 Michelle White
The 2009 winter tour by Pupy y Los Que Son Son was one of the most anxiously awaited tours on my 2009 list for two main reasons:
I am absolutely lyrically, wildly crazy about the CD Tranquilo que yo controlo released in the fall of 2008. It has my vote for Best CD of 2008 (and the votes of many others, but I get ahead of my story).

There was a major shake-up in the band at the end of 2008 and all three of the singers were changed as well as both the trumpet players. So I was both excited and worried to see how the band would sound now. Would they be able to measure up to previous years, or was the magic gone? Fortunately all the other concert reports I'd heard were saying good things about the singers, so I was feeling less worried as the concert day approached.
I was also on a mission from Kevin to help further his percussion studies by helping him to unravel the mystery that is the Los Que Son Son rhythm section. I arrived just as they were setting up for the soundcheck and realized quickly that my mission for Kevin would have mixed results. They were setting up for drum con timbal rather than drum y timba, i.e. the drum and timbal would be played by the same person rather than being played separately, the normal Los Que Son Son set-up. Pupy explained that this was because the timbalero had fallen ill just days before the tour, so Bombón was playing both drums and timbales, more of a Los Van Van arrangement. So while it would be interesting to see Los Que Son Son with an unusual percussion section, it wouldn't exactly help Kevin to understand the normal workings of the rhythm section. They shall remain a mystery for the time being.
Everything went smoothly during the soundcheck and I had the chance to do a short interview with Pupy before the band went back to the hotel. Thirty minutes before the doors opened the owners cleared the venue and sent us all out onto the street before opening the doors to the public. There was already a line forming for this sold-out concert. There were also a few optimistic fans looming around hoping to find a stray ticket for sale. By the time the band got back from the hotel, New Morning was packed, and the usual bunch of locos from FiestaCubana.net were up front by the stage.
The opening song on this tour is Calla calla, with Osiris, Duñi and Bombón taking the stage first to play the intro and the other musicians entering shortly after. Michel Pérez sings lead on Calla calla. This was the first time for me seeing Michel live. I have always liked his voice but I have only seen him on YouTube. He is only 25 but already has an impressive list of recordings to his name. Some have been with the groups he has been in such as La Charanga Forever and Tumbao Habana, but Michel is also the preferred corista for a number of artists. En vivo he has good stage presence, a nice, natural dance style and is a charismatic singer who easily makes contact with the audience.
They followed with the crowd pleaser Un poquito al revés with Norberto Gómez on lead which elicited a yell from the audience as soon as they recognized the first notes of the song. I know Norberto well from the first European tour by Salsa Mayor. I have always liked his voice. He has a bright timbre very reminiscent of Pepito. He effortlessly hits the high notes and sings with great accuracy. He has also developed in terms of his stage presence since I saw him last. It will be very interesting to watch his continued artistic growth under the tutelage of maestro Pupy Pedroso.
The metales sounded strong and clean and tight despite the recent change in the trumpet section. They did quite a lot of trino or "chivo" as the musicians call it, during many of the songs. I think I have a heard a tiny bit of it before but they have really amplified it in the live performance into something that is quite an attention-getter.
Rusdell Nuñez's first number was Si me quieres conocer. This is one of my absolute favorite songs from the CD, so I was anxious to see how it would turn out. Rudi has the unenviable task of replacing Mandy Cantero, who has become one of the most popular singers in timba today with a great rumbero sabor and skill at improvisation. To be honest I was expecting to be disappointed with Rudi's version of the song, but I was pleasantly surprised and I thoroughly enjoyed it. Rudi's sings with vibrato which is somewhat unusual in timba. Although he is not yet the improviser that Mandy is, Rudi delivers his guías with great energy and the enthusiasm of a young musician who is hungry for more. His enthusiasm is picked up by the audience and even Pupy was meneando to this song.
Si me quieres conocer ended with the new coro brujero that you may have seen in the video clips from the release concert for Tranquilo que yo controlo at muchoswing.com: "Oh, oh, oh...brisa que viento me lleva oh". And as the song ended DJ Jack el Calvo went up on stage to present Pupy with the award for Best CD 2008 on behalf of FiestaCubana.net. I am in complete agreement with the voters at FiestaCubana. Tranquilo que yo controlo is a tremendous CD, with some of the most powerful arrangements and lyrics that I have heard in a long time. I can't get enough of it and it is also my pick for 2008. If you don't have it yet you must buy it immediately!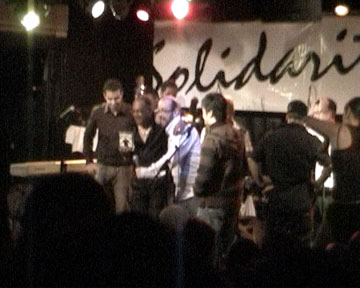 Pupy gets award for Best Cd 2008 from FiestaCubana.net
Here is a little transcription of Pupy's acceptance speech.
"Gracias, realmente felicidades a ustedes porque ustedes son los que lo hace posible que nosotros vamos a continuar haciendo este trabajo. Ustedes son los verdaderes creadores de todo lo que hacemos, ustedes los bailadores, porque son los que hacen posible la música popular cubana. Muchas gracias de Pupy y los Que Son Son."
A beautiful sentiment on the part of César Pedroso who is both a musical legend and yet a humble and generous person. This is no doubt the secret of his success.
After the award ceremony they went into Se parece a aquel. One of Pepito's songs, it was taken over by Michel when Pepito didn't return from the Canadian tour. I have seen it with Michel in the "doblado" version from Cuban television, but it was nice to hear it live.
They ended the first set after only four songs, which surprised me but there was yet another presentation to be made that night and I don't know if this was the reason for the short first set or not. Either way, before beginning the second set a €3000 check was presented by Cuba sí, a solidarity organization that provides aid to Cuba.
The concert got underway again with an extra long second set and they didn't start with just any song, but it was La machucadera, the best dance song off the new CD, which instantly whipped the audience back into a dance frenzy after the long break. This is another of Rudi's songs. It should come as no surprise to anyone that this is the cintura contest song. It also has a new coro at the end "tíralo pa'lante, sácalo pa'fuera". Hmm, I won't speculate as to what it is they are singing about.
Although Norberto sounds a lot like Pepito, Michel had already taken over most of Pepito's repertoire before Norberto joined the band. Norberto came in after the departure of Lily and has more or less taken the songs that Lily was singing, although I doubt he's singing Préstame el cubo. He is instead singing Dicen que dicen, one of the most popular songs by Los Que Son Son in recent years and the first "old" song of the evening. Interestingly it was originally written as a ballad, but just look at what Bombón's arrangement did to it! Norberto's rendition of the song is excellent, and he has a added few new melodic acrobatics that are a beautiful touch.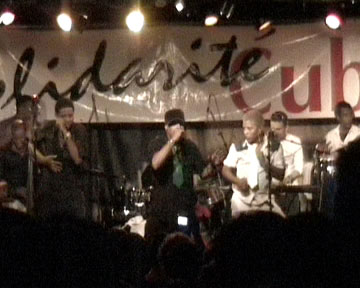 Norberto singing Dicen que dicen
The concert was very heavy on the new repertoire which was fine with me. Michel is singing Pepito's Desde cero, yet another favorite of mine. This is why I love the CD, it is full of favorites of mine. Keeping up with what is happening in Havana they have added the coro from El Animal to the song but as timba not as reggaeton. I know Bamboleo has already done this, but excuse me if I assert that Pupy shows just exactly how it should be done with his magic touch. ¡Así me gusta!
Nadie puede contra eso is one of my top favorite songs from Tranquilo que yo controlo. Since I love the whole CD I made a new category which is top favorites, I guess you'd say A+ as opposed to "just" A. Judging from the shout that went up from the audience when the song began, it's top favorite of theirs as well. Written and sung by Mandy and with an arrangement by Leo Teruel it is as dura as they come. It is actually a religious song with powerful lyrics, and the arrangement always seemed like hardcore timba to me but I never realized that it is a fast song until I danced to it the other day. Now that's what I'm talkin' about! Even after the song ended the audience kept singing Maferefún Yemayá, maferefún Eleguá a cappella until the band joined in again.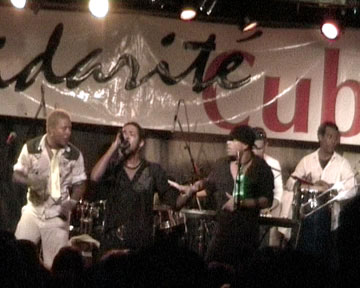 Rudi singing Nadie puede contra eso
The final two songs of the evening were La bala de Billy, another of Michel's songs and De la Timba a Pogolotti with Rudi on lead. But the audience was not at all ready to say goodbye and called for more. The band quickly returned to the stage and went into La fiera sung by Rudi and Michel. In addition to being one of my favorite songs from the previous album, Mi timba cerra'', (am I beginning to sound redundant with the favorite songs bit?), La fiera turned out to be one of the highlights of the concert, because Pupy performed a brilliant three-minute piano solo! When Pupy lets go with a piano solo, it is something spectacular that reminds you that he is the master who's unmistakable sound with its inversions and his tireless left hand has made him an icon among young Cuban pianists today. He gives you fireworks but also control and class, never satrying too far from son.
Pupy's solo was followed by a one and a half minute solo by Bombón on drum and timbal. This was a unique opportunity to see Bombón perform with a different instrumentation than we are accoustomed to. For the final solo of the song Duni turned over the congas to a French conguero whose name I didn't catch. He studied under Changuito and gave quite an impressive peformance.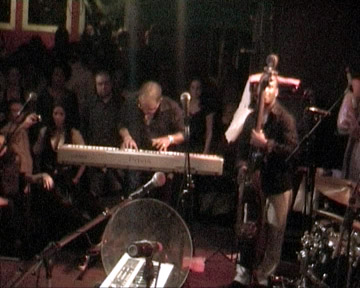 Pupy & Bombón playng solos during La fiera
To finally close the concert they played La borrachera, with Michel on lead. This is another song with a killer trademark Pupy tumbao. Pupy was clearly enjoying himself, smiling and dancing all night. He seemed very pleased with the performance of his new singers and the reaction of the audience.
The whole atmosphere in the group is very positive. It's is a pleasure to watch bassist Daymar dancing and singing and very clearly enjoying himself min every song. And Julito is the motor of the band with his güiro keeping the pulse of the rhythm section going all night long.
After seeing the new band in action all my fears are assuaged. Pupy is la cabeza and the band is performing at top level with the new singers and musicians having settled into their places. The magic is still there so don't worry, or perhaps one could say tranqilo que Pupy controla.
lunes, 19 marzo 2018, 08:15 am