Pupy in Bilbao, Spain - Oct. 12, 2007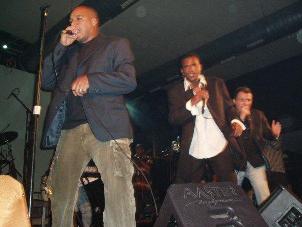 By DJ Carlota ©2007 used by permission
Photos Courtesy of Rod Lawson
I've been a very bad timba geek- a very very bad timba geek. In fact, I should be sent home without any supper. Why? Well, all started well with an epic journey from Manchester to Bilbao to see the loves of my life- Pupy Y Los Que Son Son but I ended up getting so carried away that my pen never made it to my hand to take note of the experience unfolding in front of me. Will I go to hell? Hmm, not sure.
The second date in their postponed European tour was sure to be a good one and despite the compact turn-out, the atmosphere was like no other- all smiles, dances and expectation. Maybe we were all keen to see them now they'd finally made it.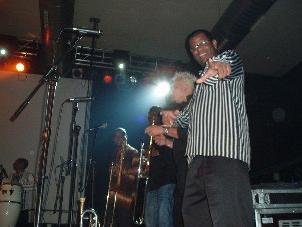 Chocolate
At 2am, the stage was illuminated in blue, we downed our drinks and dived to the front, and the opening to "Que Cosas Tiene La Vida" announced the band's arrival, with Mandy calling "Todo mi gente preparada..." in his rough-but-endearing voice.
From here they didn't cease- there was no rest for the entire room Of course, being a bad noteless geek, I can only recall with a smile the tracks- "Gato Por Liebre" "Dicen Que Dicen" "La Baila de Bily" "La Borrachera" "El Buenagente" "La Machucadera" "A La Italiana" and "Seis Semanas" as an encore.
The audience weren't the only ones with smiles on their faces- Pupy looked as if he was savouring every second like a fine wine and grinned wildly at everyone. The same was true of all on stage- they interacted with the crowd like it was a small gig in someone's house making eye contact and smiling at everyone individually, like we were all in on a secret. I'd never seen them this charismatic before!
The highlight of the evening wasn't the band in fact, but a girl who was intent on capturing Mandy's heart through various tactics who eventually ripped one of the mics from its socket and left all dumbfounded. She certainly got noticed!! Not sure it was how she intended though.
Am heading to Cuba in a couple of weeks so maybe then I can make up for my irresponsible behaviour and give you a better low-down.
Tuesday, 22 March 2011, 07:31 PM