Concert Report - Disneyland, Paris - June 20, 2004
by Michelle White ©2004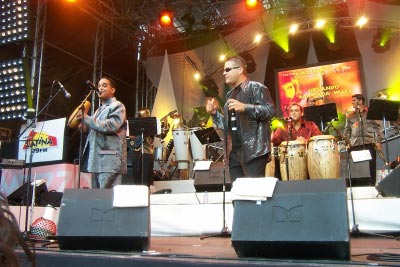 Maraca y Otra Visión performed the last night of the Latin Festival at EuroDisney. There were no crises with the security guards today, and being there on my own I decided not to push my luck by trying to get into the VIP section again. So I got there early to ensure myself a place front and center using the excuse that I'm a reporter and have to get good pictures even if I'm also taller than most of the unfortunate people who have to stand behind me.
This is the second time I've seen Maraca live and I can say that 'every' time I see them they sound great. This band sounds just as good live as on CD. And why not? They boast the Best Timba Flautist in the form of Orlando "Maraca" Valle. In addition they have recently added excellent bassist Rafael Pasiero Monzon who is already well known to timba fans from his time with Bamboleo and Pupy y los que son son. Maraca has also replaced the alto sax with a baritone sax played by Andres Pérez Jane. This is the first time I've seen a baritone sax used in a timba band, and it gives the music an added edge. .
The concert began with Se Te Acabó La Rumba from the Grammy nominated CD Tremenda Rumba . One of the things that strikes me about Maraca is the wide appeal of his music. The music is popular among dancers and music aficionados alike. The range of music they play covers pretty much all of Cuban music with a touch of other Caribbean genres and an occasional venture into the world of rap. And they are able to do this while maintaining both the danceability and the musical integrity of the songs.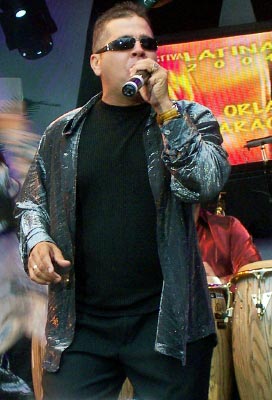 Wilfredo Campa
The second song they performed, Maria Rosa , is written by Pedro Valle and Maraca and has this sort of Pan-Caribbean feel to it. I don't know if it would qualify as a son-cumbia or what exactly, but it is very appealing and I ended up dancing more and taking fewer pictures than I should have.
The third song, A Cualquiera Le Toca , a Maraca original, began with a brilliant flute solo by Maraca. This was followed by a trumpet solo, a piano solo by Maraca's long-time pianist Irving Ferreyro, who was unfortunately hidden behind a music stand so I couldn't get a picture of him, and a conga solo. Each musician demonstrated a fantastic command of their instruments. And the song itself, with it's coro "Ya tu fuego terminó, tu candela se apagó", had the EuroDisney crowd dancing.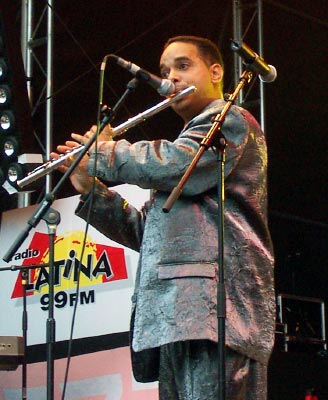 Maraca playing a solo
And in fact during this song I realized that we missed a category in the Timba.com awards: Best Timba Whistle Blower. Maraca also plays a mean whistle which he made use of in this song, Bañame con tu suerte and of course Cuba En Carnaval . Bañame con tu suerte is a Candido Fabré composition with an original arrangement by Maraca that I thoroughly enjoyed.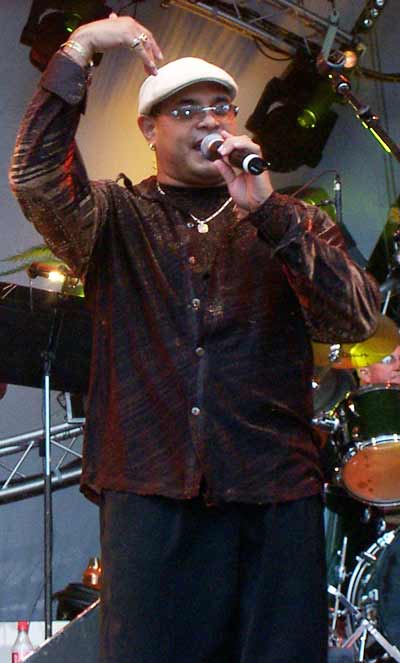 A little Bañame con tu suerte choreography
They switched gears with the Afro-descarga Yoruba Song from Descarga Total . This is a perfect example of a song that allows you to dance, albeit Afro-Cuban or rumba rather than casino, but also pleases jazz fans who prefer to listen. And it's also a great vehicle for the musicians because again it allows them the freedom to display their virtuosity within the framework of the song, thus maintaining the all important dance factor.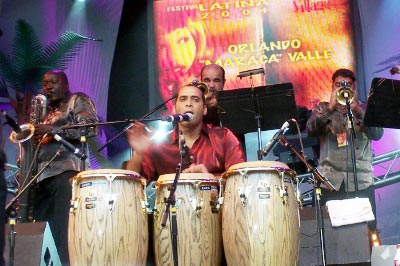 Conga and metales
During Yoruba Song we were treated to another solo by Maraca, which left no doubt as to why he won the Timba.com award. Rafael Valiente also performed a conga solo that was infinitely satisfying. I've never been interested in drum solos at rock concerts, but Afro-Cuban drumming is something else entirely. And Rafael also sings coro while playing!
The concert even featured some of the new songs that will be on the new CD coming out in September. The song Soy yo is going to be another hit for Maraca. Paciero does some interesting things with his bass, and the song moves from salsa to a sort of singing-rap and then back again.
Tú veras, tú va' a ver is already a favorite of mine. It is an absolutely compelling son that makes it impossible for you to stand still. I noticed some of the Cubanas in the audience dancing beautiful, graceful son. The song also has a coro that even a person with questionable Spanish skills such as myself can sing along with after hearing it only once:
"Tú veras, tú va' a ver
Lo que te vas a perder
Tú veras, tú va' a ver
Como te vas a volver"
The new songs already sound tight live, so get ready for another Grammy quality CD!
The final song of the concert was Castígala , a favorite of the audience which sang along on the coro. And just to be fair, they did a coro for the ladies "Castígalo". As an encore they performed Cuba En Carnaval , which was perfect for the atmosphere of this outdoor concert. Roberto Pérez and Reinaldo Melián came forward and played trumpet at the front of the stage and I was hoping we'd get a conga line going, but no such luck.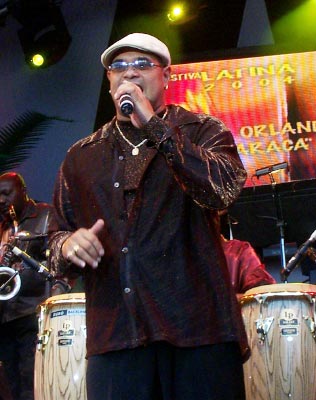 Rolando Morejón
After the concert my goal was to hunt down Maraca himself who had no idea I was coming to give him his award. I panicked for a minute when one of the security guards who only spoke French told me, who only speak English, Swedish and a little Spanish, that everyone had already left. At least I think that's what he said. But fortunately I caught site of Rafael Valiente in the VIP area and told him I had Maraca's award. Céline, their manager, told me to come around into the VIP area, so I did, and I flashed my Timba.com credentials which surprisingly the security guards accepted, and finally was able to meet Maraca!
Well it wasn't quite that easy. There was a line of fans on the other side of the fence handing him their CDs to be autographed. But when all the autographs were finally signed and I'd had time to down a free mojito, I was able to present Maraca with his prize. OK, if we look at a list of the awards Maraca has won, see his web site because it's too long for me to write here, suffice to say that he has won many awards and been nominated for a Grammy for Best Salsa Album. So how would he react to an unexpected award from Timba.com? He was great! He seemed to really appreciate the award and even poured his drink into the cup so he could begin using it at once. He is not only a great flautist and gifted band leader but a genuinely nice guy too.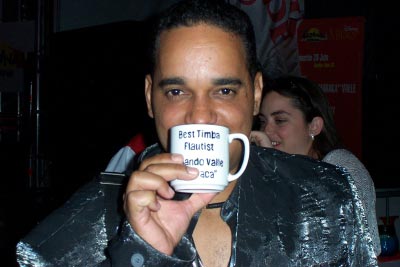 Maraca making use of his Timba.com award - Best Timba Flautist
miércoles, 19 junio 2013, 07:36 pm