History - Charanga Habanera in the 2000s
Charanga Habanera in the 2000s
Calzado failed to find another genius lieutenant of the calibre of JC González or Tirso Duarte but has continued to make meticulously crafted recording while maintaining the group's popularity with a "boy band" approach to the front line. I intend to do a less-detailed analysis of the albums at some point, but in the meantime, the rest of the story is well-covered in our vast selection of concert reports, interviews and photo galleries. Every year of the first decade of the 2000s is represented.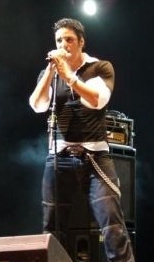 Los Charangueros de Hoy
español - English
The early 2000s witnessed a lot of drama surrounding the various matinée idol singers, captured in candid detail by film-maker Jennifer Paz. Here's are photos and a link to her film "Popular". Click here to read Michelle White's review of "Popular".

"Popular" - Charanga Habanera in the early 2000s
Monday, 19 March 2018, 08:15 AM