Lo Nuevo
[hide]
Fotos Del Día
[hide]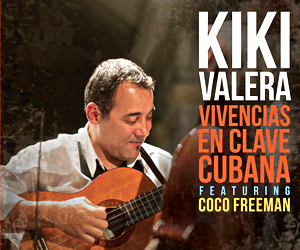 Concert Report - Stockholm - "Reuniones"
by Michelle White
Stockholm May 28, 2004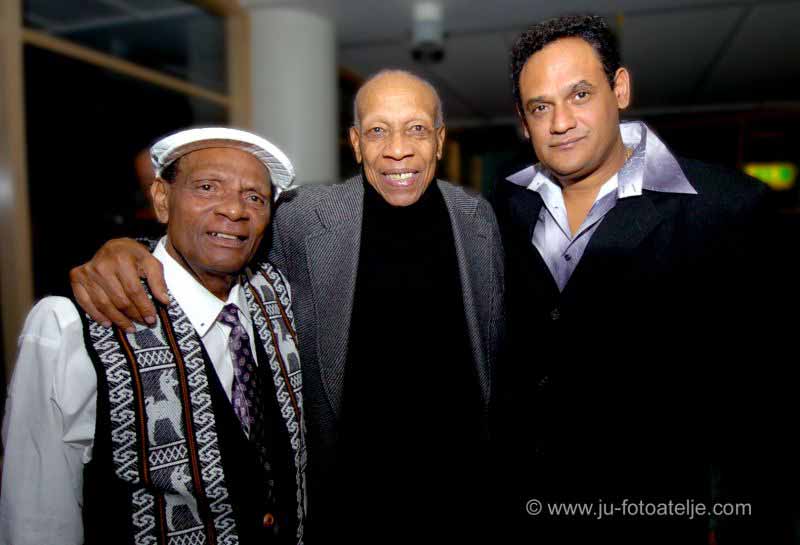 Tata Güines, Bebo Valdés and Pachito Alonso
Photo courtesy of Ulises Jacas www.ju-fotoatelje.com
The concert in Stockholm on May 28, 2004 was an historic moment for fans of Cuban music: three generations of Cuban musical tradition were reunited and Timba.com had the honor of sharing in this moment. A fact that is perhaps not well known is that el Maestro Bebo Valdés was the man who discovered and helped Pacho Alonso at the beginning of his career. Pachito Alonso and Bebo Valdés had not seen each other for 44 years, since Pachito was a small child. The concert in Stockholm provided them with the opportunity to see each other again and share memories, and also brought together their sons: Cristian and Rey Alonso and Rikard Valdés. It was a honor to be presented to Bebo Valdés by Pachito Alonso, and I want to thank Pachito for his graciousness in allowing me to be there.
But that was not the only reunion going on. The group that Pachito has assembled for this tour is in itself a reunion of sorts. Invitados include Calixto Oviedo who started playing with Pachito when they were 7 years old and and in the early days was member of Pachito's orchestra, as well as the King of the Congas el Maestro Tata Güines and the beautiful and talented Osdalgia Lesmes. And there was also a little N.G. La Banda reunion going on between Calixto, Rodolfo "Peruchín" Argudín and Rolando Pérez Pérez. The affection these musicians feel for one another is unmistakable and they refer to each other as "hermanos". So the atmosphere on stage this night was one of family.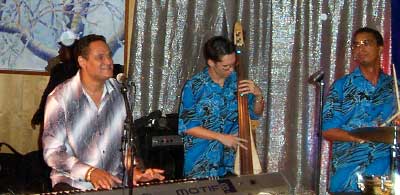 Pachito, Iván and Alexander
The concert included a wide range of songs but the focus was on songs from the new CD, Cantándole a la vida. The concert began with a drum solo by Calixto which segued into Ya llegamos, the first song on the new CD. This is a good one to get the audience warmed up ending with a "con la maximum velocidad" coro. This was followed by another one off the new CD Tengo lo que tú quieres.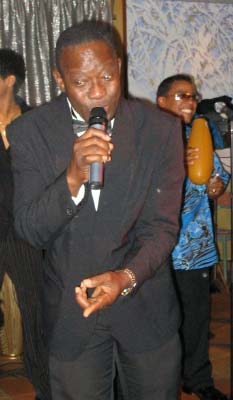 José Luis Arango and Orlando Gutiérrez
Pachito has three lead singers: José Luis Arango, Cristian Alonso and Rey Alonso, with Orlando Gutiérrez on coro and güiro.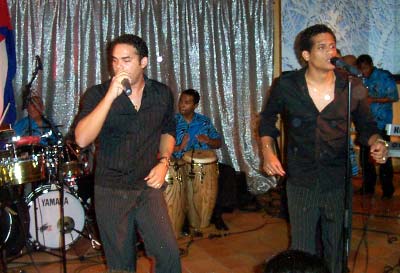 Rey and Cristian Alonso
One moment everyone was waiting for with the performance of maestro Tata Güines. They moved the congas to the front of the stage, Calixto switched to timbales and Alexander to drums and Peruchín took over piano for Pachito who directed the musicians.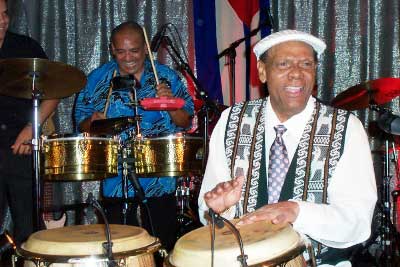 Calixto Oviedo and Tata Güines
Using this formation they performed 2 jazz songs which included solos by Tata and Peruchín. The interplay between Calixto and Tata was fascinating to watch as well as to how Pachito directed it. But it wasn't only the percussion that was great. The metales were smokin'...


Los metales
...and Pachito and Peruchín kept alternating between piano and keyboards during the night. Peruchín is basically the inventor of what we today would consider to be a timba style of tumbao and is one of the great timba soloists, so it was a pleasure to see him live.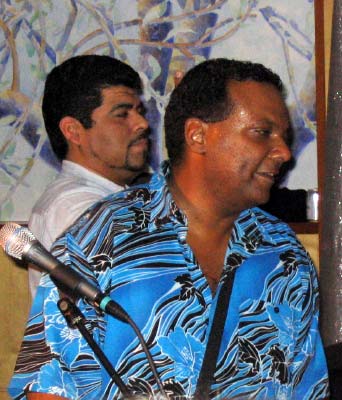 Peruchín
Osldagia Lesmes followed singing La Culebra. Osdalgia is beautiful and has a great voice. She has a background in theater rather than music, but during her time at the Tropicana she began singing and has worked with José Luis Cortez and N.G. La Banda. To learn more about her, listen to the MP3 of her interview with Timba.com [coming soon].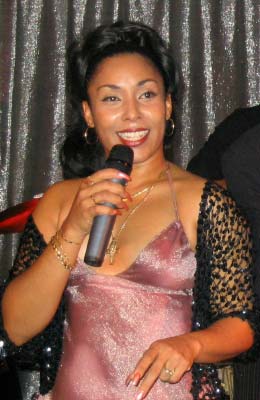 Osdalgia Lesmes
She and Arango ended the first set singing a duet of Que manera de quererte.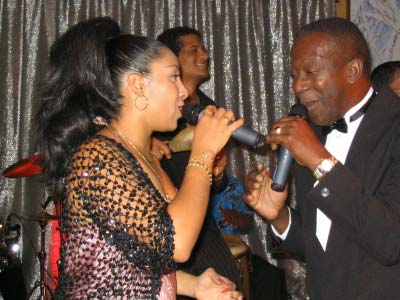 Osdalgia and Arango singing a duet
The second set began with a pilón sung by José Luis Arango. This is only the second time I've ever seen anyone dance pilón, and I didn't realize it could look so sexy. Cristian and Rey have a nice way of moving their hips when they do the little quick step.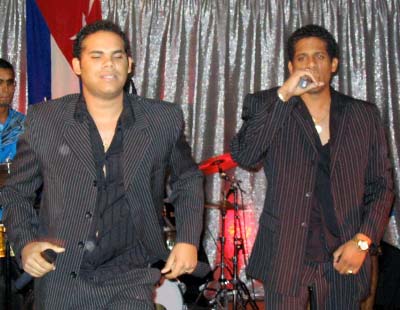 In general the second set was when the dancers really got going. They sang Chiquita bum bum, Quiereme como te quiero yo, and La Habana me queda chiquita, all from the new CD. During Chiquita bum bum Rikard Valdés joined the band, completing the reunion of the 3rd generation of musicians, and took over the timbales from Calixto who graced us with a few of his dance moves before relieving Roberto of the congas for a while and then moving to güiro and finally back to timbales. This sort of relaxed atmosphere made the concert a lot of fun.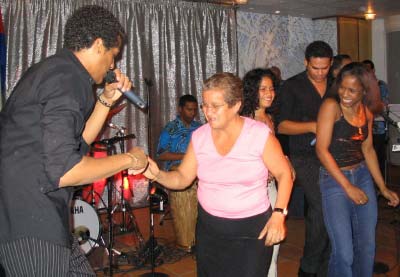 Despelote to Chiquita bum bum
When the concert ended the audience demanded an encore and Arango sang Que bueno está. He is one of few singers who is capable of singing any genre, and really has to be seen to be believed. After the first encore the band was ready to go and started packing up their things, but the audience would not allow them to leave without singing Chequendengue. During the "saca tu panhuelo" coro people who had come without their panhuelo were using all manner of things to fill its place. I think I might have seen someone waving a sock around.
After the concert the dancing continued and Arango proved that not only can he sing but he can dance a mean, hardcore son! And now the band is off to Spain and France. Click here for their concert schedule. We will keep updating it as more dates are confirmed.
miércoles, 23 marzo 2011, 03:31 am