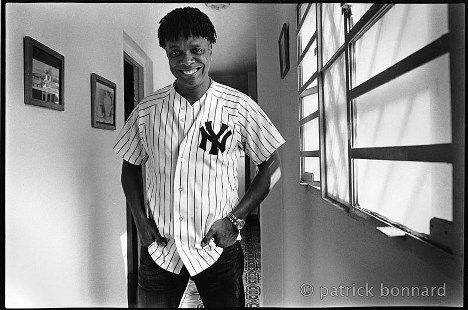 photo by Patrick Bonnard
The most sophisticated and strikingly original of the major Timba bands, by a considerable margin, is Giraldo Piloto's Klimax. Descended from a long line of famous Cuban musicians and composers, Piloto has been omnipresent throughout the first decade of Timba history as a drummer, a songwriter and an arranger. He was a founding member of the first Timba band, NG La Banda. When La Charanga Habanera exploded onto the scene, their first big hit, "Me sube la fiebre", was written by Piloto and they followed it up with several other Piloto songs, including "Mi estrella". When Issac Delgado left NG to form his own group, Piloto became his musical director and wrote a number of songs for him, including possibly his most important hit, "No me mires a los ojos", which Issac still plays at nearly every concert. In January of 1995, after 8 years at the epicenter of the Timba revolution, Piloto decided to form his own group and in April of that year, Klimax played its first concert at the famous La Cecilia club on Avenida Quinta.
Klimax released 3 CD's on Spain's Eurotropical label, plus 6 live tracks on the two Concierto Europtropical albums. Since returning to EGREM, they've released 5 more albums.
Kevin Moore - Saturday, 29 January 2022, 04:33 PM