Haila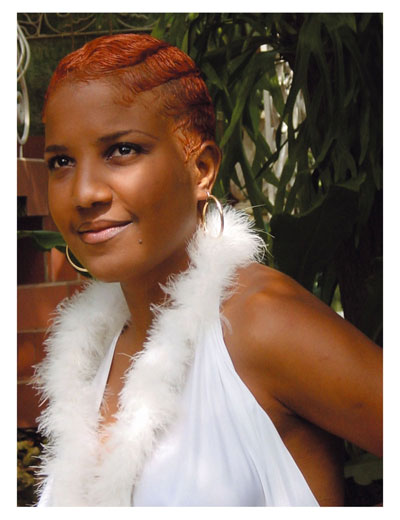 pon clik aquí para la página web de Haila en Musicalia
Haila María Mompié is the most charismatic and attractive female lead singer in timba, as voted in the 2003 Timba.com Awards. But Haila's success is more than a result of her good looks. When Haila walks onto a stage, all eyes turn to her. She possesses the indefinable "it" that separates stars from competent singers. This charisma in combination with her voice has made her one of the undisputable divas of Cuban music.
Haila was born January 28, 1974 in picturesque Las Tunas, about 500 miles east of Havana. She first expressed her interest in music as a dancer, although she always liked to sing. It was in 1991 when Yaqueline Castellanos "La Dama Del Son", recognized that the young dancer had an exceptional voice and asked her to join Septeo Tradición where she began singing traditional Cuban music. For the next few years Haila continued singing traditional Cuban music with such groups as Habana Son and in the cabaret "Las Avenidas".
In September 1994 Haila joined Bamboleo as replacement for Virginia Casada who had moved to Italy with her husband, bassist Eduardo Céspedes. Haila's first major recording was Bamboleo's "Te gusto o te caigo bien". It was an auspicious debut. She sang songs such as "Te extrañaré" with a resonant vocal style that many compared to the legendary Cuban vocalist Celia Cruz.
But it was 1998's "Yo no me parezco a nadie" that clearly established both Haila and Bamboleo as major forces in the world of Timba. Nearly every song on this truly great album was arranged by leader Lázaro Valdes and written by Leonel Limonta, whose brilliant lyrics and soulful melodies created a powerful and unique chemistry with Valdés dramatic R&B and Jazz fusion-laced arrangements. Limonta had already written a string of indispensable hits for Charanga Habanera and Issac Delgado, but with "Yo no me parezco" he got a chance create an entire album and it turned out to be one of the great classics of the Timba genre. The title track became Haila's signature song, and she turned in an equally brilliant performance on the album's finale -- "Con un canto en el pecho".
In Bamboleo, Haila was teamed with another of Cuba's most important female vocalists, Vannia Borges. They were electrifying on stage, but they were more than just divas. As coristas they had an exquisite blend which attracted the attention of no less that Manolín, el Médico de la Salsa, who used them on his 1997 masterpiece, "De buena fe".
Like the original Charanga Habanera, it was hard to keep this much talent together and only one album was produced by this perfect creative combination of Limonta's writing, Haila and Vannia's singing and Lázaro's dramatic arranging ideas and wicked rhythm section. After "Yo no me parezco" Limonta and Haila left to create a new group, Azúcar Negra. After a brilliant series of radio demos, including Qué viva la vida and the inexplicably never released Almas disfrazadas. Azúcar Negra released the great "Andar andando" in 2001. The album is comprised entirely of Limonta originals with exhilarating, bloque-laced arrangements by bassist Adalberto "El Bamba" Domínguez, saxophonist Andel Laborit, and others. Their version of "Yo no me parezco" surpassed the original and Limonta's new songs, such as "Te traicionó el subconciente", "Vengo de estreno", "Tratado de timba y salsa" and "Andar andando" continued the unbroken string of great writing that began with "Extraños ateos", "Quítate el disfraz", and "Nube pasajera".
In 2001 upon returning from a European tour, Haila decided that she was ready to take the next step in her career by becoming a solo artist. In her solo career she has focused on other genres of music rather than timba. Her first solo album, Haila, was under the production of Issac Delgado and was a tribute to Celia Cruz.
She followed this with a live album and then in 2005 she released Diferente. This time David Calzado was the producer and the musicians were almost all members of La Charanga Habanera. Diferente won her a Cubadisco 2005 nomination in the category of pop/fusion.
As a solo artist Haila has continued to tour Europe, the United States, Japan and Canada working sometimes with other groups such as Issac Delgado, La Charanga Habanera and El Clan. She has also participated in projects in Cuba such as the Divas project. I guess we'll just have to wait and see if she decides to come back to Timba some day. [Kevin Moore & Michelle White]
Kevin Moore - Monday, 19 March 2018, 01:34 PM