Iván "Melón" Lewis
Oprima aquí para las partituras - Sheet music transcription here
Our first tumbao is a very famous one, and a perfect example of the most critical timba piano innovation – the idea that the piano tumbao be a "hook" by which the song can be identified and that contributes greatly to the song's popularity. If you play the above tumbao, No me mires 1a, for any timba fan, the person will immediately know which song it's from.
Examining the hands separately reveals another major timba piano innovation: there are three places where the left hand adds an extra note between two right hand notes, a technique never used before timba. No one seems to know who came up with this idea first, but as we'll see shortly, Melón was the first to use it as a central part of his style.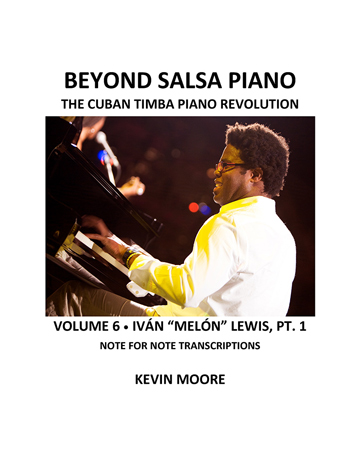 About Iván "Melón" Lewis - A central player in one of the most important bands of the entire timba era, the Issac Delgado Group of 1995-1998. He and bassist Alain Pérez arguably took the art of tumbao playing to its highest level of creativity and sophistication to date. All of the timba piano innovations detailed in Volume 5 can be found in Melón's work and some of them originated with him.
Perhaps the most extraordinary feature of both Melón's and Alain's playing was their ability to improvise continuously within a dance music groove. The live concerts of Issac Delgado during this era were highlighed by about 20 extraordinary 10 to 20 minute arrangements which offered more variation and improvisation more from night to night than the performances of any other timba band with the possible exception of the Paulito FG of the same period. As such, each song becomes a course of study unto itself, beginning with the basic tumbaos and extending to variation, secondary tumbaos and all manner of gear-related variations, resulting in four complete volumes of the Beyond Salsa Piano series being devoted exclusively to Melón.
Michael Lazarus - Thursday, 17 May 2012, 03:00 PM