SpanishEnglishInterview - Yaqueline Castellanos - Sweden, 2004
by Michelle White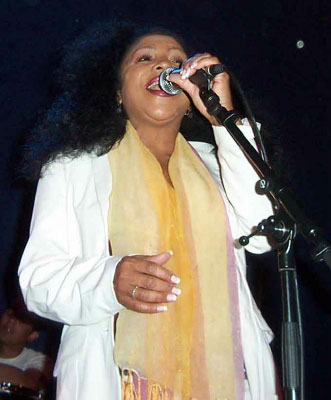 Timba.com: Could you tell us a little bit about your life and your work?
Yaqueline: Yes, of course. First I want to thank Timba.com for their invitation to do this interview. My name is Yaqueline Castellanos, they call me "La dama del son" [the lady of the son]. I have had a twenty-year career, for many years I have been outside of Cuba. But I can tell you a little about what I did in my country before I came.
I studied at the professional school of music Ignacio Cervantes. I had a great band in Cuba, entering in various festivals. With this band that I had in Cuba that was called La Banda J.B. I recorded a CD with EGREM, with the Cuban recording label EGREM, and this production is still being sold in the US where this CD can be obtained.
Later in Europe, now living in Europe, in Spain. in Madrid I also had the opportunity to record another CD with, may he rest in peace, Compay Segundo, and I continued my career. I formed a great orchestra also in Madrid that was called "La Orquesta Piel Canela" in Spain. Orquesta Piel Canela with which I recorded another CD that is called "El que no corre vuela" with the recording label Envídia.
And now at this time I have recorded on other various CDs such as a tribute to indie rap music, a tribute to Maria Teresa Vera, etc., other things that enter into other productions because I have been a guest artist, you know. Currently I reside in Stuttgart en Germany. I have a band called Tokame that is directed by my husband maestro Branco Arnsek. And we are recording a new production with 59Music run by my husband with his record house with the intention of doing a release at the beginning of next year in the US.
Timba.com: And could you tell us a little about your musical influences?
Yaqueline: Well my influences, yes, I can tell you that in my work I have influences of Latin Jazz, salsa par excellence, traditional son because I'm a sonera. It is my specialty you know, I'm a sonera. And now I am getting into timba thanks to the kindness of maestro Leonel Limonta who has wanted to invite me to do this tour with them. And, well, I am also, I have a little...I have above all the influence of timba right now, you know. Hardcore timba as the Cubans say.
Timba.com: For you, what is the connection between son and timba?
Yaqueline: Well there are some differences but son, the connection that I feel exists is that son is the root. Son is the root of salsa and of timba. But the difference is the intensity, the great power, that great pressure that euphoria that timba projects is very different from the flavor, the authenticity of son. It is another style totally different but with influences of son cubano of course.
Timba.com: But there is also son that has a lot of intensity...
Yaqueline: Yes, yes, yes, no. I don't want to say to you that son doesn't have intensity. Son is par excellence very intense, but timba has another temperament, another euphoria that is reached when...
It's not the same. When you hear and can dance to a good, intense son as when you dance a hardcore timba because this is total euphoria. That's why I tell you that it is the difference. I don't want to say that son is not intense, in addition I defend it because it is my style, you know.
Timba.com: Thank you very much!
Yaqueline: Thank you and have a good afternoon.
Tuesday, 22 March 2011, 07:32 PM