Interview with El Noro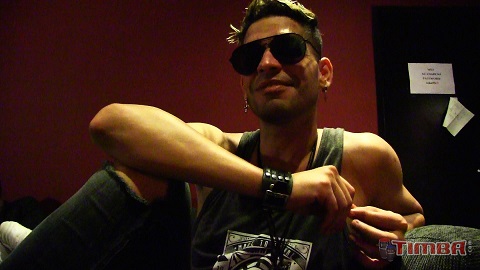 Noro: I come from a small town in the province of Matanzas called Pedro Betancourt. That's where I was born. I wasn't there for very long. I was there until I was about nine years old. But incredibly, it's something genetic that comes from the blood. And I can't deny my...I can't deny my origins.
So I come from Matanzas. I'm a proud 'matancero'. Although I feel extremely Cuban because my dad is from Pinar del Río and I also lived in the Pinar del Río province and I lived a few years in Ciego de Ávila. And, well, finally in 2001 I arrived in the city of Havana and that is where I built my career.
I don't come from a family that is exactly musical. Although, yes, art was present in one way or another. My dad is a very talented person in terms of handcrafts, drawing, painting and I think that I inherited this in part from him. Even my paternal grandfather has that gift.
And my mom is also a tremendous person - Teresita Gómez. She's full of life. That's the greatest. She has that spark. So I am a mix, if we're going to talk genetically, we have a mix of my dad and mom which has resulted in the way I am.
And I'm very happy with what God gave me. You know I think...I already took the best prize because God gave me this gift to be able to sing, to create songs and these kind of things. Right now many people think that that writing a song is like, I don't know, anyone could write a song. And it's not like that. I think there are people who, not that I'm including myself in this group, but there are people who have this gift. It's a touch that they say "You have the ability to do something interesting, do something different." And unfortunately that how it is, but that's how it works.
And I feel very grateful to life for what they've given me. So what I have to do... my commitment is to put this to use for the people, so that people feel good so that people enjoy my songs. So I have a great responsibility towards the dancers and the people who really like to listen to our music.
El Noro has worked with three important groups: Maykel Blanco y Su Salsa Mayor, Manolito Simonet y Su Trabuco and Pupy y Los Que Son Son
I've always said in previous interviews that people learn to speak...children learn to speak listening to their parents. So I think that imitation is the basis of teaching. Later you try to find your independent style with your characteristics, what you want.
So I nourished myself a lot from each of the orchestras I've been in. And not only from the ones I've been in also those I haven't been in that are also paradigms for me as in the case of Los Van Van, La Revé. I've had the privilege and good fortune to be asked to join bands that are practically the most important in our country. For me this really is... I feel... privileged because they have wanted to rely on me at a certain point in time. And I am grateful to all of them.
But now we have this magical, beautiful project that is the purpose of my life called 1ra Clase, which is my own orchestra and is where I can reflect and where I can make all of my dreams come true. And we are working hard at this folks. We've done the first CD called 'Sin Escala'. And we got results that we really didn't expect. I'm very happy with how it has gone, with how the people have made it their own. That's the most important thing beyond the awards and things. I think the best prize is that the people make my music theirs.
And recently we've already been working on the second CD. Today we're in Stockholm and today is the 16th of June 2017. We're arriving in Havana the 26th, on the 27th we'll begin recording the second CD. We can't stop. We have a lot of new things to show and a lot of things to say and that's what's important so that people feel good and people enjoy our music. And we're going to keep on struggling. We want to offer something serious. We're not playing around. We're engrossed in doing something responsible with flavor and cubanía but with responsibility.
The band's debut album "Sin Escala" won Música Bailable - Nuevo Talentos at Cubadisco 2016
Noro: To be honest, the Cubadisco prize was something that wasn't in our plans. I swear that when we did the CD I was honestly thing about what my heart was telling me. And also taking a little advice from people who have... I tell you 'two heads are better than one.' I've said it a number of times. This is called "El Noro y 1ra Clase" and I have a lot of very valuable people in my orchestra who contribute a lot. While the central idea may be mine, I let them give me suggestions. Always when doing something that's worth the trouble I let people give me advice.
Really I didn't expect this prize. It was an "extra", a "plus" in my career. But I tell you the greatest prize is the audience. Now, a prize that they give you in addition... we welcome with all the affection in the world and for me it's a tremendous privilege. It speaks to you a little of the results of those two previous years of work.
We hope that the second exceeds expectations, not only in winning the prize but in that the people continue liking it that it will be an explosion! We have a lot of interesting songs. I know that you are going to like it. I like to write things that have to do with us, above all that the people have fun. And at the same time I have a few romantic songs to balance the album because there are people who like sit down and listen a little and take things their way. And so we're also working for that.
Their new song "Estoy en 0" has already become a hit via YouTube and the fans in Stockholm were calling for it
Noro: This is, incredibly, the good and the bad thing about technology these days. You can't make a mistake. I mean, you do a new song in some place and someone films you on a cell phone and now the song has taken off without you having recorded it.
And at the same time it's dangerous. Because it's a song that you haven't recorded and there may be someone... Because there are people who are very original and create their own things. But there are people who don't have scruples, who also copy. And when you go to look they, create a coro very similar to yours without you having recorded it.
I'm telling you because these things happen. It's happened to me. I won't mention names, but these are things that have happened to me. And it doesn't... It doesn't even make me angry. In reality it's embarrassing because I think you have to be original. You have to respect yourself.
When I'm writing a song, if I see some phrases or something looks like something that already exists, it would be embarrassing to me out of pride, you know, to do it. So I worry a lot about these things and I hope that other people worry. Gentlemen, self-respect is important. Respect yourself and respect the work of others as well!
El Noro has managed to put together a team of excellent musicians
Noro: Well let me tell you that... In October we'll celebrate our 4th anniversary and I'll be honest with you, I say this without shame and without any sort of embarrassment. With money it's very easy to make an orchestra. Now having some money, which is what's necessary to buy the instruments, to begin to work and with heart, this I think is the task.
I went through some difficult times. Not only economic issues, it's also the issue of...or the adversity that exists. I'm not going to mention names but at times there were people who were antagonistic and put obstacles in my path. But it doesn't matter. I think that the music is more important. And never in any concert that I've given in my life have I made allusion to any adversary or anyone. I simply focus on my music and my audience, that's what's most important. I make music for the audience not this, as we Cubans say, this 'duel', it doesn't exist. No boxing gloves. Everything is beautiful. I think music is art, and art's not about that.
My concern is simply this. I'm not interested in competition, much less...I think that I need to dedicate all my brain cells and all my energy to doing things that the people like, things that are interesting, things that help me better myself as a human being, as a musician, as a friend, with the family as all these things.
El Noro took a big risk leaving Pupy y Los Que Son Son one of Cuba's most popular bands with a well-established following
Noro: I'll tell you, many people offer me their respect exactly for this reason. It's difficult. Human beings tend to fear sudden changes. It's not that I'm the bravest guy in the universe or anything like that. But I felt the courage and that it was the moment to do it. And I made the decision to start my orchestra.
I think I did it at the right time. We can't say that it was something premature or anything like that, because in the end I was part of Maykel Blanco y Su Salsa Mayor. I was with Manolito Simonet y Su Trabuco. I was with Pupy y Los Que Son Son a number of years as well. So in the end I have an accumulation of experience that allowed me to... or the ability to do these things. And the other is in, I don't know, in having the audacity to make a decision like this. Many people are sometimes overwhelmed saying "I'm secure where I am. I'm in a first tier Cuban orchestra. I'm stable, I'm relaxed."
But I think that life is about risk. There are those who take them, there are those who don't take them. Like the directors I was talking about took them, in their moment. They broke off from the root that they came from and they managed to do their thing.
I think that in this moment as well there are people who have this ability to do the same. If this were not the case, there would only be two orchestras in Cuba: La Aragón and La Revé. That's where everyone came from. So we can't talk about betrayal or anything like that because at the time everyone made their decisions and managed to respect it with problems, without problems. In the end, they either forgave each other or they didn't.
And, well, this is our moment. I think there is a new generation coming to defend Cuban music, fortunately! Fortunately, there is a new generation coming to defend our music. And I think we have to give it a lot of support from an institutional point of view, from the point of view of the Cuban state, to defend our culture and really give it what it deserves, right? I think that has to be a priority. Not only with words but with deeds, to make this project work. If not, the music will die. We'll get old, and when I'm and old man other guys will come along, may God grant that they come and take our place. And we'll remain with the respect and prestige of what we've accomplished.
miércoles, 05 julio 2017, 09:20 am