Angel M. Tributo Lavoe
Angel Melendez & Tributo Lavoe
Cubby Bear, Chicago, 30 December 2012
Review and all photos by Bill Tilford
All Rights Reserved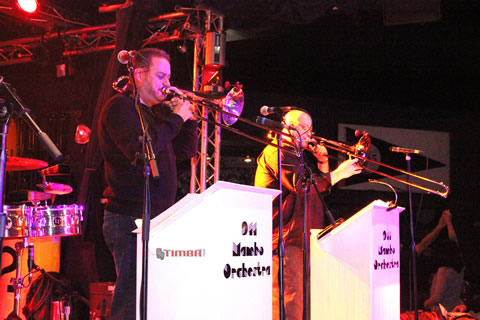 Yes, we know that for many serious Cuban music fans, any discussion of the whole Fania thing is a little like suggesting that the Devil may not be all bad after all, but look, we needed to walk into the belly of the beast (if you like) for two reasons:
1. The leader, Angel Melendez, is one of Chicago's most serious bandleaders; his big band, the 911 Mambo Orchestra, received a nomination in the 47th Annual GRAMMY Awards, and they are about to go into the studio again, and
2. Love it or hate it, this smaller 7-piece Tributo Lavoe unit is wildly popular and can't be ignored here.
End of excuses.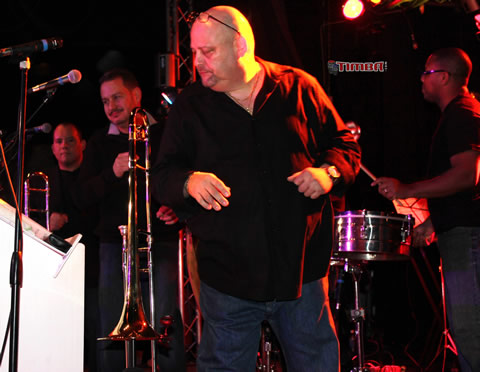 We went to this bracing ourselves for yet another grueling rendition of El Cantante (like Guantanamera on the Cuban side, this song is on our informal demerit list due to overuse by too many bands for too many years.) Either somebody warned them about our allergy (which we doubt), they snuck it in during our trip to the men's room (also doubt), or they just didn't play it because they had enough self confidence not to (most likely). At any rate, Hooray! Yes, their repertoire was basically the Colon and Lavoe material from Hector's heyday, but they do this really well, and they jam on it rather than attempt to act like a ghost band doing duplications of the original recordings, which makes the experience much better for musicians (and truth to be told, for dancers as well because it means more time on the floor). The overall sound is faithful to the original, but in our opinion better because the musicians are allowed to stretch out a little more.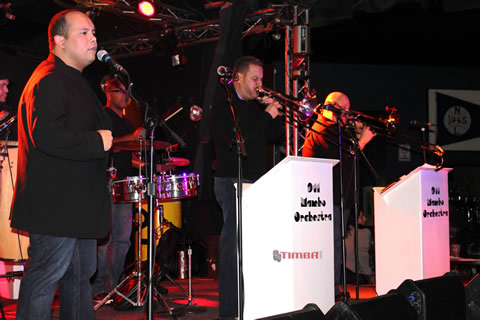 This is a really fun band, and as you'll see from the photos, we saw a lot of enthusiasm on the dance floor. If you're into the Fania era, this is probably a must-see band for you. If you are a Colon and/or Lavoe fan, you can drop the word "probably". If you think that Fania was doing the devil's work, this won't convert you, but take it easy on these guys - some of the musicans also play some serious Latin Jazz and some of the Cuban book with other bands around town. If you are undecided, give them a whirl. What they do, they do very well.




















Bill Tilford - martes, 15 enero 2013, 07:38 am