New Stuff
[hide]
Photos of the Day
[hide]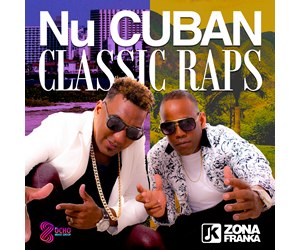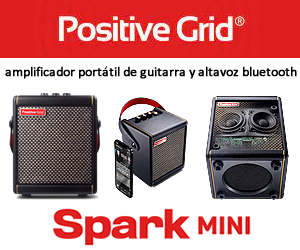 Coloquio Internacional 2020 Day 2
XV Coloquio Internacional de Jazz "Leonardo Acosta in Memoriam", Day 2
Jazz Plaza, Fäbrica de Arte Cubano, La Habana, Cuba, 16 January 2020
Photos and commentary by Bill Tilford, all rights reserved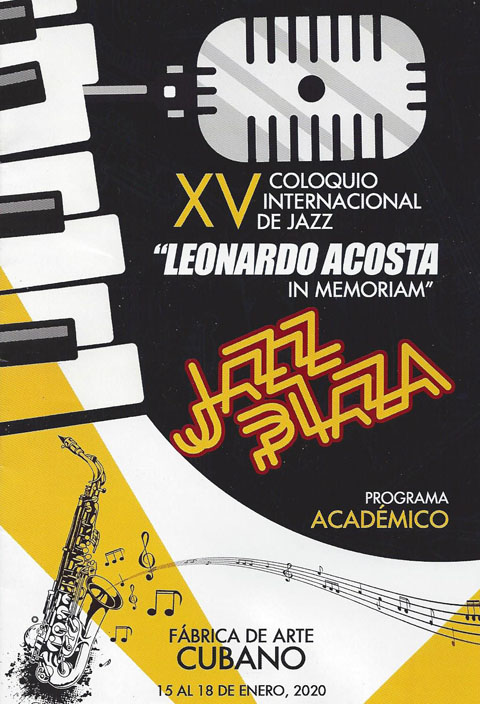 ENGLISH: The Coloquio International is the daytime activity at Jazz Plaza. It uses the different naves of the Fábrica de Arte Cubano and presents a series of lectures, roundtables, video viewings, master classes, CD presentations, and live music presentations. Some of the highlights of Day 2 featured an appearance and discussion with part of the New Orleans delegation led by Big Chief Monk Boudreaux. Cimafunk, who has been involved with joint projects with musicians in New Orleans, participated in the section. The discussion stressed the Cuba-New Orleans connection from the time of the beginnings of jazz. Later in the day, Bis Music presented a new DVD, Juntos Otra Vez, a joint project of Janio Abreu and the Evanston-based saxophonist Victor Goines along with the new CD Grecolandia by José Miguel Crego "El Greco". Several master classes were held later in the day.
Grecolandia is already available internationally. You can watch the official Making Of video of Juntos Otra Vez here: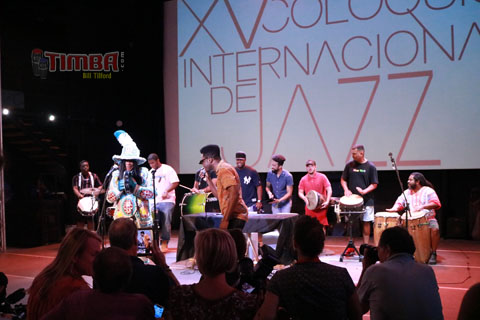 Big Chief Monk Boudreaux with Cimafunk

ESPAÑOL: El Coloquio International es la actividad diurna en Jazz Plaza. Utiliza las diferentes naves de la Fábrica de Arte Cubano y presenta una serie de conferencias, mesas redondas, videos, clases magistrales, presentaciones de CD y presentaciones de música en vivo. Algunos de los aspectos más destacados del Día 2 presentaron una aparición y discusión con parte de la delegación de Nueva Orleans dirigida por el Gran Jefe Monje Boudreaux. Cimafunk, quien ha participado en proyectos conjuntos con músicos en Nueva Orleans, participó en la sección. La discusión enfatizó la conexión entre Cuba y Nueva Orleans desde la época del comienzo del jazz. Más tarde, Bis Music presentó un nuevo DVD, Juntos Otra Vez, un proyecto conjunto de Janio Abreu y el saxofonista Victor Goines, con sede en Evanston, junto con el nuevo CD Grecolandia de José Miguel Crego "El Greco". Varias clases magistrales se llevaron a cabo más tarde en el día.
Grecolandia ya está disponible internacionalmente. Puede ver el video oficial de Making Of de Juntos Otra Vez arriba.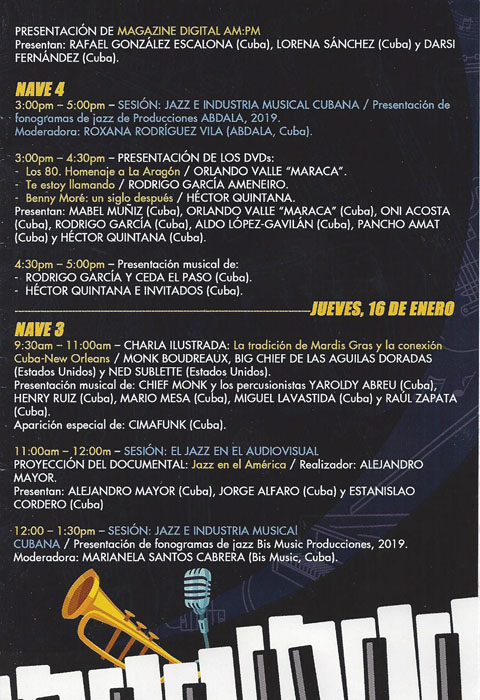 Click on the images below to view the photos
Haga clic en las imágenes a continuación para ver las fotos








Bill Tilford - lunes, 09 marzo 2020, 12:59 am