Lo Nuevo
[hide]
Fotos Del Día
[hide]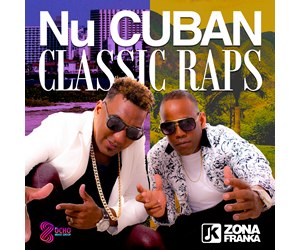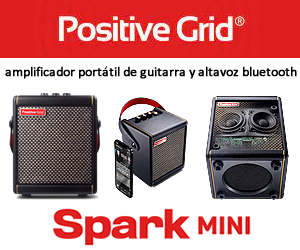 Chuchito Valdés June 2013
Chuchito Valdés Trio
Jazz Showcase, Chicago Illinois, June 2013
Review and all photos by Bill Tilford, All rights reserved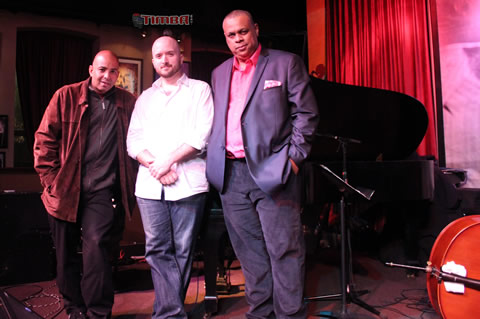 There is nothing little about Chuchito Valdés. Physically, he is a giant of a man, and his live performance style is often as dramatic as the music he performs - so much so that some Chicagoans frequently tell jokes about the safety of the city's pianos whenever he is in town. But the talent and the music are every bit as huge as the man himself and the drama on stage - over the years, Chuchito has become a living encyclopedia of straight ahead Jazz, Cuban Jazz, Timba, Classical music and who knows what else. What's more, with the passage of the years, he has developed an emotional depth and range in his performances that weren't always on display in earlier years. He has always been a virtuoso, but this trio, which we saw during two out of the four nights, gave some of the most impressive performances that we have seen from him to date.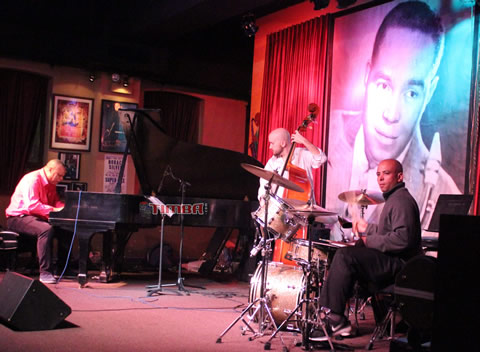 Technically, a piano is a hybrid - both a string and a percussion instrument, and during the course of the performances, Chuchito used every aspect of it to full effect; in addition to playing the keys, he also played with the strings and used the body as a percussion instrument for a couple of songs. Most of the time, he let the piano sound like a piano, but on occasion, the sounds that he produced were almost those of a harpsichord and a harp - no small trick given that there were no electronics involved. The emotional scope of his playing ranged from tender to explosive, sometimes changing on short notice. And, as always, watching him in action was a visual performance as well; this much onstage energy is rarely seen from other pianists save for a select few such as Hiromi Uehara. Like her, when he is "in the zone", it becomes hard to picture him being anywhere else except with the instrument.
The new bassist in the trio, Christopher Nolte, is a monster player who was born in Illinois, later moved to New York, and has recently moved to the Chicago area with his wife to be closer to family. After listening to him perform live here, we are confident that he will become rather well known in the Chicago area fairly quickly once he finds the right musicians to settle in with. By his own account, he is more of a straight ahead Jazz musician than a Latin Jazz musician, but he handled both aspects superbly in these sets.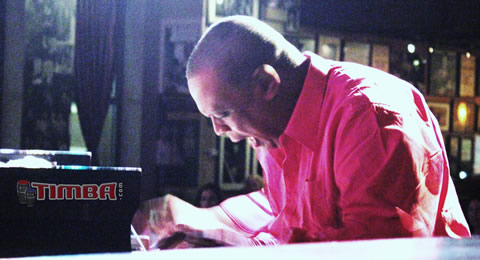 The drummer, Rafael Monteagudo, is a New Yorker (like Chuchito, he was born in Cuba) who came in for the occasion. Rafael is able to use the drum kit like a percussion section, and he brings an extra element of sophistication to the music with a level of brush and mallet work that isn't heard as often in this music as it should be nowadays. He also has his own trio back home, The Music Connection, with pianist Chemi Nakai and Carlos del Pino.
Chuchito might be the star here, but this trio was impressive as a unit, and we hope that we will see these three together again in the future, whether with or without additional musicians.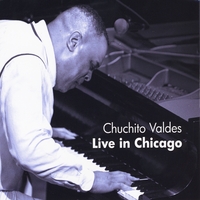 Last year, Chuchito's Live In Chicago, a 2-CD recording of a 2009 concert, was nominated for a Latin GRAMMY in the Best Latin Jazz Album category. You can read our review of that CD here. Before that, his CD New York is Now! / Viva el Sonido Cubano was nominated for a Latin GRAMMY in the same category. Live in Chicago is available on CD Baby. Although he also is the youngest of what is now called the Bebo/Chucho/Chuchito Valdés dynasty, his work as a performer now stands on its own merits.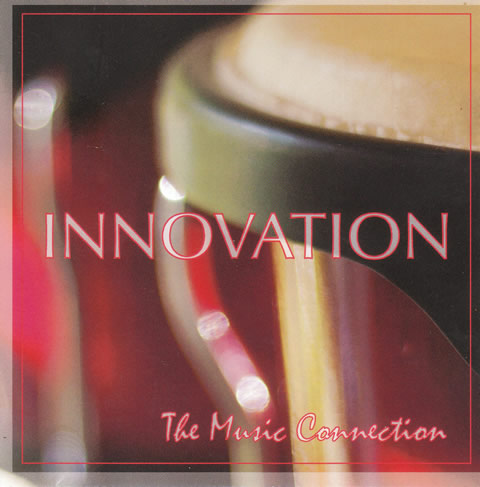 Rafael Monteagudo, the drummer, released a CD with his own trio, The Music Connection, last year called Innovation. You can read our review here. It is also available on CD Baby.

Chris Nolte, the bassist, does not yet have a recording under his belt, but we fully expect to see him turn up in a few as the future unfolds.
Click on the thumbnails below to enlarge the images of these photos taken at their performane:



















Bill Tilford - Thursday, 06 June 2013, 02:19 AM