Lo Nuevo
[hide]
Fotos Del Día
[hide]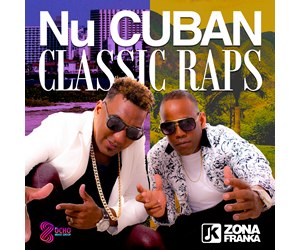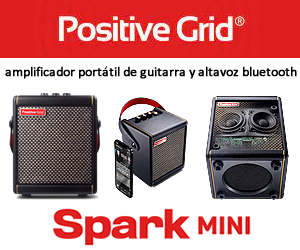 Danae Blanco & Cubajazz
Danae Blanco and Orlando "Cubajazz" Sanchez Soto
Sabor a Café, Chicago, Illinois
24 January 2015
Photos and summary by Bill Tilford, all rights reserved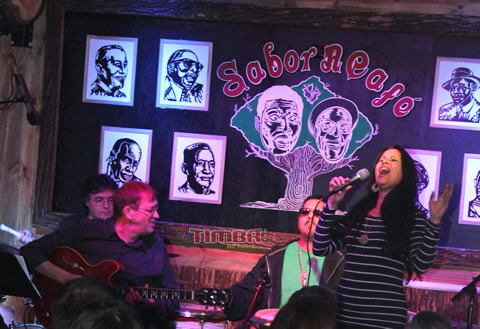 Chicago may not be the Timba capital of the United States, but it does host a lot of serious Cuban and other Latin Jazz, and one of its most important outposts is an intimate Colombian restaurant, Sabor a Café, whose owner is serious enough about the music to justify having this place listed as a Jazz venue. Orlando "Cubajazz" Sanchez Soto, one of Cuba's best Jazz saxophonists, has been hanging out at Sabor a Café a lot, and this night, his wife, Danae Blanco, flew up to sing with him. He shifted from saxophone to keyboards (at which he is also quite talented) for the occasion.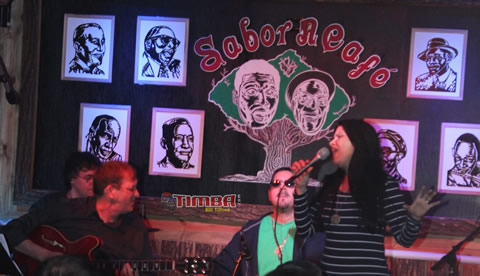 Danae has a thrilling voice and can handle a variety of styles from straight ahead Jazz to Brasilian to Cuban, as this group (with Rob Block on Guitar, Frankie Ocasio on congas and Jose Ormaza on drums) demonstrated. The venue was packed, and the musicians were in a zone. Hopefully there will be opportunities for Danae to perform in Chicago again (she is scheduled to appear at Sabor a Cafe again on January 31 before leaving the city, and worth catching if you can).
Rob and Orlando will be part of Eliel Lazo's crew when he comes to Chicago on February 6, and they both have the chops to handle Eliel's material, so that will also be a don't miss.
Click on the images below to enlarge them.













Bill Tilford - Tuesday, 27 January 2015, 10:14 AM