Lo Nuevo
[hide]
Fotos Del Día
[hide]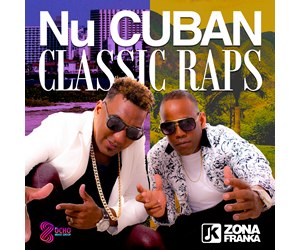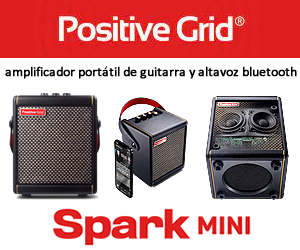 El Macabeo 2012
Orquesta El Macabeo
Square Roots Festival and the Mayne Stage, Chicago Illinois, 21 July 2012
All Photos and Review by Bill Tilford
All Rights Reserved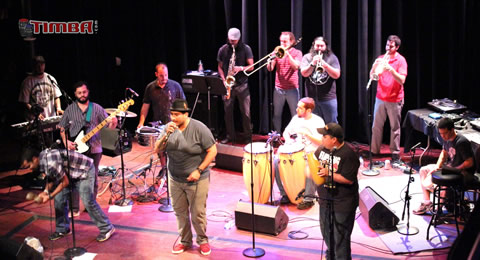 Like Timba, Salsa reached a point in its development years ago when some musicians began asking themselves "Where can we take our music from here? Where does it go next?" Many of the experimental bands in this music did their work in New York, but there has also been a small progressive wing in Puerto Rico which has succeeded in avoiding a clear label (and usually the radar of the mainstream industry as well). Cortijo's Maquina del Tiempo project, Frank Ferrer's Puerto Rico 2013 and Zaperoko's Cosa de Locos and Still Crazy are a few of the best examples of recordings from bands in Puerto Rico during past decades that demonstrated some ways to move the music forward. (The fact that these aren't on the playlists of most DJs on the mainland says something about the state of the market.) Not very many people outside of la Isla del Encanto know it yet, but Orquesta El Macabeo has been taking the music in some new directions since 2008 while most of us on the mainland haven't been paying attention. In addition to listening to their excellent recordings, we had the pleasure of seeing them live at the Square Roots Festival (where they melted the pavement) and the Mayne Stage (where they rocked the house) on July 21, 2012.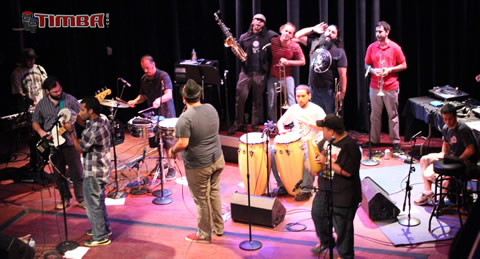 Orquesta El Macabeo brings a kind of raw, crazy energy to its live concerts that we haven't seen since the original Zaperoko was in its early days. Imagine a "third wave" ska band like Reel Big Fish or the Mighty Mighty Bosstones learning and really nailing Salsa, then losing the mosh pits, Doc Martens, fights and non-stop profanity but keeping their original over the top energy level, social commentaries and sense of humor, and you're pretty close to what this band feels like in concert (except that the audience is dancing Salsa and laughing instead of punching, kicking and crowd-surfing, and the age mix of the crowd is all over the place). Their recordings are excellent as well, but like those Ska bands we just mentioned (and the very best Salsa and Timba bands for that matter), things get kicked up a few notches when they are on stage. (Those of you who don't go to live concerts take note: you never really get to experience the best of the best.)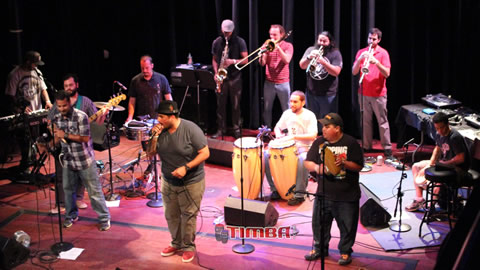 How is this band different, and what makes them tick? Well, we're going to steal a trick from those old adventure serials and tell you next week, when we'll share what we learned from a very interesting conversation we had in between the two concerts with the group's leader and bassist, José Ibáñez Reyes. In the meantime, check out our concert photos and their website, orquestaelmacabeo.com, which includes some video.
PART II ADDED 29 JULY 2012:
We mentioned in our first part that this band brings a raw, crazy energy to its live concerts, but don't confuse that with unrehearsed or sloppy - in spite of the fact that these guys have day jobs and other gigs (just like the Salseros in NY, Chicago, Miami etc), they rehearse at least weekly, sometimes twice a week, and according to their leader, they consistently refuse to use substitutes when performing because it would mess with their chemistry (after listening to them, we agree that it would be difficult for other musicians to sit in effectively with this group).

They could be an excellent "regular" Salsa band if they really wanted to; at their Mayne Stage concert, they included some Cortijo classics (Maquinolandera and Quitate de la Via Perico) that threw just enough curve balls from the brass section and the vocals to make the songs "theirs" but were otherwise pretty faithful to the originals. What's more, they even played a genuine Bolero, which is unfortunately virtually extinct in places like Chicago due in part to the Bachata thing. (Historical note for today's dancers - in a Bolero, the dancers sometimes actually dance very close rather than turn and spin 26 times. It's kind of fun really, as long as neither of you is already too drunk...) The melody lines, lyrics and energy level that these guys picked up with their Reggae, Ska, Punk and Heavy Metal experience are what really distinguish them from your everyday Salsa Dura project. A special touch is the electronic keyboard work which is often atmospheric and sometimes sounds like the Vox keyboards that you'll hear in bands like the Toasters. Even with this, we think that Charlie Palmieri would have approved.

This isn't the first time that Salsa has had encounters with other genres - remember Salsoul in the 70s for example? - and Ska and Salsa have flirted with each other many times before. What's different is that before now the mixture has usually been Ska and Reggae rhythms with Latin melodies (a good recent example of that would be Ska Cubano for example). Orquesta El Macabeo takes this in the opposite direction - it keeps the rhythm section grounded in Salsa (most of the time, it throws in some surprises here and there), but listen to La Conga or Supermercado for example, and you can hear the Ska in the chord changes and melody lines, and Cogiendo Pon channels some of the Punk energy (although the vocalists do sing in a Salsa rather than Punk style). One thing what we found interesting when talking to the brass musicians is that they mentioned some of the old school Ska and Reggae bands (the Skatalites, the Toasters, the early bands in Jamaica) as influences, but what this band throws down while playing feels more like there are third wave influences (such as Reel Big Fish). This may be an inevitable result of the fact that much of the rhythm section and vocalists (including the leader) have been with Punk bands as well, and Ska+Punk = Third Wave.

This band deserves a lot more exposure off the island than it is getting right now, but integrity comes with a price. This is not the kind of band where you can take one or two of the regulars, fly them into a town, pick up a few locals, and do a show. Still, we think it's a just a matter of time before they'll turn up in places like LA and NY as well as back to Chicago.
We had an interesting conversation with the leader, José Ibáñez Reyes, in which we discussed the band, the realities of being a working musician today and other odds and ends:
CLICK HERE TO HEAR AUDIO INTERVIEW WITH JOSÉ IBÁÑEZ REYES (MP3, APPROX 15 MIN)
Click on the thumbnails below to enlarge the images of the Mayne Stage concert. For photos from the band's Square Roots set, see our Square Roots Festival gallery.













Bill Tilford - sábado, 08 septiembre 2012, 12:18 pm