Lo Nuevo
[hide]
Fotos Del Día
[hide]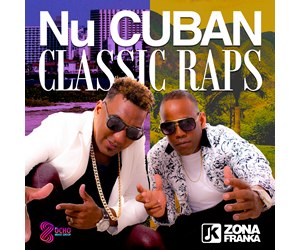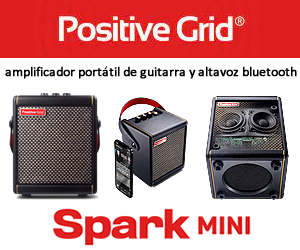 Inside Abdala May 2015
Inside Estudios Abdala, La Habana, Cuba, 19 May 2015
Photos and commentary by Bill Tilford, all rights reserved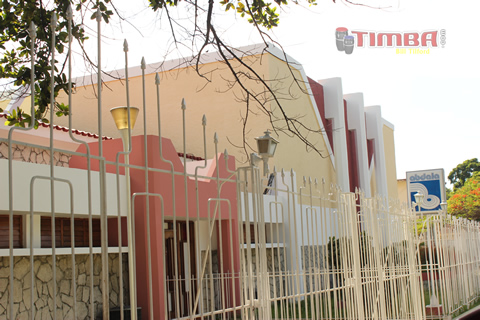 ENGLISH: A couple of the technical sessions in CIDMUC's International Symposium at Cubadisco 2015 took place in Estudios Abdala in Playa. I attended the May 19 session. The presenter was Alex Rodríguez, who demonstrated some of the nuances of mixing audio, especially in relation to the physical positioning of the listener. Some distinguished persons were present, including Adalberto Álvarez, who was recording a new project there, and Paolo FG, who also has a new project in development.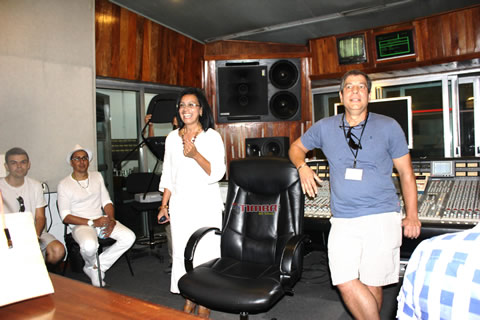 Abdala has two labels, Unicornio and Presto, along with a publishing house, Atril. (The Cuba release of Havana d'Primera's La vuelta al mundo is licensed to Unicornio.) It was founded by Silvio Rodríguez in 1998 and operated in recent times as part of the CIMEX Corporation until 2014, when it was transferred to the Ministry of Culture in October 2014 after a period of financial difficulties. It is now an active studio again after a hiatus during 2014. There are three regular studios and a mastering facility The walls are adorned with photos of the numerous artists who have worked with Abdala in some capacity - many recent Cuban recordings, especially the ones for Colibri's three labels, have been made using some combination of Abdala, EGREM and other parties during the process, which now frequently functions on an a la carte basis as opposed to being done entirely by one company.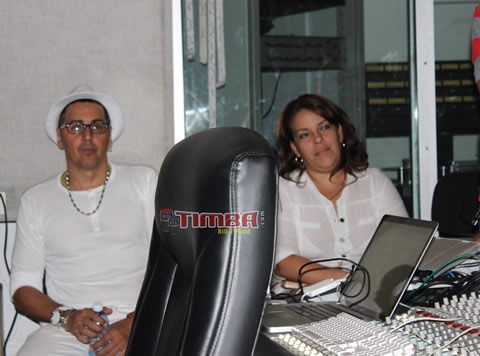 (Left: Paolo FG)

The audience included a small international mix of producers, scholars and performers. It would be nice to see some more offsite presentations like this one in future years (most presentations for the Symposium take place within CIDMUC's facility in Vedado).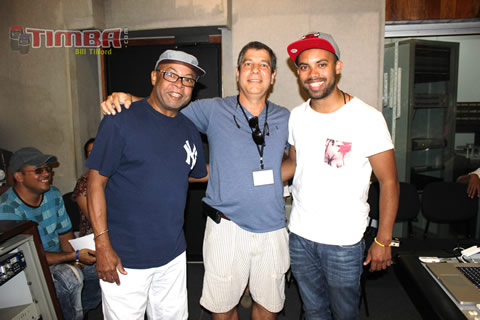 (Left: Adalberto Álvarez)

ESPAÑOL: Un par de las sesiones técnicas del Simposio Internacional por CIDMUC en Cubadisco 2015 tuvieron lugar en los Estudios Abdala en Playa. Asistí a la sesión de 19 de mayo. El presentador fue Alex Rodríguez, quien demostró algunos de los matices de la mezcla de audio, especialmente en relación con la posición física del oyente. Algunas personas distinguidas estaban presentes, incluyendo Adalberto Álvarez, que estaba grabando un nuevo proyecto allí, y Paolo FG, que también tiene un nuevo proyecto en desarrollo.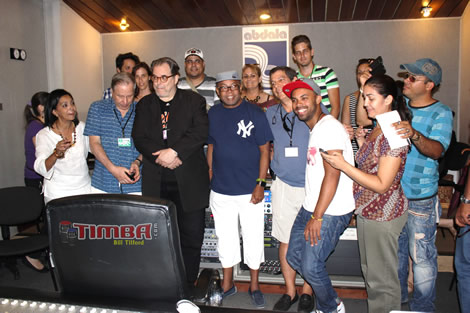 Abdala tiene dos sellos, Unicornio y Presto, además de una editorial, Atril. (El lanzamiento en Cuba de La vuelta al mundo por Havana D'Primera tiene licencia para Unicornio.) Fue fundado por Silvio Rodríguez en 1998 y operaba en los últimos tiempos como parte de la Corporación CIMEX hasta 2014, cuando fue transferido al Ministerio de Cultura en octubre 2014 después de un período de dificultades financieras. Ahora es un estudio activo de nuevo después de un paréntesis durante 2014. Hay tres estudios regulares y un centro de masterización. Las paredes están adornadas con fotos de los numerosos artistas que han trabajado con Abdala en alguna capacidad - muchas grabaciones cubanas recientes, especialmente las de los tres sellos de Colibri, se han hecho utilizando una combinación de Abdala, EGREM y otras empresas durante el proceso, que ahora con frecuencia funciona sobre una base a la carta en lugar de ser realizado en su totalidad por una sola empresa.
El auditorio incluyó una pequeña mezcla internacional de productores, académicos y artistas. Sería agradable ver unas más presentaciones fuera del sitio como éste en los próximos años (la mayoría de las presentaciones del Simposio tuvieron lugar dentro de las instalaciones de CIDMUC en Vedado.
Abdala's website is
www,abdala.cu
Click on the images to enlarge them / Haga clic en las imagenes para ampliarlas

















Bill Tilford - Saturday, 01 August 2015, 05:08 PM