Maqueque & Jazz Showcase June 2018
Jane Bunnett and Maqueque at The Jazz Showcase, Chicago, Illinois, June 28, 2018
Photos and commentary by Bill Tilford, all rights reserved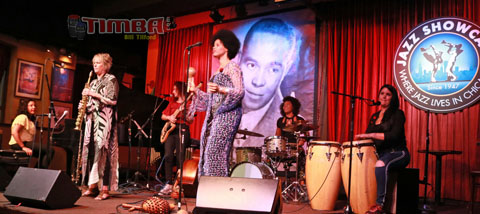 ENGLISH: Maqueque happens to be all-female, but in Cuba's current Jazz scene with a significant number of female leaders of important Jazz and Fusion ensembles (Yissy Garcia, who plays drums in Maqueque but leads Bandancha at home, Melvis Santa, currently working in New York, Dayme Arocena, Zule Guerra, Bellita Esposito, Brenda Navarrete and several others), it really isn't any surprise that Maqueque performs at its current level at excellence. The lineup for this trip in addition to leader/saxophonist/flautist Jane Bunnett includes pianist Dánae Olano, equally at home with this music and classical music; drummer Yissy García, who has emerged as a significant musical force both as a drummer and a bandleader; new bassist Tailin Marrero and new conguera Mary Paz, both of whom perform with the Fusion supergroup Interactivo back home, and Melvis Santa, who these days is deep into the Rumba scene in New York with her group Ashedi, on vocals and percussion. (Melvis, incidentally, also has some experience with Interactivo.)

I caught the first Thursday evening set (they have a 4-night stand from Thursday to Sunday). It was quite versatile, opening with the Cuban Fusion track Little Feet from their most recent GRAMMY-nominated album Oddara and featuring a number of songs from that and previous albums. A highlight was El Chivo which let the group show both its impressive Rumba and Changüi chops. There was also a novel interpretation of Ain't No Sunshine.

Jane Bunnett mentioned that a new recording is in the works at the end of the year. In the meantime, catching this group live is highly recommended.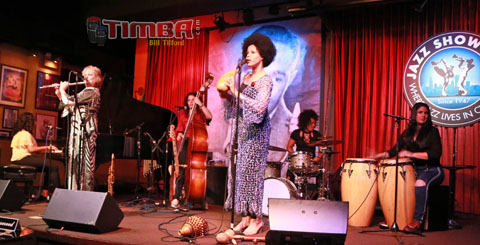 ESPAÑOL: Maqueque pasa a ser completamente femenina, pero en la escena contemporanea de jazz en Cuba con un número significativo de mujeres líderes de importantes grupos de Jazz y Fusion (Yissy Garcia, que toca batería en Maqueque pero es lider a Bandancha en Cuba, Melvis Santa, que trabaja hoy día en Nueva York, Dayme Arocena, Zule Guerra, Bellita Esposito, Brenda Navarrete y muchas otras), realmente no es una sorpresa que Maqueque se desempeñe en su nivel actual de excelencia. La alineación para este viaje, además de la líder / saxofonista / flautista Jane Bunnett, incluye a la pianista Dánae Olano, igualmente capaz con esta música y la música clásica; baterista Yissy García, quien ha surgido como una fuerza musical importante igualmente como baterista y líder; la nueva bajista Tailin Marrero y la nueva conguera Mary Paz, ambas trabajando con el supergrupo de fusion Interactivo en Cuba, y Melvis Santa, quien está inmersa en la escena de Rumba en Nueva York con su grupo Ashedi, en la voz y percusión. (Melvis, por cierto, también tiene cierta experiencia con Interactivo).
Asistí al primer set del jueves (tienen 4 noches de jueves a domingo). Fue bastante versátil, abriendo con la canción de fusión cubana Little Feet de su más reciente álbum (nominado al GRAMMY) Oddara, y presentando varias canciones de ese y álbumes anteriores. Un momento destacado fue El Chivo, que permitió al grupo mostrar sus impresionantes chops de Rumba y Changüi. También hubo una interpretación novedosa de Ain't No Sunshine.
Jane Bunnett mencionó que una nueva grabación era en proceso a finales de año. Mientras tanto, el grupo merece mucho la escucha en vivo.
Click on the images below to enlarge them / haz clic en las imágenes para agrandarlas













Bill Tilford - Saturday, 30 June 2018, 02:24 AM