Mezla at El Jelengue de Areito, 2 March 2019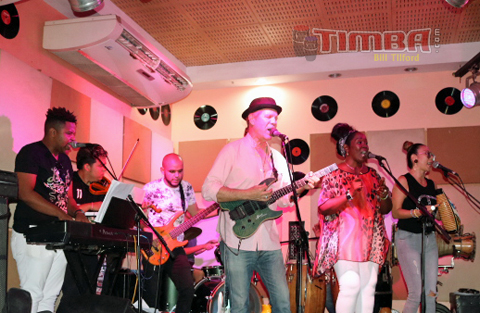 ENGLISH: Mezcla, which has two new recordings pending, performed at the Jelengue de Areito in March 2019. A former violinist/keyboardist, Julio Valdés, joined them for the occasion, as did the percussionist Melena, who is also working on a new recording. An unusual aspect of the group is vocalist/percussionist Yuko Fong, born in Tokyo but in Havana since 2000, enabling Mezcla due to some Cuban music in Japanese.
You can purchase Mezcla's most recent prior album, Pure Mezcla, here.
ESPAÑOL: Mezcla, que tiene dos nuevas grabaciones pendientes, presentó en el Jelengue de Areito en marzo de 2019. Un ex violinista / teclista, Julio Valdés, se unió a ellos para la ocasión, al igual que la percusionista Melena, quien también está trabajando en una nueva grabación. Un aspecto inusual del grupo es la vocalista / percusionista Yuko Fong, nacido en Tokio pero en La Habana desde el año 2000, que permite a Mezcla presentar música cubana en japonés.
Puede comprar el álbum anterior más reciente de Mezcla, Pure Mezcla, aquí.

Click on the images below to enlarge them; Haz clic en las imágenes de abajo para agrandarlas







Bill Tilford - Monday, 01 April 2019, 12:16 AM