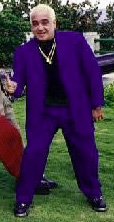 intrumento/instrument: trompeta/trumpet
grupos/groups: Charanga Habanera, Paulito FG, Danny Lozada, Havana Ensemble, Son Candela
grabaciones/recordings: Charanga Habanera: Live in the USA, Charanga Habanera: Chan Chan Charanga, Charanga Habanera: Charanguero mayor, Paulito FG: Sofocándote, Issac Delgado: La fórmula, MANY more
lugar de nacimiento/birthplace: ?
formación musical/musical background: Amadeo Roldán, La ENA, "la calle"
lugar actual de residencia/current residence: La Habana
Carmelo André Llanes, has now become widely known as "el abuelo Carmelo", ("grandpa Carmelo") after the song of the same name from Charanga Habanera's latest CD, composed and sung by Aned Mota. We won't need to say anything more about his physique or his character because Aned has said it all in his song!. So we'll just focus on his artistic history.
Carmelo, born April 3, 1953, is the oldest member of the group. To my question "Where did you study?", his answer was almost unbelievable: "a bit at Amadeo and a bit at the ENA, but what I know I learned in the streets ". All right, then, I think I want to study in the street too!!! Without a doubt the "school of the streets" produces VERY good musicians!
I continue my questions - "And what did you do then?". "I don't know,"- he tells me -"I only studied until I started playing with Lázaro Valdés (the father of Bamboleo's Lázaro Valdés, Jr.) in 'T con E'. We worked in a lot of cabarets and also accompanied many prestigious Cuban artists such as Leonora Rega, Omara Portuondo, Moraima Secada and Elena Burke. Afterwards I worked in the Teatro Musical with Rafael Ortega, and in the Cabaret Capri with Leonardo Timor, a trumpet player who now lives in the US". In addition to the many pop music groups he's also played with the orchestras of the opera and ballet and with the symphony.
Although he's great fun to interview, "El abuelo" doesn't remember that many of the details because he's played in so many groups, so we'll concentrate on the most recent!
From 1992 to 1997 he played with Paulo FG y su Elite, with whom he recorded two discs: "Sofocándote" y "El bueno soy yo". Next he worked with several other groups including César López' Havana Ensemble; Danny Lozada y su timba cubana; and Son Candela, led by bassist Adalberto "Candelita" Avila, and ex-member of Adalberto Alvarez y su son.
Since 1998 he's played with David, a name he never uses...preferring to call him "El dirigible" ("The blimp"), or, more recently, "Chocolate".
While working with La Charanga, Carmelo has also played on a number of other recording projects, such as "La recompensa" by Calixto Oviedo and Issac Delgado's "El Malecón" (released as "La fórmula" in the US, where it was nominated for a Grammy).
After a life so full of musical experiences, I came to the obligatory question: "Do you like playing with Charanga Habanera?" His response was very emotional "Hooooombre, si parece que tengo 20 años y voy a cumplir 50 ahorita! Me siento como nunca en la vida, gracias a Dios". ("Hell yes! I'm about to turn 50 and I'm acting like I'm 20! I've never felt so good in my life, thank God!")
Later he revealed that "the only thing I don't like is all the wardrobe changes...I've never had to change clothes so many times in my life!" But we all know that this goes along with the whole scene of working with this group, because in addition to their music Charanga Habanera offers a totally electrifying stage show. [Majela Serrano]
Michelle White - Wednesday, 23 March 2011, 03:31 AM