New Stuff
[hide]
Photos of the Day
[hide]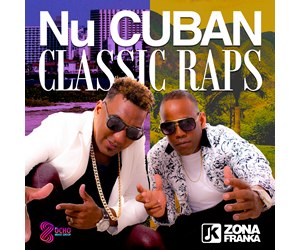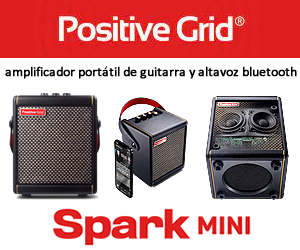 Feliciano Arango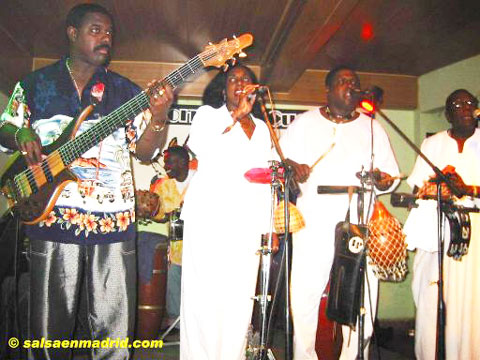 by Kevin Moore - © 2005 - pon clik aquí para su página en Salsa en Madrid
This brief introduction to the music of Feliciano Arango covers his Timba period, from 1989 to 2003, and his new music with Los Hermanos Arango .
The music of Los Hermanos Arango combines Afro-Cuban folkloric rhythms and Jazz, but extends this often-explored idea to the point of creating a new and unique genre. It's common to hear Latin Jazz groups incorporate guaguancó, "6-8", or perhaps even a taste of the more common batá rhythms such as Ynongo and Chachalokuafún, but in many of their compositions, Los Hermanos Arango goes so far as to completely replace the standard rhythms section with a battery of 3 batás and to draw much more deeply on the vast spectrum of Afro-Cuban folklore than anyone has previously done.
Here are some audio examples of this unique new type of music from the group's first CD:
Canto a Oshún No. 1
Abakua en 7x4
Fiesta negra (Toque de palo)
Los infortunados (Rumba)
FELICIANO ARANGO - TIMBA BASSIST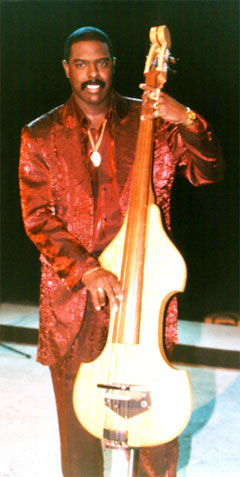 Feliciano Arango was the original bassist of the first timba group, NG La Banda , and played with them for over a decade prior to forming his own group. He was recently honored by the readers of timba.com as the greatest timba bassist of all time in the timba.com awards section. Michelle White met with him in Havana to present the award and wrote this account .

There are two ways to approach an understanding of Arango's place in the history of timba bass-playing -- as a stylistic innovator, and as an individual musical voice. Let's start with the latter. Like James Jamerson, Paul McCartney, and Jaco Pastorius, Arango's basslines transcend the traditional role of marking the rhythmic and harmonic structure of the arrangement -- each one stands alone as a melodic composition. I've always found it an appropriate coincidence that the name "Feliciano" comes from the same stem as "felicidad" because Arango's basslines seem to be bursting with the joy of being alive. In the early days of timba.com, I used to wax poetically for paragraphs in the NG La Banda section trying to describe Arango's style, but in 2005 this can now be done much more easily and effectively through the miracles of digital audio and high-speed intenet connectivity. Below are 4 audio links to specially-altered mp3 excerpts of classic NG tracks. The tempos are correct, but the pitch has been raised an octave to bring the bassline into the singable range. Unfortunately, the process also makes poor Issac, Tony Calá and Los Metales de Terror sound like Alvin and Chipmunks, but if you can get over that, the finer details of the basslines can be heard very clearly even if you're not a trained musician. After singing along with the basslines for a while, you can then listen to the original tracks and hear Arango's magic more clearly.
1989 - La expresiva
1989 - Porque tú sufres con lo que yo gozo
1995 - Te pongo mal
1995 - La bruja
Our NG La Banda recommended listening guide will faithfully guide you through Arango's timba great recordings.
The personal elements of Arango's style -- his improvisations, melodicism, tone, phrasing and overall funkiness -- are enough to rank him among the greatest timba bassists -- and still sound modern even after the quantum leaps that occurred in timba in the late 90's at the hands of younger bassists such as Alain Pérez, Pedro Pablo, Joel Domínguez, et al,. but to understand Arango's ranking at the very top of this list of extraordinary talents, we need to consider his place in history and go back to 1989 when NG released the first timba albums, En la calle and No se puede tapar el sol, which were released outside of Cuba on CD by QBADisc as "En la calle".
In Son and salsa, the bass tended to play repetitive figures based on the "bombo-ponche" pattern:
xxx0 xx0 x xxx0 xx0 x old-style bass tumbao
xx0 x 0 xxx 0 xx0 xx0 x clave
Note that this older pattern is the same on each side of the clave. By 1989, songo bassists such as Juan Formell and Ritmo Oriental's Humberto Perera had already begun to experiment with "clavifying" the bassline:
0 x0 x 0 x0 x x0 x0 x00 x clave-aligned bass tumbao
xx0 x 0 xxx 0 xx0 xx0 x clave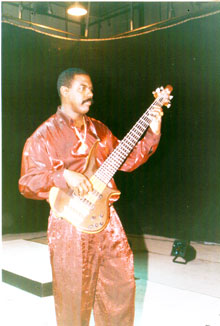 Arango greatly refined and extended this approach to create the set of rhythms which were the basis for the generations of timba bassists who followed him. He also pioneered many other hallmarks of timba bass playing, such as laying out and then sliding his hand down the lowest string during breakdown sections.

To hear Feliciano's contributions in context, I would suggest first listening to the basslines of:

Orquesta Revé: La explosión del momento
Los Van Van: anything from Colleción, (Vol. I-XV)
Ritmo Oriental: Historía de la Ritmo (Vol. I-II)
Fania All-Stars: (anything from the late 70's and early 80's)

Then listen to NG's "En la calle", recorded in 1989.
Then, to hear Arango's influence, listen to:

Charanga Habanera: Hey You Loca
Paulito FG: Con la conciencia tranquila
Issac Delgado: Exclusivo para Cuba
Manolín: De buena fe
Klímax: Mira si te gusta
Bamboleo: Ya no hace falta
Los que son son: Qué cosas tiene la vida
Michelle White - Tuesday, 20 March 2018, 11:47 AM