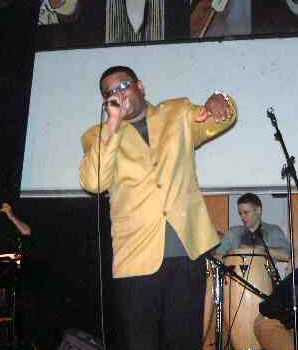 instrumento/instrument: voz/voice
grupos/groups: Salsa de Esquina, Gilito y su Clave
grabaciones/recordings: Gilito: A César lo que es del César, Salsa de Esquina, Gilito y su Clave - "Gilito canta grandes éxitos de la música española en salsa"
lugar de nacimiento/birthplace: Habana, Cuba
formación musical/musical background: ?
lugar actual de residencia/current residence: Stockholm, Suecia/Sweden
website: http://www.gilito.se/
Gilito was born in La Habana, Cuba in 1967. The musical atmosphere between relatives and friends surrounded him since his early years. In his adolescence, he made his idols to Benny More, Oscar D' Leon, Celia Cruz, Van Van, etc., and he begins to be part of little groupings as a vocalist. It is in 1991 that he makes his first international tour to Sweden as the main singer of "Salsa de Esquina", band that was popular between the young groupings of '90 and '91, participating in several televising programs of great hearing in Cuba. After a great acceptance between Latin and Scandinavian followers in Sweden, the band is invited to Chile where he shares scene with artists of the quality of "El General", "La orquesta de la Luz", and he participated in the First International Festival of Chile in 1992 with "salseros" of high trajectory and recognition from Venezuela, Puerto Rico and New York. In 1993, he leaves "Salsa de Esquina " and travels again to Sweden to form his own orchestra with Swedish and Cuban musicians to which he calls "Gilito Y Su Clave". After he made several tours in Scandinavia and the Canary Islands and participated in several festivals and other events, he records his first CD under the seal of "Manzana Records" titled "Gilito sings great success of the Spanish music in Salsa". This album makes a successful presentation in the International Carnival of the Palms of Great Canary where he shared the stage with Many Manuel, Los Hermanos Rosario, and Lucrecia etc. Additionally, he places the single "Sin Documentos" in the first places of radial ratting of Gran Canarias and reaches a high level of sales with his first Phonogram. In 1999, Gilito is invited to the International Festival of Salsa of Vega, Denmark, where he reached one of his great dreams, to sing next to Oscar D' Leon and to receive his blessing. In addition, he has shared scene with the most important Cuban salsa bands of the moment such as "Los Van Van", "Charanga Habanera", "Klimax", "Manolito y Su Trabuco", and "Afro Cuban All Star". In addition, his is not only the director and singer of this band, but Gilito is the composer of all his themes, and his performances are rich in improvisations and authenticate Cuban flavor. At the moment, "Gilito y Su Clave" is integrated by Cuban musicians, conforming a mixture of talents united by the "Cuban Timba". During these years, the Scandinavian criticize has considered "Gilito y su Clave" the orchestra of Salsa of greater international projection in the North of Europe.
In 2009 Gilito joined Juan de Marco's Afro-Cuban All Stars as a lead singer.
Michelle White - Wednesday, 23 March 2011, 03:31 AM