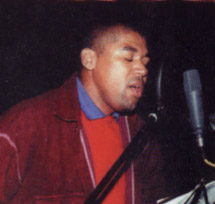 (photo from liner notes of "Cubamanía",
Global Disc Platinum Records)
instrumento/instrument: voz/voice
grupos/groups: Klimax, Charanga Habanera, Irakere , Havana Ensemble
grabaciones/recordings: Charanga Habanera: Love Fever; Charanga Habanera: Hey You, Loca; Klimax: Oye como va
lugar de nacimiento/birthplace: Guantánamo
formación musical/musical background: ?
lugar actual de residencia/current residence: La Habana
In the fall of 2004 Leo is on tour with Juan de Marcos and the Afro-Cuban All Stars in Canada. Here are a couple of recent photos, courtesy of Cristian Muñoz. In Havana he is busy as a solo artist often singing at Casa de la Música Galiano as an opening act for the timba shows.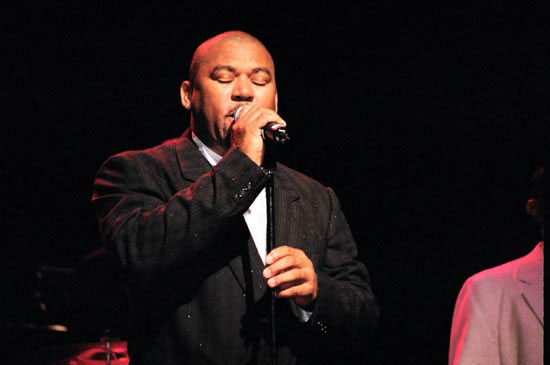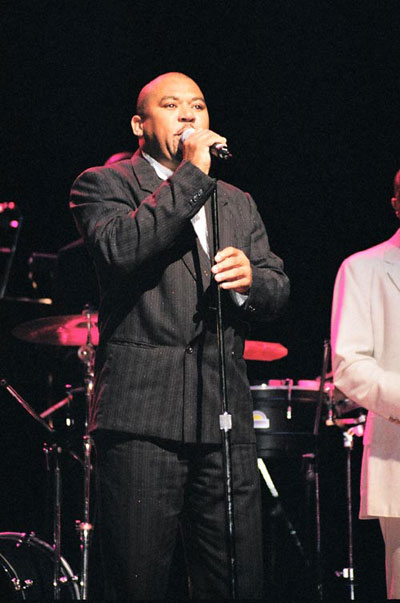 Leo Vera, whose full name is Leocidio, was born in Guantánamo a it was there that he began his artistic career.
He's sung professionally since child, in many groups and in many different genres.
From Guantanamo he moved to the Isla de la Juventud, where he continued to sing with various groups. From there he moved to Havana and in 1991 he began to sing with Charanga Habanera just as the band began it seminal role in the history of Timba. He stayed with David Calzado for a period of three years.

In 1994 he joined Chucho Valdés' Irakere, until he and saxophonist César López left to form the a new group, "Havana Ensemble". Later he joined Giraldo Piloto's Klimax. He only performed with the band for a few months, but recorded several of the lead vocals on their most recent CD, "Oye Como Va", including "La Número Cien".
Finally, about two and a half years ago, he formed his own group, which plays frequently at Café Cantante del Teatro Nacional. [Majela Serrano]
Michelle White - Tuesday, 22 March 2011, 07:31 PM