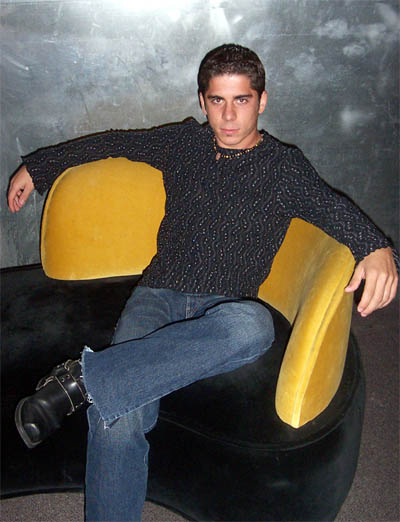 intrumento/instrument: batería/drums
grupos/groups:Manolín, el Médico de la Salsa, Miami Dan Den, Azúcar Negra, Carlos Manuel y su Clan, Sella LA
grabaciones/recordings: Manolín: "El Puente"
lugar de nacimiento/birthplace: Camaguey, Cuba
formación musical/musical background: la ENA y la calle
lugar actual de residencia/current residence: Miami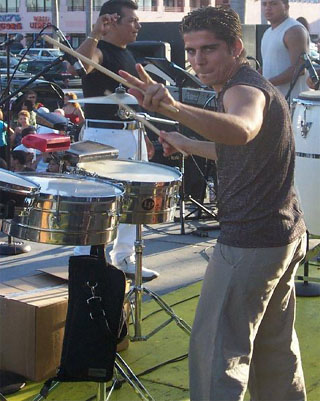 by Kevin Moore ©2002
Reinier Guerra is a truly incredible musician. He was barely 18 years old when I first heard him at The Starfish in South Beach, Miami, but he was already playing with the grace and maturity of a master percussionist. Like Yulién Oviedo, Angel and Alexis Arces and Tony Williams, Reinier seems to have been born with the ability to play any instrument effortlessly. I've seen him play piano with the same ease that he plays all the percussion instruments. But it's more than just superhuman technique that's involved. Even more compelling is his swing -- the way he plays time, and his uncanny ability to play, at any given moment, a rhythmic punch or fill that sets everyone in the room on fire.
To recap the information provided in Spanish by Duniel Deya and Majela Serrano:
Reinier, the youngest member of the group, was born in 1981 in Camagüey but grew up in Ciego de Avila.
He studied piano for 4 years and then moved on to the ENA, majoring in percussion. He started playing with Manolín at the end of 1998, when his predecessors, Los Pututi, stayed behind after Manolín's first US tour. It's interesting to add that now Manolín's group, from night to night, contains various combinations of these three incredible young percussionists, and with Tomás Cruz on congas, this results, in my humble opinion, in one of the 2 or 3 best Latin percussion sections in the world today. Prior to joining el Médico, Reinier played briefly with Azúcar Negra, Carlos Manuel, and Sello LA.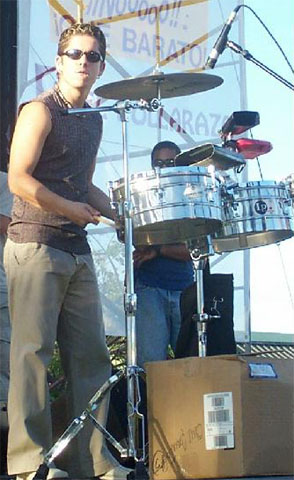 Like many of the percussionists of his generation, Reinier is a huge fan of two American drummers, Dave Weckyl and Vinnie Colaiuta, and also of the group Earth Wind & Fire, which had such a huge influence on Timba in general. Among Reinier's favorite Cuban artists are Gonzálo Rubalcaba and Issac Delgado. Reinier is also a big fan of the American salsa megastar Marc Anthony, with whom he had a chance to play when the famous singer recently sat in with Manolín's band in Miami.
In summary, it's easy to be bowled over by the phenomenal technique and swing of Cuban musicians, but even in such fast company, Reinier Guerra has something special -- an intuitive rhythmic genius that really has to be witnessed in person to be fully appreciated. We're very fortunate to have him here in the United States.
Michelle White - Wednesday, 23 March 2011, 03:31 AM