CD Review: 5 Leyendas de Cuba (Various Artists)
EGREM 2008
Review by Bill Tilford, all rights reserved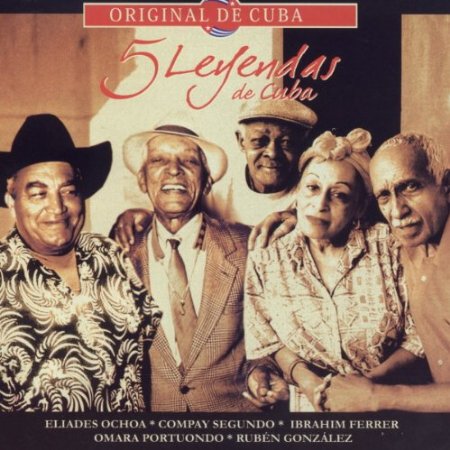 Some observers (including this writer) have always had mixed feelings about the whole Buena Vista Social Club phenomenon. On the one hand, there is no question that it was beneficial to the featured artists, it was a global phenomenon, and it did help foster a series of live music tours in the United States. On the other hand, it also absorbed some of the oxygen that the rest of the Cuban music spectrum and its artists should have been breathing due to an almost-obsessive focus by many promoters and presenters in the United States on whether there might be some way to tie the phrase "Buena Vista Social Club" to any given group of musicians or tour. For those reasons, this writer views the general phenomenon as a mixed blessing. That being said, his feelings toward the artists themselves are NOT mixed - they are wonderful and deserve recognition.

EGREM may possibly have had mixed feelings of its own given that much of the post-Buena Vista recording activity took place with labels outside of Cuba, and this collection brings things back home. 5 Leyendas de Cuba contains 5 cds, each of which is dedicated to a different artist: Eliades Ochoa, Compay Segundo, Ibrahim Ferrer, Omara Portuondo and Rubén González. The excellent bilingual (Spanish/English) booklet of liner notes does acknowledge the role of the Buena Vista phenomenon in careers of these artists, but it puts those careers first, and these are presented in context using recordings from the EGREM archives.

This is an excellent collection to give to someone who has only had a passing introduction to these artists as a way to take them deeper into their musical careers.
These are the tracks in the collection:
CD 1: Eliades Ochoa

1 - El Cuarto de Tula
2 - Estoy Hecho Tierra
3 - En Casa de Pedro el Cojo
4 - Alli Donde tu Sabes
5 - La Culebra
6 - Rita la Caimana
7 - Que Lio Compay Andres
8 - Alma de Mujer
9 - Mujer Perjura
10 Que te Parece Cholito
11 -La Comadre Catalina
12 -La Venganza del Perico
13 -Entre Flores
14 -Beso Discreto
CD 2: Francisco Repilado (Compay Segundo)
1 -Saludos Compay
2 -Chan Chan
3 -Voy Pa Mayari
4 -Anita
5 -La Mujer del Peso
6-San Luisera
7-Yo soy del Monte Compay
8-Sera Cuando tu Digas
9-Francisco Guayabal
10-Sigue el Paso no. 1
11 -A los Barrios de Santiago
12 -De Jatibonico a Bolondron
13 -Sigue el Paso no. 2
14 -Sigue el Paso en la Nochebuena
15-Maria en la Playa
CD3: Ibrahim Ferrer
1-El Botellero
2-Como la Piel Canela
3- Fomento
4-Monte Adentro
5-En que Parte de Cuba Nacio el son
6-Asi es la Vida Compay
7-Todavia me Queda Voz
8-El son de la Santiaguera
9-Cucuruchito de Coco
10-Esto se Baila y se Toca
11-Ahora no Puedo
12-Mi Tonada Montuna
13-Estoy Seco y me Quiero Mojar
14-Mañana me Voy Pa Sibanicu
15-El Platanal de Bartolo
CD4: Omara Portuondo
1-Echale Salsita
2-Lo que me queda por Vivir
3-Mi son Caliente
4-Vuela Pena
5-Guitarra en son Mayor
6-Nada para Ti
7-Vieja Luna
8-Te Queria
9--Vale la Pena Vivir
10-Toda una Vida
11-Eso no lo He Dicho Yo
12-Me Acostumbre A Estar sin Ti
13-Y Mucho Mas
14-Nosotros
15-Agua que Cae del Cielo
CD5: Rubén González
1-Yo te Enseño Lola
2-Soplete
3-Prestame la Bicicleta
4-Date una Vueltecita
5-Ambrosio
6-La Gloria Eres tu
7-Noneto
8-Nuestra Cancion
9-Moby Dick
10-Todo aquel Ayer
11-¿De que te quejas?
12-Mil Congojas
13-Sancho
14-Ciudad Oscura
15-Qué Infelicidad
Bill Tilford - Sunday, 30 March 2014, 07:56 PM