San Francisco - (Bacalao Records) Released 2013
CD Review: San Francisco by Brian Andres and the Afro-Cuban Jazz Cartel
(Bacalao Records 2013)
Review by Bill Tilford, All rights reserved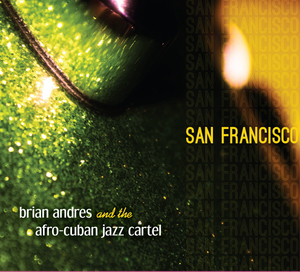 San Francisco is the second release by Brian Andres & The Afro-Cuban Jazz Cartel, an ensemble based in the San Francisco Bay Area. Their first was Drummers Speak in 2007. Most of the members of this group also play in the Pacific Mambo Orchestra, a rapidly-ascending dance band that also released a recording, PMO, last year.
The opener, Sand Castles, begins as a fairly conventional descarga but builds excitement as the song progresses; there is some excellent drum kit work near the end of the piece. Nothing But Trouble, a 6/8, draws upon some of the same brass arranging touches that Stan Kenton used in a few of his more exciting Latin Jazz numbers such as his better takes of Peanut Vendor and Chiapas. San Francisco Tiene Su Proprio Son is a very danceable Son with some excellent lead trumpet and tres solos. Black Market, a Joe Zawinul composition, provides an interesting fusion of Bop lines, Funk bass and Latin Jazz. Higashi Nakano starts as a nicely-arranged cha cha cha and changes time signatures in a nice surprise at the end of the song. Soul Provider has a Poncho Sanchez meets New Orleans dance party vibe. De Francisco A Tijuana gives Javier Cabanillas an extended solo break on the congas. Una Gota is a very pretty vocal ballad in a relaxed 6/8. Bugs On A Windshield overlays a basic post-Mongo melody with some interesting twists in the rhythm section (including another excellent drum interval at the end of the piece.) Off The Cuff is a very impressive extended bass solo by Aaron Germain that serves as the lead-in to Cachao's Descarga Cubana, here titled Como Mi Ritmo No Hay Dos. The Maestro's original renditions of that song were such an Eureka! moment in the history of the music that it is difficult to listen objectively to anyone's covers of it, but its inclusion here is more than justified if only as a reason to have Aaron's wonderful Off The Cuff introduction to it. The closing track, Bongo Reyoyo, is, as the title hints, a chance for bongocero Carlos Caro to go crazy in an extended solo.
If this writer would point to any one thing as a core strength of the album, it would be in the brass and reed voicings, which stand out from those of many similar groups of its kind. The quality of the arrangements brings out the best in these musicians and elevates the distinctiveness of the sound by a few notches.
In the United States, the California approach to Latin Jazz (both in LA and in the Bay Area) in these times is often a little different than the New York approach; it frequently tends to be tailored to be more accessible to dancers but still interesting enough to engage the mind as well. Since Jazz was originally dance music to begin with, there is no sin in this. (There are, of course, exceptions on both coasts that help prove the rule, and there is plenty of room in the house for both approaches. This writer loves both when executed well.) San Francisco is among the best recent releases that we have heard using the California approach to Latin Jazz, and it belongs in your collection.
Brian Andres' website is http://www.brianandres.com/sanfrancisco.cfm
Tracks:
Sand Castles
Nothing But Trouble
San Francisco Tiene Su Proprio Son
Black Market
Higashi Hakano
Soul Provider
De San Francisco A Tijuana
Bugs On A Windshield
Una Gota
Off The Cuff
Como Mi Ritmo No Hay Dos
Bongo Reyoyo
Personnel for San Francisco
Role - Instrument
Name
Drums, Percussion, Director
Brian Andres
Piano
Christian Tumalan
Bass
Aaron Germain
Saxophones
Tony Peebles
Trombone
Jamie Dubberly
Trumpets, Flugelhorn
Steffen Kuehn, Henry Hung
Percussion; Hand Claps on Track 6
Carlos Caro, Patricio Angulo, Javier Cabanillas;
(Track 6) Brian Andres, Javier Cabanillas, Jamie Cubberly, Patricio Angulo, Christian Tumalan, Chepito Areas and Friends
Tres
Camilo Landau
Lead Vocals
Braulia Barrera
Coros; Vocals on Track 9; Chants and Shouts on Track 6
Nikki Smith, Braulia Barrera Gloria Amaral (6)
Brian Andrem Javier Cabanillas, Jaime Cubberly, Juan Elias (9)
Producers
Brian Andres and Christian Tumalan
Executive Producer
Brian Andres
Recording, Editing and Mixing Engineer
Christian Tumalan
Mastering Engineer
Michael Lazarus
Bill Tilford - jueves, 05 septiembre 2013, 04:54 pm