Calle Real at El Palacio Real (Stockholm) - 2013.09.15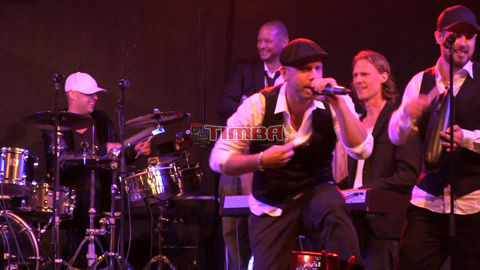 Calle Real started 2013 with a long-awaited tour of Peru, where they headlined at a mega-concert featuring Klímax, Maykel Blanco y Su Salsa Mayor and Alexander Abreu y Havana D'Primera. They also performed two concerts in Chile. There was much ado about it at Facebook and YouTube and then...silence. As we all know, bandleader Patricio Sobrado is currently living in Chile and all the guys work in several different bands, which led to a period during which they just weren't available for gigs. But I bring joyful news for timberos: the boys from Calle Real are back! They have recorded two songs and have more on the way!
Calle Real kicked off the autumn season in style with a concert for the national celebrations of the 40th Year of the Reign of King Carl XIV Gustav outside the Royal Palace and in front of the Parliament building; hence I call it Calle Real @ El Palacio Real. The beautiful Swedish summer at an end, Calle Real performed in the rain for a crowd of stubborn fans and festival revelers who didn't let a little water get in the way of a good time.
I hadn't seen the band for over a year so the addition of keyboardist Christopher Peduru-Aratchi was a pleasant surprise. Other changes included Magnus Almqvist (director of La Tremenda) and Jonas Pomo (director of Orquesta Pomo) substituting for Karl Frid "Kafry" and Michel Zitron. Also missing from the standard line-up was Patricio Sobrado, who we all know is currently living in Chile.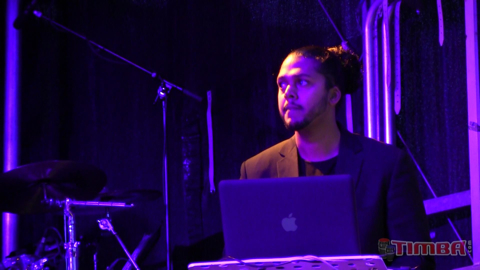 Calle Real keyboardist Christopher Peduru-Aratchi
They opened the show with an Intro followed by "Somos familia". I was up front by the stage and my mother who was visiting got the job of holding an umbrella over the camera while I filmed. Being so close to the stage I only got the audio from the monitors, but soundman Francisco Hernández "Frasse" gave me the audio from the mixerboard, which is why the audio is so good in these clips. The only thing missing are the yells and participation of the audience. But you can't have it all.

Intro & Somos Familia @ Royal Palace Stockholm
Calle Real didn't waste any time, and with the second song they got right to the new material with the updated version of "Hoah", a song originally recorded with Magnus Ehrenborg on lead and released on the 2006 compilation CD "¡Baila! A Latin Dance Party". The guys have updated the arrangement and Filip Olandersson treated us to a tasty trumpet solo. Judging from the reception of the crowd, it is set to be another hit for the band.

Hoah 2013 @ Royal Palace Stockholm
Then they dropped the pace with "Soy bueno, soy malo (La rosa)" from the "Con Fuerza" CD. The laid-back tempo has a really sweet groove that has made it a fan favorite for years. Next was "Super Mario Bros".

Jugando Super Mario Bros. @ Royal Palace Stockholm
They closed the first set with the classic son, "El cuarto de Tula" made famous on the first Buena Vista Social Club album. With Patricio in Chile, Gunnar switched to tres and Jonas Pomo took over the piano. You can check out Calle Real's interpretation below.

El Cuarto de Tula @ Royal Palace Stockholm
After an hour break during which a band played rock covers and I did a little interview that will be up shortly at YouTube, Calle Real hit the stage again and the second set was torrid! "Ábreme la puerta" is one of my absolute favorite songs (although I confess I cheat and change the lyrics a bit). About one and a half minutes into the song Thomas stopped the band to ask the audience what was wrong. "Are you guys OK? What have you done during the hour we were gone? You're standing completely still!!" The pause and switch between genres had sort of drained the whole salsa vibe, but Thomas got the audience back into the mood. the band picked right back up where they had stopped: Si tú me quieres, nena, tú me pedonarás/Qué vida fuera vivir sin mí si soy tu papi? . Peter Fredriksson gave us a trombone solo and then they went into the hardcore gears. This is such a fantastic dance hit!
They kept the pressure up with that great opening tumbao from "La eternidad del amor": Tú sabes quien llegó/Llegó la timba de Suecia/Avisando que el amor de verdad nunca terminará. By now the audience was actively dancing without needing any more encouragement. Then it was time for estreno #2 "Oye". This is an intense fusion piece. The original version by Rasmus Faber is sort of Latin House with Thomas on vocals. Calle Real has done a really nice arrangement that slips into timba. I will tell you now, I am no House fan, but I like this song and can see it being a hit among a wider audience than just the usual timba crowd. It will be interesting to see what happens when it is released. Check it out yourselves below.

Oye @ Royal Palace Stockholm
"Ya lo sé" is one of Calle Real's biggest international hits. It is a beautiful modern son, no gears, no timba, perfect for dancing son or regular salsa. Before the song began there was a heartfelt introduction by Thomas which I have translated to Spanish. For those who speak neither let me paraphrase. He said that this is a song that Calle Real fans have undoubtedly heard before in various contexts, both sad and happy and that it is a song that means a lot to them, written by bandleader Patricio Sobrado. There were more couples dancing salsa to this song than to any other during the entire concert. Here it is for your listening pleasure, including trumpet solos by Patrik Skogh and a tres solo by El Dony.

Ya lo sé @ Royal Palace Stockholm
From son back to hardcore timba with the aptly-named "Con fuerza"; this was the final song of the concert but they came back quickly to perform another traditional son, this time "Bilongo". The rain started up again as Thomas lamented about being in love with La Negra Thomasa. And thus ended the Fall 2013 kick-off for Calle Real. The guys are back, they have great new material and Thomas even mentioned that he will be putting some other projects aside now so he can focus on Calle Real.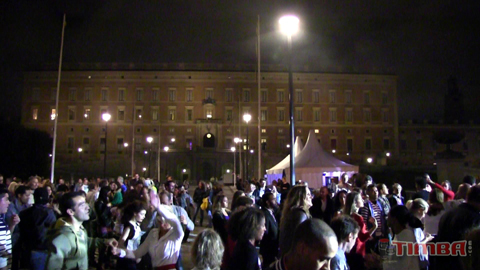 Stockholmers dancing to "Con fuerza" in front of the Royal Palace
Michelle White - martes, 05 noviembre 2013, 04:23 am