SpanishEnglishChucho Valdés presenta a Carlos Miyares - (BIS) Released 2012
CD Review: Chucho Valdés presenta a Carlos Miyares (BIS 2012)
Review by Bill Tilford, all rights reserved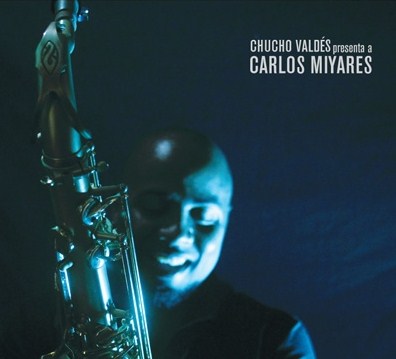 Prior to this project, tenor saxophonist Carlos Miyares was already gaining increased public recognition for his role in Chucho Valdés Afro Cuban Messengers - his style in Chucho's Steps had been described as post-Coltrane by the author Leonardo Acosta. His resume also includes work with several other distinguished groups including Bobby Carcasses' Afrojazz and Interactivo. This is his debut recording in his own name, and all of the tracks are original compositions except for Archie Shepp's The Stars Are In Your Eyes. He also did all of the arrangements except for that one, which was arranged by Chucho, who also plays piano in it.

Comparisons with Coltrane can be dangerous, but there is no arguing that this recording is deep, beautiful, lyrical, serene and melodically complex without using dissonance. This writer's emotional state after listening to this álbum is very similar to what it becomes after a listening session with Coltrane's best work.
Mr. Miyares' saxophone phrasings are reason enough to want this recording, but there is also some truly sublime piano work from Tony Rodriguez, who plays on all of the tracks except The Stars Are In Your Eyes, and Chucho is on the other one - what more can we say? The rhythm section is also excellent. If you like real Jazz, this album is a must-have.
Tracks
Rumba en 5ta y 32
Y & C
Calzada & D
Friends Cha
The Stars are in your eyes
3:15 pm
MONT
Tumbao pa Koki
Personnel for Chucho Valdés presenta a Carlos Miyares
| Role - Instrument | Name |
| --- | --- |
| Tenor Saxophone | Carlos Miyares |
| Piano | Tony Rodríguez |
| Bass | Lázaro Rivera Alarcón |
| Drums | Oliver Valdés Rey |
| Percussion | Yaroldy Abreu Robles |
| Producers and Directors | Chucho Valdés and Carlos Miyares |
| Guest Artists: | |
| Piano | Chucho Valdés (5) |
| Bass | Raúl Gil García (4,7) |
| Drums | Rodney Barreto (5) |
Kevin Moore - Thursday, 05 September 2013, 06:04 PM