CD Review: Dreaming by William Roblejo's Trio (Colibrí 2012)
Review by Bill Tilford, all rights reserved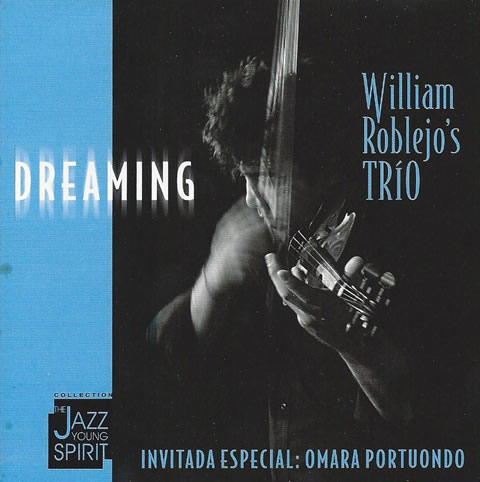 Cugrass? Well, almost - there is a banjo in the ensemble in Track 4 (Andando Así). This is only one of the things about Dreaming that makes this recording unique. In modern Cuban music, although it is common enough to hear a violin take a limited solo in an ensemble setting, it is rare for it to stand alone as THE soloing instrument as it does in this recording. Mr. Roblejo has clearly listened to an encyclopedic range of violin music during his development: 2011 and Beautiful Love show elements of the era of Stephane Grappelli (but Beautiful Love also quotes Almendra). Other tracks are infused with Bebop, Afrocuban Jazz, Bluegrass cum Celtic (Track 4), influences from Jaco Pastorius, and there is some virtuosic improvisation at several points in the recording. Guests artists include David Torrens (track 8) and Omar Portuondo (Track 11) on vocals, Harold López-Nussa on piano and keyboards in three tracks and Ruy Adrian López-Nussa on drums in three tracks.
Dreaming is part of Colibrí's superb collection "The Young Spirit of Jazz" and was nominated in the categories of Instrumental Music, Opera Prima and Liner Notes (these, by Cary Diez, are excellent) in Cubadisco 2013. It is also another excellent example of the stylistic expansion of Jazz in Cuba today.
Songs:

1. Tuyo y mío
2. 2011
3. Beautiful Love
4. Andando asi
5. Continuum
6. Dreaming
7. Para Claudia
8. Allí
9. Pasos perdidos
10. Mecánica diferente
11. Amor de loca juventud
Personnel in El Trombon de Santa Amalia
| Role - Instrument | Name |
| --- | --- |
| Violin, Musical Director | William Ernesto Roblejo |
| Electric Bass | Julio César González |
| Guitar | Yordanys García 3, 5, 6, 7, 8; Roberto L. Gómez 1, 2, 4, 9, 10 |
| Banjo (4) | Roberto L. Gómez |
| Guest Artists | |
| Vocals | David Torrens 8; Omara Portuondo 11 |
| Piano, Keyboards | Harold López-Nussa 5, 6, 11 |
| Drums | Ruy Adrian López-Nussa 5, 6, 7 |
| Producers | Joaquin Betancourt, William Roblejo |
| Executive Producer | Nely Bauta |
| Recording, Mixing and Mastering | Maykel Barzagas & Maykel Barzagas Jr. |
| General Direction | Gloria Ochoa de Zabalegui Aguilera |
Bill Tilford - Saturday, 05 April 2014, 09:46 PM