Grand Piano Live by Chuchito Valdés
CD Review – Grand Piano Live by Chuchito Valdés
(Music Roots Records 01 May 2013)
Review by Bill Tilford, All rights reserved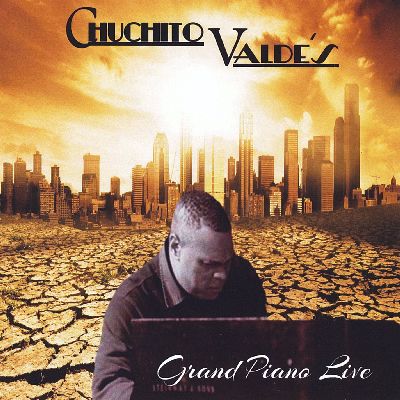 Chuchito Valdés is the youngest active member of the Valdés piano dynasty that includes his late grandfather Bebo and his father Chucho. Although he is usually soft-spoken in person, his piano can easily rivet the attention of an audience with or without a rhythm section in tow, and this recording is the finished product from a solo appearance at the Indy Jazz Fest in Indianapolis, Indiana on September 11, 2012. It comes at an interesting time - his grandfather, Bebo, is being honored posthumously at Jazz Plaza in Havana this coming December, and his father, Chucho, is on the cover of the November 2013 issue of Downbeat. One could say that there is a little competition for the public's attention right now, good for the family name as a whole but probably a mixed blessing in Chuchito's personal case.
That being said, this writer isn't even going to go near the question of which of the three is the best pianist. All three are virtuosos, and each of them landed in niches of the music that overlap but don't coincide. Chuchito has probably done the deepest digging of the three into the North American songbook as evidenced by his powerful versions of Over the Rainbow (a rendition of which is included in this recording), Take The "A" Train (not featured here) and other classics, but his performances typically cover an encyclopaedic range of the music including Cuban classics, Cuban Jazz and the US Jazz and standards songbooks. For example, his performances of Besame Mucho always engage his audiences wherever he is - sometimes it almost seems that if he were to play this song on the planet Mars, someone or something would start singing along somehow.
You certainly won't see it by listening to this CD, but in live performances, Chuchito is a very visual as well as aural performer, possibly the closest thing to a Jerry Lee Lewis or a Hiromi Uehara that the Cuban Jazz pantheon has produced in its pianists when it comes to the visual presentation of the music. This has given him a reputation with some critics for melodrama that has on occasion overshadowed the music itself, and one of the most important accomplishments of Grand Piano Live is that while you catch some of the audience's obvious excitement here, it really makes you focus on what Chuchito is doing with the keyboard itself (and yes, on occasion the insides of the instrument). If we ever had to go to Music Court to prove that this man would still belong in the top tier of Cuban Jazz pianists even if his last name were not Valdés, this is the recording that we would use to make our case.

Grand Piano Live has been nominated in the Best Latin Jazz Album category in the 14th Latin GRAMMY Awards. His father's superb Border-Free is a nominee in the same category, and that probably makes for some interesting family conversations right now. This writer is going to stay neutral there, and his recommendation to you would be to go get both. It is a good problem to have.
Tracks:
1.Para Soledad
2. Obsesion
3. Over The Rainbow
4. Besame Mucho
5. El Manicero
6. Beyond The Beauty
7. Barrio Atare
8. Memoirs of Bebo
Personnel in Grand Piano Live
| Role - Instrument | Name |
| --- | --- |
| Grand Piano | Chuchito Valdés |
| Producer | Marcel Castaneda |
Bill Tilford - miércoles, 16 octubre 2013, 05:24 pm