SpanishEnglishHasta Que Salga El Sol - (Unicornio) - 2017/2018
CD Review - Hasta Que Salga El Sol by JG Juan Guillermo Almeida (Unicornio 2017)
International distribution (Unicornio 2018)
Review by Michelle White , All rights reserved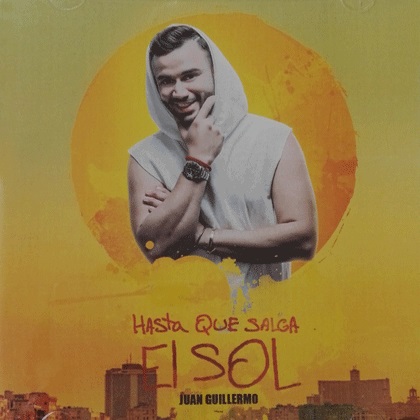 El Dueño Del Party—JG Juan Guillermo—is back with another party-ready album. "Hasta Que Salga El Sol" is JGs third album and really solidifies his title as "the one who owns the party". The songs all have a fun, positive vibe and are great for dancing. As in the past, the arrangements include both tropical and timba, and Juan Guillermo has continued to collaborate with other young voices of timba.
The album kicks off with "Vengo de Cuba" with a tropical intro but after just 35 seconds the timba starts. The coro venga a ver me en vivo pa' que nadie te lo cuente is an invitation to check him out in concert so you can see for yourself, and that is a good idea. During the last coro Mira como está el ambiente/Mira como vas hasta el piso/Mira como goza la gente the electric guitar comes to the fore. I said it about the last album and holds true - JGs use of electric guitar is excellent. I might even go so far as to say that of all the bands currently using electric guitar, I think Alberto Torres does it best.
"Hasta que sal el sol" has a tropical feel with Miami pop harmonies but when the timba kicks in it is hot and again great use of electric guitar. This type of tropical timba mix should appeal to a wide audience and be perfect for mixed parties of timberos, salseros, merengueros, cumbieros and – heaven forbid – even people who don't dance Latin dances can move to this groove.
"Ella siempre se va sola" is a collaboration with Adalberto Álvarez and Michel Gonzalez Poli, with an arrangement by Alexander Abreu and Dhayane Rivera (Adalberto Álvarez y Su Son). This is one of my favorites from the album - timba from start to finish. JG and Michel take turns on lead vocals, while Adalberto sings harmony and makes a few comments before the second mambo. This track should be on all the DJ playlists for 2018. Check out the video below from the recording session at Abdala Studios.
"La Habana la enganchó" is a composition and arrangement by bassist and vocalist Maikel Dinza. The story is that a girl from Miami went to Havana and loved it but wanted to bring JG back with her to Miami, but of course he had no intention of leaving Havana. There is a Miami pop atmosphere but also balanced by some chords that Pupy and Juan Formell used a lot. After 3 minuets we hit some hardcore bomba – again a song that doesn't start as timba but ends up there.
Unless you have been asleep for two years, you have heard "Belleza latina". This collaboration with Alexander Abreu & Havana D'Primera was released as a single in 2016 and has already proven itself a hit among timberos worldwide. If you don't know it you need to check out the video below.
"El cariñoso" is a cumbia fusion composed by Degnis Bofil and another Maikel Dinza arrangement that also has hints of vallenato and slow merengue. They didn't forget the timberos and around the 4 minute mark a bomba section lets timberos get their despelote on.
JG worked with Emilio Frias "El Niño " on the previous album, and their collaboration "La cosa" is another highlight of the album, an uptempo song about the use of the term "la cosa" in Cuba – pila cerra', de la cosa no se habla mal. I expect to hear this at clubs and congresos around Europe this summer.
Juan Guillermo gives a nod to salsa romantica with "Voy a mentirle", in this case he is going to lie to his heart and tell it that his girlfriend hasn't left him. The traditional salsa arrangement is by Andy Rubal, Joseph Carret and Alexander Abreu and brings out details such as the nice bongo work by José Julián Morejón.
The album closes with two sizzling timba tracks: "Tú misma lo dijiste" and "La fama pa' la cabeza", the latter featuring El Mola. Two more for the 2018 DJ playlists that will get dancers on the floor.
"Hasta que salga el sol" is a feel-good dance album with a broad appeal, which really sums up Juan Guillermo's sello. The musicianship is exemplary throughout the album and the production is excellent without being overproduced. Half of the songs are straight-up timba while the other half successfully combine tropical with timba gears. I highly recommend this for DJs, dancers and for anyone who is looking for something fresh coming out of Havana. The album is avaialble for digital download at CubaMusic.
You can also subscribe to JG's YouTube channel where he has uploaded six audio tracks from "Hasta que salga el sol".
trk
title
composer
arranger
1
Vengo de Cuba
Yuri Gómez
Andy Rubal
Yuri Gómez
2
Hasta que salga el sol
Junior Carol
JG Almeida

Junior Carol
3
Ella siempre se va sola
JG Almeida
Alexander Abreu & HdP
Dhayane Rivera
4
La Habana la enganchó
Maikel Dinza
Maikel Dinza
5
Belleza latina
Leonardo Teruel
Alexander Abreu & HdP

6
El cariñoso
Degnis Bofill
Maikel Dinza
7
La cosa
Emilio Frías
(El Niño)
Wilfredo Naranjo Jr.
Dayron Ortega
8
Voy a mentirle

William Cobas
Andy Rubal
Joseph Carret
Alexander Abreu & HdP
9
Tú mismo lo dijiste

Junior Carol
JG Almeida
Junior Carol
10
La fama pa' la cabeza
Joseph Carret
JG Almeida
Osmany Espinosa
Joseph Carret
Personnel on Hasta Que Salga El Sol
Role - Instrument
Name
Vocals, Bandleader
Juan Guillermo Almeida González (JG)
Piano
Andy Rubal Tracks 1, 6, 8, 9
Pedro Ramírez Tracks 2, 4
Dhayan Rivera Track 3
Pablo Marrero Track 10
Keyboard
Andy Rubal Tracks 1, 2, 4, 6, 7, 8, 9, 10
Carlos Manuel Páez Tracks 3, 5
Congas
Luis Guillermo Palacios Tracks 1, 2, 3, 9
José Julián Morejón Tracks 4, 6, 8, 10
Bongo & Campana
José Julián Morejón Tracks 1, 2, 3, 4, 6, 8, 9, 10
Guitars
Alberto Torres Tracks 1, 2, 3, 4, 6, 7, 8, 9, 10
Coros
Raidel Requessen Tracks 1, 2, 3, 4, 6, 8, 9, 10
Edgar Pereira Tracks 1, 2, 3, 4, 6, 8, 9, 10
Jennifer Álvarez Track 3
Bass
Yader Noa Chatable Tracks 1, 2, 4, 6, 8, 9, 10
Roberto Vazquez "El Chino" Track 3
Drums & Timbal
Eduardo Ramos Tracks 1, 2, 4, 6, 8, 9, 10
Norberto Rodríguez Track 3
Trumpets

Luis Fernando Chávez Tracks 1, 2, 4, 6, 7, 8, 9, 10
Alexander Abreu Tracks 3, 5

Trombones
Carlos Manuel Díaz Tracks 1, 2, 4, 6, 7, 8, 9, 10
Amaury Pérez Tracks 3, 5
Guests
Adalberto Álvarez & Michel Gonzáles Track 3
Maikel Dinza Track 4
Alexander Abreu Track 5
Emilio Frias "El Niño" Track 7
El Mola Track 10
Recording
José Raúl Varona
Daelsis Pena
Estudios Abdala
Recording Assitant
Ahmed González
Mix
Daelsis Pena
Juan Manuel Ceruto
Estudios SOUND
Mastering
Orestes Águila
Editing
Daelsis Pena
Susana López
Cover writing
Alexander Abreu Havana D'Primera
Michelle White - Tuesday, 29 May 2018, 04:34 PM