SpanishEnglishJoey Altruda Presents: El Gran Fellove
CD Review: Joey Altruda Presents: El Gran Fellove
Avocaudio October 7, 2023
Review by Bill Tilford, all rights reserved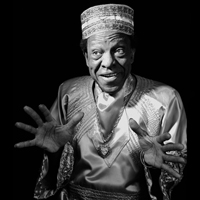 Francisco Fellove Valdés (October 7, 1923 - February 15, 2013), aka El Gran Fellove, was a key member of the early phase of the Feeling (later called Filin in some circles) movement in Cuba both as a performer and a composer. Some of his compositions, such as Mango Mangue, became hugely popular when covered by other artists like Machito. Although a consummate showman, his success within Cuba had limits, and like many Afrocuban musicians of his day, he left the island (in 1955) for Mexico, which ultimately became his permanent home. Among other things he was noted for a distinctive style called Chua Chua after the vocalese often used in place of horns, and he was an early exponent of Cuban scat singing.

Recorded in 1999 in Mexico City and released on the 100th anniversary of Fellove's birth after sitting in the vault for many years, this project has an interesting genesis. It is believed to be the last full studio album recorded by Fellove (although the producer tells me that some unused tracks may emerge in the future as an EP). Its prime instigator was the actor and avid Cuban music collector, Matt Dillon, who intrroduced the producer, Joey Altruda, to Fellove's music. They subsequently recorded this project with Fellove and invited musicians, including some cameos by Chocolate Armenteros. Some finishing touches were added to the project in Califormia.

This session is a descarga project with a feel that is mostly retro (think of the Panart Cuban Jam Sessions of the 50s but with less emphasis on the percussion section, more extended vocals and more instrumental solo work) with some modern touches (the beginning of Cumbia Lu sounds like it could be the start of a timba song until abruptly changing gears, and the Hammond organ adds a nice modern touch). Fellove himself is still full of life here.

Most importantly, it swings. Too many projects of this type end up overproduced and more slick than alive. Although it serves as a fitting celebration of the centennial of Fellove's birth, it also stands on its own merits musically.

As a side note, Matt Dillon filmed a making of video that later morphed into a much more extensive full-length documentary about Fellove's life. It has been previewed favorably at a couple of film festivals, and I have been advised that the ultimate objective is full commercial release.

Track List:
1. Cha Cha Cha De La Roqueta (Levi Pragido y Beque)
2. Descarga Chocolate (Altruda/Fellove)
3. Rareza Del Siglo (Bebo Valdés)
4. Mambo Matthias (Altruda)
5. Para Bailar Mi Salsa (aka Rapido) (Francisco Fellove Valdés)
6. Te Quiero Corazon (Arturo Castro)
7. Para Chango Te Levante (Francisco Fellove Valdes)
8. Como Usted (Agustin Martínez)
9. La Cita (Altruda)
10. Cumbia-Lu (Fellove)
11. El Santo Negro (Altruda)
12. California Jam Session (Altruda/Fellove)

Credits:
| Role - Instrument | Name |
| --- | --- |
| Lead Vocals | Francisco "El Gran" Fellove Valdés |
| Acoustic Bass (all), guitar (6, 8, 11), coro (1, 6, 8, 12) | Joey Altruda |
| Piano (all), coro (3, 6, 7, 9, 11) | Osmany Paredes |
| Congas (all), güiro (9) | Miguelito Valdéz |
| Timbales | Celio González Jr |
| Bongos (1, 4), Güiro (3, 6, 8, 11) | Jose 'Papo' Rodríguez |
| Trombone (5, 7) | Gonzalo Palacios |
| Trumpets | Alfredo Pino (4); Alfredo Pino & Antonio Perigo (2, 5, 7, 12) |
| Flute (4. 5, 7, 8, 9, 12) | Reynaldo Perez |
| Hammond Organ (1), 3, 6, 8, 9, 11) | Red Young |
| Vibraphone (3,9) | Craig Fundyga |
| Tenor Sax | David González |
| Strings (9, 11) | Harry Scorzo (violin 1, concertmaster), Michael Harrison (violin 2), Jimbo Ross (viola), Nancy Stein Ross (cello) |
| Guest Trumpet Solos (2, 12) | Chocolate Armenteros |
| Additional Coros | Sharon Stanley (9); Celio González, Laura González, Celio Conzalez Jr., Osmany Paredes, Miguelito Valdes (2, 5, 7, 9, 10) |
| Producer/Executive Producer | Joey Altruda |
| Arrangements | Joey Altruda (1, 3, 4, 5, 6, 8, 11) , Osmany Paredes (7), Joey Altruda & Osmany Paredes (2, 9, 10, 12) |
| Recorded @ | Peerless Studios, Mexico City, MX, Autumn 1999 |
| Overdubs & Final Mix | Bob Wayne, Sunburst Studios, Culver City CA, Ca 1999 |
Bill Tilford - Monday, 20 November 2023, 07:53 PM