SpanishEnglishLo Mas Reciente de Eliades Ochoa
CD Review - Lo Mas Reciente de Eliades Ochoa (EGREM 2012)
Review by Bill Tilford, all rights reserved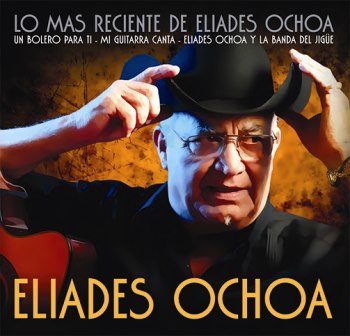 This important trilogy features Un Bolero Para Ti, which won the Latin GRAMMY for Best Traditional Tropical Album in 2012, Mi Guitarra Canta, and Eliades Ochoa y La Banda Del Jigüe, which was nominated for a Cubadisco award in the Traditional Popular Music category in 2013. Mr. Ochoa is no stranger to awards - he had a previous GRAMMY award from his work with the Buena Vista Social Club project and multiple other awards nominations in the past.
Un Bolero Para Ti features Grupo Patria (an augmented version of Cuarteto Patria, the group that he joined in 1978) as the centerpiece of a richly-orchestrated presentation of boleros featuring Mr. Ochoa on vocals and guitar. This is a classic bolero recording, and North American fans of the bolero orchestrations of the late New York bandleader Tito Rodríguez should introduce themselves to this disc if they have not already done so.

Mi Guitarra Canta is a collection of instrumental selections that opens with a novel version of Hey Jude before settling into more conventional Cuban classics such as La Comparsa, El Manisero and Caballo Viejo. The guitar of Mr. Ochoa is the centerpiece of this volume.

Eliades Ochoa y La Banda Del Jigüe is the volume that you would put in your CD player at a dance party. Don't let the fact that this is a traditional artist fool you - dancers will move to this (DJs, take note, this even includes some Merengue, Vallenato and Cuban dance music - call it "Salsa" if you really must to get them on the floor - that your dancers will love).
This trilogy is a great way to get a Latin GRAMMY winner and a Cubadisco (Cuba's most prestigious music award) nominee in one package with a bonus of an additional collection of nice instrumentals.
EGREM's website is www.egrem.com.cu
Tracks Vol 1:
1. Negrura
2. Amar y Vivir
3. Enterma del Alma
4. Descelo de Amor
5. Un Fantasma Para Ti
6. Las Cuarenta
7. Su Aliento Me Hace Falta
8. Envidia
9. Quinto Patio
10. Dónde Tu Irás
11. Entre Espumas
12. No Sibas Mintiendo
13. La Vida Es Un Sueño
14. Mis Delirios
15. Un Bolero Para Ti
Personnel in Volume 1 (Un Bolero Para Ti)
Role - Instrument
Name
Lead Guitar, Voice
Eliades Ochoa Bustamante
Bass
José Angel Marínez Nieves
Rhythm Guitar
Osnel Odit Bavastro
Trumpets
Lennis Lara Castellanos,
Alaín Antonio Dragoni Cotorruelo
Maracas
Eglis Ochoa Hidalgo
Piano
Marcos Antonio Fernández López
Bongó & Congas
Jorge Maturell Romero
Guest Artists
Geovanis Alcántara López (Keyboards except 6); José A. Camejo Sanz (Requinto 4,11), Faviola Acao Regüeifero (flute 10, 12 14): Wilfredo Fuentes Céspedes (Timbales, Drums, Congas & Minor Percussion); Beiler Fróneta Espinosa (Trombone except 4, 8, 9,11,15); Baudelis Rodríguez Sierra (saxophone except 4, 8, 9,11,15); Félix E. Valera Alarcón (Strings; Guitar 9); Yasveti Pantoja González (Violin 4,8,9,10,11); Daniel Guzmán Romero (Violin 4,8,9,10,11); Javier Palacios Semanat (Viola 4,8,9,10,11); Orlando Hernández Lescaille (Cello 4,8,9,10,11), René Domiínguez Muñoz (Alto Sax Solo 8)
Producer
Geovanis Alcántara López
Tracks Vol 2:
1. Hey Jude
2. La Comparsa
3. Lamento Borincano
4. Quizás, Quizás, Quizás
5. El Manisero
6. Guardo Una Rosa
7. Mi Cafetal
8. Las Hojas Muertas
9. Camino Verde
10. La Lupe
11. Candilejas
12. Popurrit - Caballo Viejo - Amor de Hombre - Píntate Los Labios
13. Silencio
14. Toda Una Vida
15. La Casita (Ahora Seremos Felices)
16. Madrigal
17. Ojos Negros
Personnel in Volume 2 (Mi Guitarra Canta)
| Role - Instrument | Name |
| --- | --- |
| General Director; Guitar | Eliades Ochoa Bustamante |
| Piano; Arrangements; Rhythm guitar (6,9,10,12); Keyboards (7) | Geovanis Alcántara López |
| Bass (except 10) | José Angel Martínez Nieves |
| Bongó | Jorge Marurell Romero |
| Maracas | Eglis Ochoa Hidalgo |
| Guest Artists: | Raúl Félix Varela Alarcón (Bass 10); Walfredo Fuentes Céspedes (Congas 7/12/17, Timbales 2,12); Ángel Manuel Gutiérrez Bosch (Güiro 7/12), Orlando David Fuentes Soto (Drums 8,17); Gabriel Tamayo León (Rhythm Guitar & Viheula 10); Hermán M. Bernardo Medina (Violoncello 12); Pedro Alarcón (Violin 10,11,12); René Dominguez Muñoz (Saxofón 4,5); Ángel Beltrán Carbonnel (Trumpet 6,10); Iván Acosta Ochoa (Flute 12) |
| Coros (1) | Yoensy Martínez Justiz, Carlos Javier Alcántara Díaz, Ángel Manuel Gutiérrez Bosch, Diczan Vinent Ramos, Geovanis Alcántara López, Sandra Alcántara López) |
| Musical Production | Geovanis Alcántara López |
Tracks Vol 3:
1. No Dejes Que Te Digan Muñeca
2. Enamora´o Bobo
3. Amarra´o Con P
4. Macorina
5. Frutos del Carnaval
6. Ayé
7. Contigo Mi China
8. Pa'Baracoa
9. Por La Loma Pa'rriba
10. Que Se Me Cajgan Los Dientes
11. Camio de prfesión
12. El Panquellero
13. El Rey
14. Junto a un Cañaveral
15. El Chicharrón Es Pellejo
Personnel in Volume 3 (Eliades Ochoa Y La Banda Del Jigüe)
Role - Instrument
Name
Director, Guitar, Vocal
Eliades Ochoa Bustamante
Rhythm guitar & Coros
Osnel Odit Bavastro
Bass & Coros
José Ángel Martínez Nieves
Maracas & Coros
Eglis Ochoa Hidalgo
Timbales & Congas
Wilfredo Fuentes Céspedes
Bongó
Jorge Marurell Romero
Piano
Marcos Antonio Fernandez López
Trumpets
Alain Antonio Dragoni Cotorruelo,
Lennis Lara Castellanos
Trombones
Ulises Benavides (2),
Rafael Alfredo Lorente
Saxophone
Baudeli Rodríguez Sierra
Guest Artists
Pedro Speck Valázquez (Bongó 2);
Manolito Simonet (Piano 1)
Producer, Arranger, Musical Director
Geovanis Alcántara López
Bill Tilford - Friday, 10 January 2014, 12:07 AM