Retro - (Pink Chaos) Released 2012
CD Review: Retro by Marlow Rosado y La Riqueña
(Pink Chaos, 2012)
Review by Bill Tilford, all rights reserved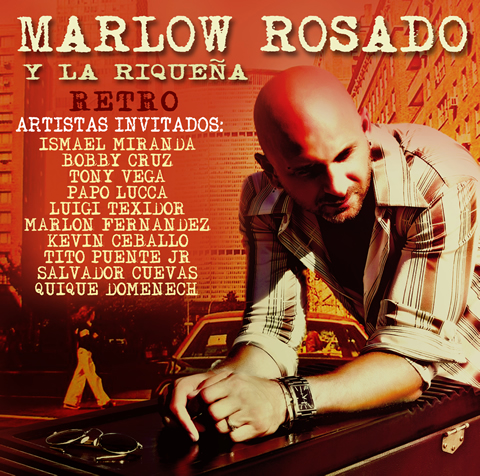 Retro is the second release by Puerto Rico's Marlow Rosado y La Riqueña. Their first album, the 1999 recording Salsalsa, was number one on the charts on Z93 (the island's most prominent Salsa station) for 8 weeks after its release. In addition to performing, Marlow has an extensive songwriting and producing career and has racked up 11 GRAMMY nominations working with several artists. This new recording is a tribute to the Salsa of the 1970s and features a formidable roster of guest artists including Ismael Miranda, Bobby Cruz, Papo Lucca, Luigi Texidor and many others.
This album comes out swinging with Tema Riquena, a sampling of the songs to follow. The next track, Adoracion, an Eddie Palmieri scorcher, makes it clear that they aren't fooling around in this session. This is followed by No Me Digan Que Es Muy Tarde. It isn't an Adalberto Alvarez tune, but some of Marlow's piano work here reminds me of early (pre-Son 14) Adalberto, and the section work is excellent. Bobby Cruz's Aguzate channels the excitement of the original band (Bobby himself is on the recording). Most of the recording that follows is hard-hitting, up-tempo Salsa Durisima, but there are some breaks with Ay No, a nice cha cha, Tú Llegaste A Mi Vida, a beautiful bolero with some really sweet brass voicings, and Raphy Leavitt's Jibaro Soy, a laid-back Salsa track including some nice cuatro work that stands in contrast to the fireworks in most of the rest of the album. The funny thing is, this "laid back" track still packs more alma than a lot of what is being recorded today. The closing track, Señor Sereno, features Ismael Miranda on lead vocal.
The other tracks include Tite Curet Alonso's Anacaona, Francisco Alvarado's Nací Moreno (a song that Luigi Texidor helped make very popular), El Callejero and Fuego A La Jicotea.
Retro lives up to its name - this is take- no-prisoners Salsa from the before the time when too many bands got soft. The many guest artists from the original recordings in the 1970s help keep this real, and the arrangements are different enough to justify having these versions in addition to the originals. One of the album's tracks, Fuego a La Jicotea, has a promotional video. This features the band at about 2/3s power, so you can picture what the rest of the album is like when they pull out all the stops.
Salseros, this is how Salsa is supposed to feel. Listen, learn, dance.
2013 Update: Retro won a GRAMMY (Best Tropical Latin Album) in 2013.
Personnel
| Role - Instrument | Name |
| --- | --- |
| Producer, Director, Arranger | Marlow Rosado |
| Piano and Keyboards | Marlow Rosado |
| Lead Singers | José Arroyo, León Cheva |
| Coros | German "Pito" Ortiz, Carlos Delgado, José Arroyo |
| Bass | Luis Rodriguez |
| Timbal, Bongo, Campana | Gamalier Reyes |
| Conga | Daniel Pena |
| Trumpets | Julian Cifuentes, Rodrigo Escobar |
| Trombones | José Ruiz, Somar Poveda |
| Percussion | Luis Reyes |
| Guest Artists | Ismael Miranda, Bobby Cruz, Tony Vega, Luigi Texidor, Marlon Fernández, Kevin Ceballo, Papo Lucca, Tito Puente Jr., Quique Domenech, Salvador Cuevas |
| | |
| Mastering Engineer | Michael Lázarus |
Kevin Moore - Thursday, 05 September 2013, 07:25 PM