New Stuff
[hide]
Photos of the Day
[hide]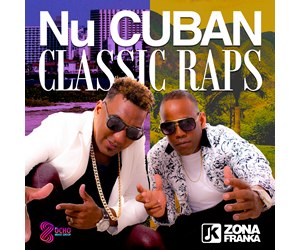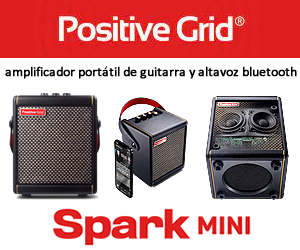 SpanishEnglishMezcla at the Old Town School of Folk Music 2013
Concert Review: Pablo Menéndez and Mezcla at the Old Town School of Folk Music
Chicago IL, June 29 2013
Review by Bill Tilford, All rights reserved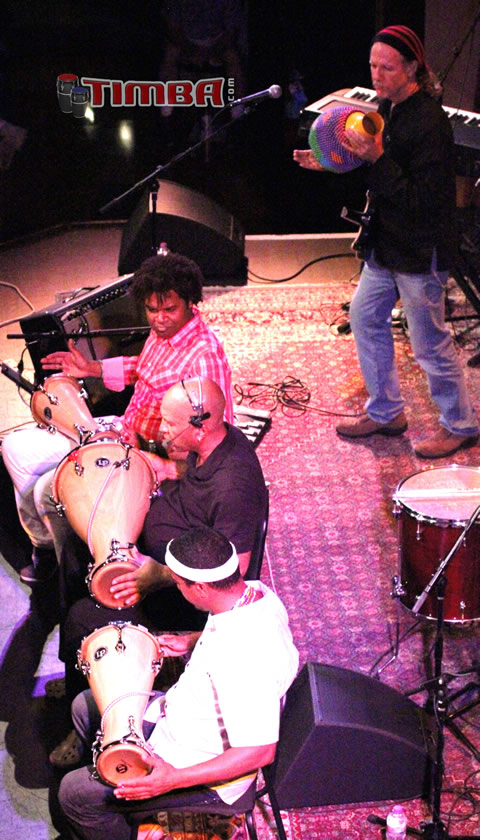 In a year when concert attendance in the midwestern United States has often been unpredictable, this concert was a victory for the music - a reasonably full concert hall, an exuberant crowd, excellent sound and a band that was thriving as a result.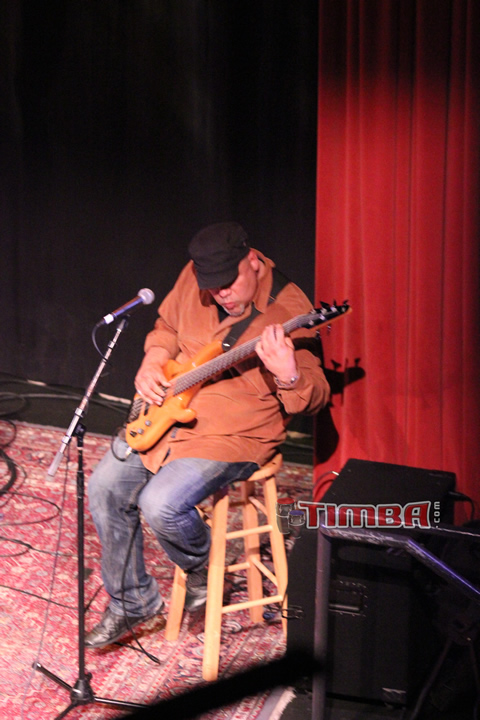 This edition of Mezcla was a slightly-reduced unit of the full band, and they adjusted well by featuring more of Pablo's wailing guitar, some excellent bass lines from Jose Hermida and very eclectic violin passages from multiinstrumentalist Julio Valdés, who also played keyboards and percussion. Master percussionists Octavio Rodríguez and Roberto Smith completed the roster. Roberto's intricate array of percussion instruments enabled him to function like a one-man percussion section, and Octavio's set of three batas allowed him to perform a similar role. All of these fellows have other interesting projects in Cuba in addition to playing with Mezcla - Mr. Hermida, for example, plays with the formidable Jazz ensemble of Cesár López & Habana Ensemble.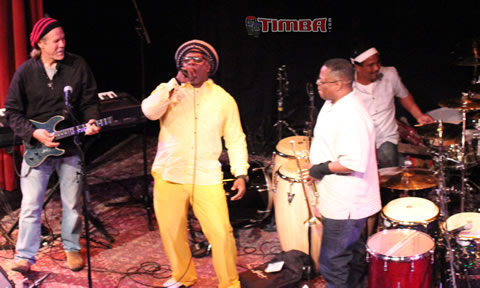 Pablo had forewarned us to expect some surprises at the Chicago concert, and two of them came in the form of guest appearances by Chicago trumpeter/bandleader Orbert Davis and Chicago vocalist/bandleader Angel d'Cuba, who originally sang with Mezcla prior to coming to the United States. Both of them came up on stage to join the band during their performance of Round Midnight. Orbert had participated in a jam session at Pablo's home during his 2012 visit to the island.
As we mentioned earlier, though, Pablo and his guitar did much of the heavy lifting for this performance, and he is able to form a strong bond with an audience the moment he begins to play. Mezcla's tours in the United States have been limited to a few cities in the past (including this time), and it would be nice if the rest of the country had a chance to see them live as well.
You can view more photos of the concert here.
Bill Tilford - Monday, 28 October 2013, 07:20 PM