SpanishEnglishMis 21 Años - (Dreadlocks Music/EGREM) Released 2016
CD Review: Mis 21 Años by Giraldo Piloto & Klimax
(Dreadlocks Music/EGREM 2016)
Review by Bill Tilford, all rights reserved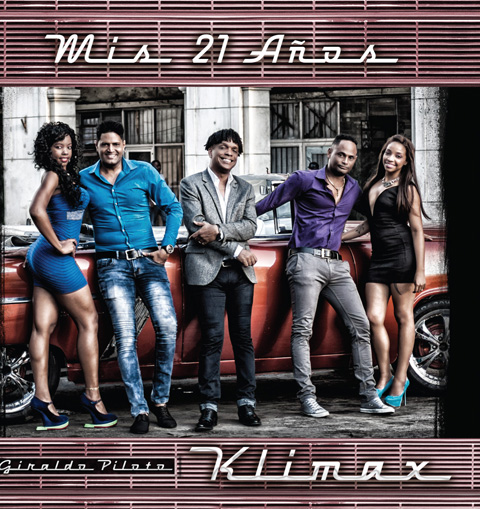 Why 21 years specifically? According to Giraldo Piloto, he and the band were too busy with other projects to get a new album out in time for 20 years. This album was worth the wait, however. Mis 21 Años is an inspiring collection of new arrangements (using different guest vocalists) of hits from different periods in the history of Klimax as well as some new compositions. In addition to the intense Timba for which Klimax is renowned, there are also a couple of beautiful boleros. As you can see from the credits, quite a few elite vocalists took part in this project. All of the compositions are Piloto's except for Añorado Encuentro, which he co-wrote with Leo Vera. The arrangements, on the other hand, are divided as shown in the track list, and the depth of the arrangements is still an extremely important feature of what sets Klimax apart from so many other bands. This is a band for musicians as well as for dancers with bits of Rumba, Funk and Jazz woven into the fabric of the songs without making the songs any less danceable. Most importantly for me, there is genuine VARIETY in the album - in the tempos, the rhythms - that would make the album worthwhile even for people who can't dance.

Mis 21 Años was awarded the Premio Cubadisco this year (2017) in the Popular Dance Music - Masters category, and it had some stiff competition this year. I would not hesitate to use this recording as an exhibit to prove that the genre of Timba still has a lot of life in it when it performed by those who are genuinely committed to it.

Here's a video taste of La Ventana. There is an impressive collection of other videos in the Giraldo Piloto y Klimax Offical Channel in YouTube.
SONGS:

1. Mi Ventana (comp/arr G. Piloto, special guests Alexander Abreu & Osain del Monte)
2. Nuestro amor es un partido de fútbol (comp G. Piloto, arr M. Díaz, special guest Paulo F.G.)
3. Por que no (comp/arr G. Piloto, special guests Jenny Valdés, Brenda Navarrete, Osain del Monte)
4. El 443025 (comp/arr G. Piloto, special guest Mandy Cantero)
5. Añorado encuentro (comp G. Piloto & L. Vera, arr Yusef Díaz, special guest Vicentico Valdés)
6. Un juego de manos (comp/arr G. Piloto, special guest Carlos M. Calunga)
7¿Qué me vas a hacer? (comp/arr G. Piloto, special guest Tania Pantoja)
8. La chica del horoscopo (comp/arr G. Piloto, special guest Robertón)
9. Mami (comp G. Piloto, arr M. Díaz, special guests Dayan Carrera & Osain del Monte)
10. No imaginé (comp G. Piloto, arr Yusef Díaz, special guest Waldo Mendoza)
11. Si tu no estás pa' na' (comp G. Piloto, arr. M. Díaz, special guest Amaray)
12. Grandeza nuestra (comp G. Piloto, arr Demetrio Muñiz, special guests Pancho Céspedes, Leo Vera)
Technical and Musical Credits for Mis 21 Anos
| Role - Instrument | Name |
| --- | --- |
| Director, Drums, Timbales, Maracas | Giraldo Piloto |
| Piano | Javier Moreno (1, 2, 3, 4, 6, 7, 8, 9, 11); Yusef Díaz (5, 10); Jorge Aragón (12) |
| Guitar | Hector Quintana |
| Keyboards | Jorge Aragón (1, 2, 3, 4, 6, 7, 8, 9, 11); Yusef Díaz (5, 10) |
| Percussion | Julio López "El Guille", Congas; Jean Roberto San Cristóbal, Timbales & Bongoes; Yasser, Güiros |
| Trumpets | Carlos E. Veitia & Eduardo Bringuez |
| Saxophones: | Delvis Ponce (Alto); Gustavo Díaz (Tenor) |
| Bass | Yandy Marínez ( 1, 2, 3, 5, 8, 9, 10, 11, 12); Roberto West (4, 6, 7) |
| Coros | Noel Díaz, oscar R. Correa, Miagros Hodelin, Laraine Cañizares; javier Moreno (2, 9, 11) |
| Klimax Vocalists | Noel (1, 9, 10; Oscar (4, 8); Milagros 3, 5, 7); Laraine (2, 6, 11) |
| Guest Vocalists | Alexander Abreu (1); Osain del Monte (1, 3, 9); Paulo F.G. (2); Jenny Valdés, Brenda Navarrete (3); Mandy Cantero (4); Carlos Calunga (6); Tania Pantoja (7); Roberón (8); Davan Carrera (9); Waldo Mendoz 10); Amaray (11); Pancho Céspedes & Leo Vera (12) |
| Musical Production | Giraldo Piloto |
| Recording Engineer | Osvaldo González |
| Mix Engineer | Waldy Dominguez & Giraldo Piloto |
Bill Tilford - Sunday, 11 June 2017, 02:20 AM