New Stuff
[hide]
Photos of the Day
[hide]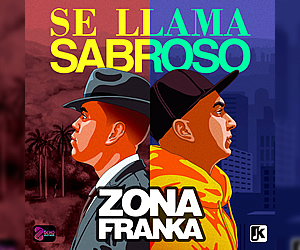 SpanishEnglishPure Mezcla - (Tilford Productions) Released February 2015
CD "Meta-review": Pure Mezcla by Pablo Menéndez & Mezcla (TIlford Productions 2015)
Commentary by Bill Tilford, all rights reserved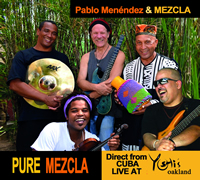 Pure Mezcla is a live recording of the best songs from a much longer live concert at Yoshi's Oakland in 2013. It has been my experience that as long as the sound quality meets expectations (as it does here), live recordings often reflect a level of energy that is difficult to reproduce in studio sessions. This album captures the energy of a Mezcla concert in Pablo Menéndez' hometown. 2015 is also Mezcla's 30th Anniversary, and it has been one of Cuba's most important Fusion bands during that period. It has a history of playing most modern genres including Rock, but in recent years, it has placed more emphasis on Latin Jazz, and this album is primarily a Latin Jazz recording.
I produced this recording, so obviously I believe in it, and therefore I'm really not in a position to write a normal CD review. Fortunately, several music critics have published their own opinions (even more fortunately, they loved it), so I will let them speak to Pure Mezcla's virtues. I will share that as of today, videos associated with the CD have been watched in 84 countries on all continents. It has also received excellent radio play in the Americas, Europe and Australia. Not bad for a Latin Jazz album.

So how good is it? I'm going to let others address that question:
Pure Mezcla: Direct from Cuba— Live at Yoshi's Oakland is a heated exchange between friends who are passionate about their positions. Everyone remains friends, but individual points are made. Rare and beautiful music. --C. Michael Bailey, All About Jazz (read full review here)
To merely suggest that this album: Pablo Menéndez & Mezcla: Pure Mezcla – Direct from Cuba Live at Yoshi's Oakland, is just a fusion of Afro-Cuban and Jazz idioms would be doing it a great injustice. This molten mix of "Mezcla de oro azul y el cegamiento brillante"; colours so powerful that they touch not only the sense of sight, but also stir the depths of the very soul.
-- Raul da Gama, Latin Jazz Network (read full review here)
A Jazz Meeting Point Between Cuban And North American Traditions
The group shows a definitive connection to jazz on several tracks, finding a meeting point between Cuban and North American traditions. --Chip Boaz, Latin Jazz Corner (read the full review here)

This superb album captures live a performance by Mezcla, one of the most exciting and original bands in Cuba. Led by electric guitarist Pablo Menéndez, Mezcla brings together a sizzling hot mix of Latin jazz, rock, santeria chants, timba and other Cuban and Caribbean musical forms.
--A. Romero, World Music Central (you can read the full review here)

...a fierce group of musical entities - mindful of their roos, ever looking forward and always joyful: a real "mezcla" -- Arturo O' Farrill
We could add a few more with a similar level of enthusiasm, but hopefully this gives you the picture. You can purchase Pure Mezcla as a digital download including liner notes and a special liner note supplement here:
I have been asked why this isn't available in Amazon, CD Baby or I-tunes. There are a couple of reasons:
A. I have been self-employed for decades now and believe in small business. Latin Pulse Music is one of the first digital stores to sell this music in digital download form and is a survivor at a time when many other similar businesses have ceased operations. Amazon is like the Walmart of on-line music stores. Low prices, yes, but that has consequences that consumers often don't see (one of which is that it has driven some small competitors out of business). On a philosophical level, I dislike the popular wisdom that states that thre are no options to going to Amazon, I-Tunes or CD Baby in order to sell music on-line.
B. As for I-Tunes, you may have noticed that some artists that were previously there have left the platform. There are a couple of issues. I won't bore you with the financial issues that affect artists and independent producers, but I will mention that real albums are conceived as a package - a listening experience, if you like. When a real album (as opposed to a collection of tunes) is put together, a lot of thought is given to track selection and track ordering. The I-Tunes model basically vaporizes all that work.
If you are one of those people who will only purchase music from the big three, I ask that you reconsider your position on behalf of independent artists and producers everywhere.
Songs:
1. Mambo influenciado (Chucho Valdés)
2. Hijos de la mezcla (Pablo Menéndez)
3. Lo que me amarra aquí (Gerardo Alfonso)
4. I'll See You in C.U.B.A. (Irving Berlin)
5. Suzi's Mood (Edgardo Miranda)
6. Oyá-Echubelekeo (P. Menéndez/Lucia Huergo)
7. Ákete Oba Oba (P. Menéndez)
8. 'Round Midnight (Thelonious Monk, Cottie WIlliams, B. Henighen)
9 Imbe Imbe Mayeyé (José Acosta)
10 El solar de la cueva del humo (Santa Maldonado)
11. El camino se hace con la fe (José Acosta)
12. Lenguasá (Lazaro Rizo)
Personnel in Pure Mezcla
| Role - Instrument | Name |
| --- | --- |
| Leader, Guitar, Vocals | Pablo Menéndez |
| Percussion, Vocals | Roberto "Capitán" Smith, Octavio Rodríguez |
| Violin, Vocals | Julio Valdés |
| Bass, Vocals | José Hermida |
| Producer, Liner Notes | William "Bill" Tilford |
| Recording | recorded live at Yoshi's Oakland by Oscar Autie |
| Mixing | Oscar Autie at El Cerrito Studios |
| Mastering | Michael Lazarus of Latinmusicmastering.com |
| Graphic Design | Nina Menéndez |
Bill Tilford - Sunday, 14 June 2015, 02:39 PM