Con La Música Cubana NO! by Timbalive
CD Review: Con La Música Cubana NO! by Timbalive
(Latin Power Enterprises, US release date 19 October 2013)
Review by Bill Tilford -- All rights reserved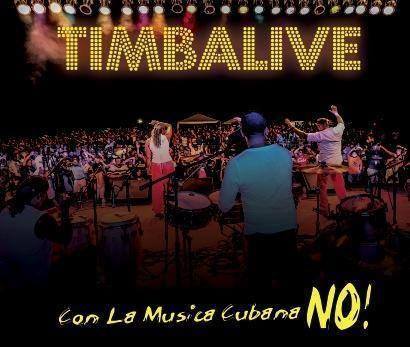 In a period when some Timba bands have been softening their musical edges to be more "accessible" to a larger market (and sometimes even fleeing from the term Timba itself), Timbalive's third album, Con La Música Cubana NO!, firmly stands its ground in their best album to date, and its title comes as a sort of warning to those not knowledgeable about Cuban music that they really shouldn't talk trash about it.
Early in its career, Timbalive was seen as being closely associated with the musical style of Los Van Van, and it still carries some of that in its veins, but this new album has a wider reach. One of the tracks, Conmigo No, which is also out there as a single, channels a vibe that feels a little closer to the work of Interactivo or Goza Pepillo from a few years back. Quimbombo brings the energy level of one of Timba's peak periods in the late 1990s, and Ese Atrevimiento is a very effective homenaje to Irakere's música bailable side as well as a chance to showcase the Rumba chops of the percussionists. Let it not be said that Timbalive lacks guts when it comes to its choices of material to cover, and they do carry this one off successfully.
Most of the tracks on this album are original compositions by band members, and most of these by Bayron Ramos, who deserves special mention for the quality of the arrangements and songwriting in the recording. There are some elements of Timbanton here and there and the stray English phrase now and then, but these are so smoothly embedded in the new material that one hesitates to even mention this – these folks have cracked the code for how to incorporate these ingredients in their repertoire without drawing the wrong kind of attention to the fact that they are there.
In this writer's opinion, this is the best Timba dance album recorded by a group based in the United States since Tiempo Libre's early outings (which deserved warmer acceptance from the hard-core Timba "base" in the US than they received at the time), and it is also good enough to stand with many of Cuba's recent releases. The question is whether the North American Timbero community will respond accordingly -- all too often, some elements of that community have searched for rationales to snub the best work of Timba artists working on US soil, almost as if the home addresses of the musicians were more important than the contents of the music. (None of this is an issue back in Cuba today, where this band received a Cubadisco nomination for its second recording even though it is based in Miami.) The band hints at a possible awareness of this situation in Tu Eres La Candela, which includes a shout out to the European fans who have proven to be a such a solid source of support for the music. One hopes that US fans will also give Con La Música Cubana NO! the attention it deserves.
Tracks:
1. No Cabe Duda
2. Conmigo No
3. Quimbombo
4. Tu Quires Lo Que Quiero Yo
5. Ese Atrevimiento
6. Que Ganaria Yo
7. Lo Que Se Da No Se Quita
8. Tu Eres La Candela
9. Dime Con Que Dicharachos
10. Welcome Felicidad
11. Estoy Como Que Loco
Personnel in Con La Música Cubana NO!
Role - Instrument
Name
Musical Production, Trombones, Arrangements
Bayron Ramos
Musical Co-production, Timbal
and Drums
Leo Garcia
Bongo, Cajon, Minor Percussion
Coky Garcia
Bass
Edward Magdariaga
Piano
Javier Concepción
Vocals
Boris Monterecy, Yezi Gonzalez
Carlos Parra
Guest Artists
Miguel Ruiz Garcia (Congas 2,6; Bongo 2); Cristobal Verdercia (Bass 8, Baby Bass 7, 9); Livian Mesa (Piano 7,10); Manuel Orza (Baby Bass 6); Alfredo Lugo (Coros); Marcos Prado (Coros 6)
Bill Tilford - Tuesday, 15 October 2013, 02:19 PM