New Stuff
[hide]
Photos of the Day
[hide]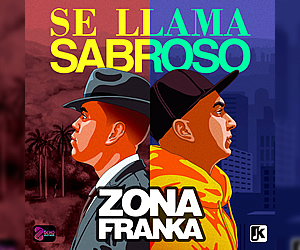 Rolando Morales-Matos and Forward
Vibraphonist/multi-instrumentalist Rolando Morales-Matos is the embodiment of what people would picture of a consummate professional musician. There is little in the music industry he has not experienced at the highest of levels from his work with the who's who of Jazz, Latin and Latin Jazz to his long time career in the pits of the Broadway theatre scene. Without a doubt, Morales-Matos has endured and enjoyed a career enviable by anyone's standard.
His eponymous solo effort, featuring his own ensemble Forward, is a top notch Latin jazz album with intriguing compositions/arrangements and fiery improvisations by Matos and his superb roster of musicians. The primary lineup of Forward consists of Allen Farnham on piano, Andrés Patrick Forero on drums, Ivan Renta on tenor saxophone, Nathan Childers on alto, John Benitez on bass and percussionists Wilson Torres and Yuri Yamashita. Special guests Henry Cole, Ron Carter and Rogério Boccato round out the rest of the recording.
"Come Back", one of Rolando Morales-Matos's originals opens the album with it's dark harmony, sinuous melodies and pulsating vamps. Henry Cole makes one of his four appearances on drums, proving the perfect match for Benitez's vigorous acoustic bass sound. "Amazing Dream" features some great electric bass work by Benitez, laced with slides and funky articulations that dance around and add color to the written line. The song also puts the spotlight on the two saxophonists who both make finite yet quite different solo statements on their respective instruments.
The brooding re-rendering of "My Favorite Things" is an intense montage through the many possibilities that can be achieved through reconstructing a familiar melody. The song once again features the ferocious teamwork of Cole and Benitez and changes gears in a frenetic and aggressive manner that is practically startling upon the first listen. The song starts as a hypnotic Elvin Jones style waltz and jumps back and forth from songo and fast 4/4 swing in a dangerously unpredictable fashion. Check out Matos's ripping solo at 5:23 as it soars over the jagged fray of the churning rhythm section.
"Exodus/Tamanco No Samba" is another cool musical journey in its own right. The first half is a bass opus that features Benitez and the myriad of sounds he is able to coax from his instrument. "RMM Mambo", despite its title, is actually a straight-ahead jazz tune featuring the excellent work of jazz bass legend Ron Carter. "Rita's Medley" is another fine representation of the Brazilian side of Forward, featuring master drummer/percussionist Rogério Boccato and the haunting vocals of Yuri Yamashita. The medley begins with an evocative rendition of Baden Powell's "Berimbau", kicks into an up-tempo version of "Chego de Saudade" and brings it back down for another Jobim classic "Aguas de Marco". "El Cumbanchero" is a super modern version of the Rafael Hernández classic and may be one of the most interesting renditions of this standard tune out there.
Forward is a complete album that represents Latin Jazz in all three dimensions. It is simultaneously eclectic, sophisticated and accessible with a heavy groove that never lets up. Morales-Matos is a true virtuoso whose prowess and proficiency is matched only by the company he chooses to keep. The music has a narrative element to it with each track telling a story of its own. In addition, there is also a certain folkloric vibe that each composition seems to have regardless of style. This intangible atmosphere created by the musicians at hand helps to give the recording an increased sense of depth. On this recording, the music is an organism unto itself: zealous, assertive, always in motion and very much alive.
Songs: Come Back, Amazing Dreams [Apambichao], My Favorite Things, Exodus/Tamanco No Samba, RMM Mambo, Cha Cha'la Blues, Rita's Medley, El Cumbanchero, I'll Remember April
Ian Stewart - Monday, 16 June 2014, 08:48 PM