Lo Nuevo
[hide]
Fotos Del Día
[hide]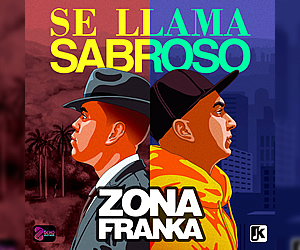 Sabor Colón
Brothers Marcos, Freddy and Herman Colón, better known as Los Hermanos Colón, have been mainstays on the New York Salsa salsa scene for two decades. While they already posses several recordings under their belt, in 2014 the veteran salseros joined forces with famed producer Ernie Acevedo, who also plays congas on most of the tracks, to create a swinging specimen of Classic Salsa simply entitled "Sabor Colón".
The 2014 release employs all the tried and true formulas that have made New York salsa great since the beginning, proving once again that one can't go wrong with concise arrangements and A-list musicians. Each part fits together like a well-designed piece of architecture with every detail accounted for and nothing left out of place. It is this seasoned experience of the leaders and sidemen alike, combined with state of the art recording and production techniques that makes for a heavily refined recording presented in high definition.
The emotional impact of the vocal harmonies is sublime. There is something intangible about the sound they obtain as a group that is intense yet at the same time almost whimsical in nature. "Yo Te Seguire" is a swinging cha-cha-cha complete with hypnotic and haunting coros and features an unexpected yet finely executed guitar solo by David "Angel" Ayala. "Corazon" is one of the more jazzy arrangements with its brooding introduction and robust harmonic shades. "La-Va-Eh", the album's token bomba, stands out from the rest of the flock with interesting arranging techniques and colorful orchestration textures.
"In The Rain", originally made famous by the soul group The Dramatics, is the only English song on the CD. Salsa sung in English is often a risky endeavor for most artists, and the history of the genre is virtually littered with mediocre attempts, often resulting in a track that if fact subtracts from the quality of the album as a whole. However, the song lends itself well to the conversion and the combination of the fine penmanship of arranger Rene Leyva with this great vocal lineup makes for one of the more intriguing listening experiences on the CD.
Indeed all of the tracks have something to offer for the listener, and the record stands with the likes of any as a solid salsa statement. The exquisite arranging and impeccable playing are enough to keep the attention of music buffs while the unyielding groove will win over even the staunchest of dance enthusiasts. Whether you've followed Los Hermanos Colón for years or are new to their work, "Sabor Colón" is a highly recommended listen.
Songs: Sabor Colón, La oportunidad, Yo te seguiré, Corazón, La-Va-Eh, Como verán, In The Rain, Fuego que quema, La cinta verde, El Nazareno.
Ian Stewart - lunes, 16 junio 2014, 08:41 pm