New Stuff
[hide]
Photos of the Day
[hide]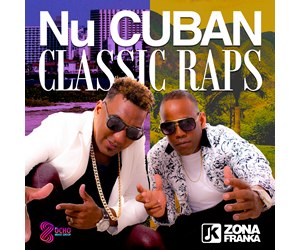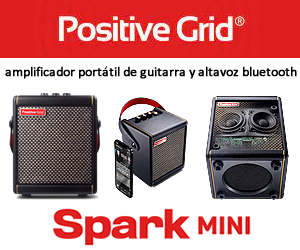 Concert Review: Scenes From Life: Cuba! by the Chicago Jazz Philharmonic
Auditorium Theatre, Chicago, 13 November 2015
Review by Bill Tilford, all rights reserved
Photos: Darron Jones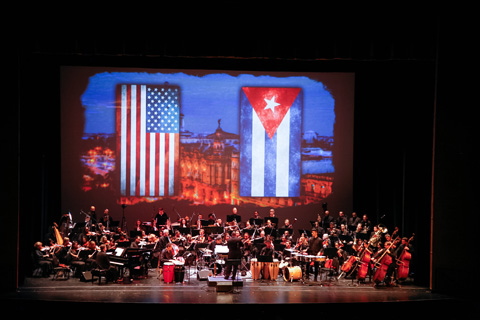 Many of the best of Cuba's younger generation of world class musicians are graduates of ISA, the Universidad de las Artes, and although it is possible to hear individual graduates in several Cuban bands and orchestras today, opportunities to hear current student musicians from ISA outside of Cuba have been rare. This project by Orbert Davis and the Chicago Jazz Philharmonic had its roots in an October visit to Cuba by the CJP's executive team to research a different upcoming performance with the River North Dance Company, Havana Blue. Phase two was a 2014 performance at Jazz Plaza in Havana with 5 members of the Chicago Jazz Philharmonic and 60 student musicians from ISA. That culminated in an agreement for this concert in Chicago, which included a cohort of 35 student musicians from ISA.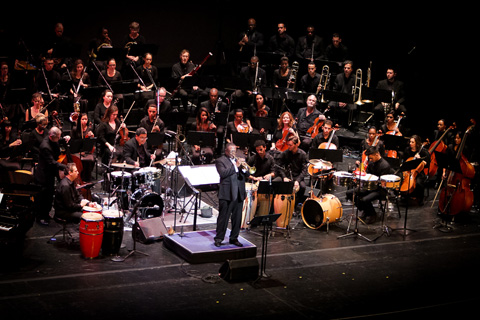 As was the case with the performance of the Minnesota Orchestra in Havana in May, this concert began with The Star Spangled Banner and La Bayamesa. This was followed by Diaspora, an Orbert Davis composition that was orchestrated in a way that reminds me just a little of the sound of Stan Kenton's Innovations Orchestra (but with more emphasis on woodwinds rather than trumpets). This included some excellent saxophone solos, one of which was by Steve Eisen, a fixture in Chicago's Latin Jazz scene.

Chicago at 173 (Part I) included an interesting movement in 7/4. A highlight of Havana Blue (the 2013 piece that was a byproduct of that first FJP trip to Cuba) was a nice controversia between the CJP's Joe Rendon and ISA's student percussionists, who demonstrated that they could hold their own in this setting. The Malecon section of the piece was a pensive, string-based movement,and the Havana at 12 movement included a climactic trombone duel.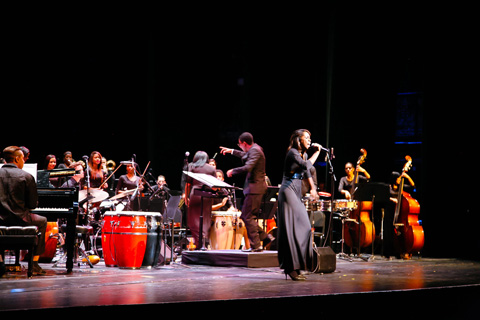 In the second part of the program, the students performed a few pieces as the ISA Orchestra including Cumbanchero, Guaguancó, Quiereme Mucho and Guantanamera. Their conductor, Ernesto Lima Parets, took the podium for this section of the performance. Seraphim and Scenes from Life, a new suite, brought the CJP and the ISA Orchestra back together for a fiery finish.
This was an excellent concert musically, and it is also good to see that Cuba's young musical talent is beginning to get more exposure in larger prestigious concert halls that goes beyond Buena Vista Social Club on one hand or Gente d'Zona on the other (which, although stellar ensembles, only illustrate part of Cuba's musical spectrum). It will also be interesting to see whether the aftermath of this exchange has any influence on expanded future Jazz offerings at ISA, which has historically focused intensely upon rigorous classical training. This training serves its students well, but some students that want to formally study Jazz currently go to schools like Berklee for a time.
During the visit to Chicago, the students engaged in a variety of additional activities and received some assistance in obtaining personal instruments (many of the instruments that they use in Cuba are the property of ISA, just as some music students in the secondary school system in the US use instruments supplied by the schools unless they are able to purchase their own). In addition to the CJP team, some other Chicago musicians, including Hector Silveira, himself an ISA alumnus, contributed instruments to the students.
It is to be hoped that this event evolves into an expanded, ongoing exchange between the musical communities of Chicago and Havana, and I would encourage any of the participants from Cuba or Chicago to write me at bill.tilford@timba.com if there is anything more that they would like to share about the experience that might help promote that exchange.
You can download a roster of the musicians that performed in the concert here.
Bill Tilford - Saturday, 21 November 2015, 07:28 PM