SpanishEnglishSobreviviente (EGREM) Released 3 March 2017
CD Review: Sobreviviente 2017
by Buena Fe
(EGREM in Cuba)
(Metemorfosis outside of Cuba)
Review by Michelle White , all rights reserved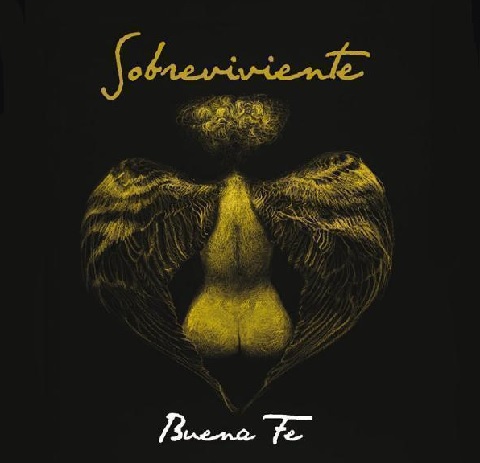 "Sobreviviente" is Buena Fe's ninth studio CD and was four years in the making, not counting the recompilation album "Soy". It is the band's most highly awarded album to date, having won Best Recording, Best Fusion Album, and also the Grand Prize at Cubadisco 2017. To be honest I was surprised that they didn't win for CD design as well, because the artwork is by Roberto Fabelo and reason enough to buy the hardcopy.
"Sobreviviente" is quintessential Buena Fe – brains and beauty. The album contains 13 tracks with thought-provoking sometimes serious, sometimes humorous texts. Director and lead singer Israel Rojas is responsible for all compositions on the album with the exception of the final track "Hipibano" – a whimsical song that he co-wrote with veteran singer-songwriter Frank Delgado and the young talent Vicente Alejandro Trigo, director of D'Corazón. If you're disappointed in the banality of lyrics in popular music today, you will rejoice in Rojas' work. "Sobreviviente" is a cross-section of the human condition with songs addressing life, love, marriage, death, betrayal, domestic abuse, happiness and hippie-ness. Rojas is a consummate craftsman and language is his medium.
Buena Fe's arrangements have always been an eclectic mix and they have alternately been classified as pop, pop-rock, trova-pop-rock, trova-fusion and now finally just fusion by Cubadisco. Even non-Spanish speakers can appreciate the songs simply for the music. The new album includes trova, ballads and boleros, and as always a Caribbean touch this time including Brazilian inspired pop, and a hint of reggae. On "Sobreviviente" the pop-rock stands out clearly, with some great electric guitar playing by Dairon Rodriguez, who tragically passed away the morning of the Cubadisco awards. The album lives on as a testimony to his work, including his collaboration on the arrangement of the title track.
The CD opens with "Sin Arrepentimientos" (Without Regrets). The arrangement by pianist Ernesto Cisneros begins with acoustic guitar and soft keyboards, the voices of Rojas and Martínez rising above in beautiful harmony until – wait for it – there is a pause and suddenly the first chorus hits hard with electric guitar. As the song ends with the reverb of Rojas distinctive voice, it seamlessly slips into "Sobreviviente" (Survivor) with barely one second between the two songs, cleverly mimicking the pause prior to the chorus. The first time I listened to the album I was fooled into thinking it was one song. This must have been deliberate as "Sobreviviente" is a response to living without regrets but recognizing and asking forgiveness for mistakes made "pero debo seguir sin arrepentimientos".
"La Tempestad" (The Tempest) and the first of three collaborations on the album, featuring one of the great exponents of the nueva trova genre, Silvio Rodríguez. It was the first video released from the new CD and is about a young man facing the difficulties of life and asking advice from an older man. It has an absolutely beautiful trova-esque arrangement by Cisneros and Rojas.
Many of Buena Fe's greatest successes have been with their ballads. "Sobreviviente" contains three: "Si Nos Dan Un Filo" (If They Give Us a Blade), "De Ti Depende" (I Depend on You) – with Yoel Martínez on lead vocals – and "Bodas" (Weddings). "Bodas" is set to become a new standard at Cuban weddings from 2017 and on.
Yoel Martínez also assumes lead vocals on "Besos" (Kisses), which he co-arranged with Ernesto Cisneros. It is a fun, upbeat commentary on the subject of kisses. "Dijo el Diablo" (The Devil Said) and "Alabanza" (Praise) are the other two faster more dance-oriented songs. "Alabanza" gives praise to the things that bring happiness and is especially poignant to the Cuba people who are experts in fining happiness in the face of adversity. The video was dedicated to Dairon Rodriguez who was always a source of humor and fun in the band.
Rojas wording makes any subject beautiful, but "Una Mujer" (A Woman), which he originally wrote for Luna Manzanares in 2013, deserves a special mention for being the most brilliant tribute to women that I have ever had the pleasure to listen to. At a time when misogyny is so often present in popular music, it is uplifting to hear from someone who holds women in such great esteem. On "Sobreviviente" the song has been given a new arrangement by Vicente Alejandro Trigo, and Rojas performs it as a duet with Manzanares.
Rojas takes on darker subjects in "Lágrimas Tras Cebollas" (Tears Behind Onions) and "Bolero Sangriento" (Bloody Bolero). The former is about domestic abuse and the hesitancy of outsiders to intrude on a couples' relationship while the abused explain away their bruises and go back to making dinner, hiding their tears (in this case) behind onions. The latter is a story of someone who discovers his spouse was cheating on him when he has to go to the hospital to identify her body after she died in a car accident while with her lover. It is a heavy subject strikingly presented and the bolero arrangement is the perfect vehicle – pun may have been intended. It is one of the songs I have had on loop since buying the album.
"Sobreviviente" is available at all the usual digital outlets and as hardcopy from Amazon and Target. Highly recommended!
tr
title
composer
arranger
lead vocals
1
Sin Arrepentimiento

Israel Rojas
Ernesto Cisneros
Israel Rojas
2
Sobreviviente
Israel Rojas
Ernesto Cisneros
Dairon Rodríguez Lobaina
Israel Rojas
Israel Rojas
3
Dijo el Diablo

Israel Rojas
Ernesto Cisneros
Israel Rojas
4
La Tempestad

Israel Rojas
Ernesto Cisneros
Israel Rojas

Israel Rojas
5
Si Nos Dan un Filo

Israel Rojas
Yoel Martínez
Israel Rojas
6
Bolero Sangriento

Israel Rojas
Ernesto Cisnero
Israel Rojas
7
Besos
Israel Rojas
Yoel Martínez
Ernesto Cisneros
Yoel Martínez

8
Alabanza

Israel Rojas
Ernesto Cisneros
Israel Rojas
Israel Rojas
9
De Ti Depende

Israel Rojas
Ernesto Cisneros
Yoel Martínez
10
Lágrimas Tras Cebollas
Israel Rojas
Ernesto Cisneros
Israel Rojas
11
Una Mujer
Israel Rojas
Vicente Alejandro Trigo
Israel Rojas
12
Bodas
Israel Rojas
Ernesto Cisneros
Israel Rojas
13
Hipibano
Israel Rojas
Frank Delgado
Vicente Alejandro Trigo
Vicente Alejandro Trigo
Israel Rojas
Role - Instrument
Name
Lead Vocals
second vocals on Besos & De Ti Depende
Israel Rojas

Second Vocals
lead vocals on Besos & De Ti Depende
Yoel Martínez

Piano & Keyboard, chorus
Ernesto Cisneros

Electric guitar, chorus
Dairon Rodríguez

Drums

Maikel Pérez

Bass

Israel López

Congas & Minor Percussion
David "Suiny" Hernández
Trumpet
Lorenzo Molina
Trombones
Eduardo Sandoval
Saxophone
Michel Herrera
Guests
Silvio Rodríguez - La Tempestad
Luna Manzanares - Una Mujer
Frank Delgado - Hipibano
Vicente Alejandro Trigo Junco - Hipibano

Recorded at
Vieja Linda Records
Musical production
Ernesto Cisneros
Israel Rojas
Adolfo "Fito" Martinez
Recording, Mixed & Master
Adolfo "Fito" Martinez
Recording assistants
Cilio Arozarena
Adrián Rojas
Andy Rojas
Art
Roberto Fabelo

Design
Gabriel Dávalos

Correction
María V. Dávalos

Michelle White - Sunday, 02 July 2017, 03:50 AM