Lo Nuevo
[hide]
Fotos Del Día
[hide]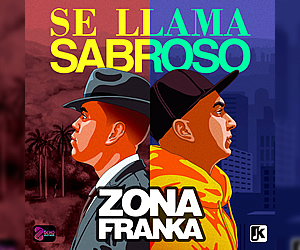 The Offense of the Drum (Motema) - Released May 2014
CD Review: The Offense of the Drum by Arturo O'Farrill & The Afro Latin Jazz Orchestra
(Motema May 2014)
Review by Bill Tilford, all rights reserved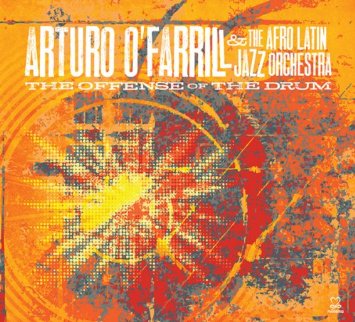 In 1977, the interplanetary space probes Voyager 1 and Voyager 2 left Earth with 12-inch gold plated copper discs containing collections of images and sounds which were intended to illustrate the incredible diversity of life (including human culture) on our planet. This came two years after the release of the album Afro Cuban Jazz Moods by Dizzy Gillespie y Machito, which contained the suite Oro, Incienso y Mirra by Chico O'Farrill. That suite, by Arturo O'Farrill's father (Chico), was then and is now one of the most wonderful Afro Cuban Jazz suites ever written and recorded, and it included elements not found in most big band recordings of its type at that time - touches of synthesizer here and there, tuba along with electric bass - this was a remarkable moment to be alive. Our best musical minds have continued in that spirit and produced far more intricate music, but seldom with this much emotional impact using a big band.

Fast forward to 2014. Chico's son, Arturo, who spent his early years working in other parts of the Jazz spectrum before entering the Latin Jazz arena in earnest in the 1990s, has recorded a few remarkable projects which have been described quite faiirly as Afro Latin Jazz rather than Afro Cuban Jazz due to the richness and diversity of its raw materials. If we were going to choose one album to load on a new space probe in order to convey the richness and diversity of Latin Jazz in its various forms to extraterrestrials, The Offense of the Drum deserves the honor for the scope of its contents, which far exceeds any other project of its type that I have heard to date.

Listening to The Offense of the Drum is a little like playing that gold-plated disc describing life on Earth - it is a truly collaborative project using compositions from sources as diverse as Arturo himself, band members and Erik Satie, and at different moments, you will hear most of the Western hemisphere and parts of Africa emerge from the music. You'll voyage through the beautiful saxophone voicings of his father's style and then encounter street poetry and turntables interacting with brass, but all arranged in a manner that makes for an organic whole. There is New Orleans talking to Havana, Colombian harp, flashes of Brasil, brief encounters with spiritual familiars of Miles Davis and Sun Ra - in the wrong hands, Offense could easily have become exactly that, but the arrangers knew what they were doing, and the final result is something wonderful. Arturo's true achievement here is that he so effectively incorporates the talents of so many contributors without sounding artificial about it.
I mentioned Oro Incienso y Mira early on because The Offense of the Drum has something in common with it - they draw their power from slightly different places, but each is a very spiritual experience in its own way. I still play Oro now and then when I'm in a mood to escape our daily realities for a while - it sends me to a different place while I listen to it. Offense is more down to earth in many ways, but it is also the perfect recording for contemplating the vastness of the Afro-Latin portion of the human family and remembering that centuries of suffering have also inspired things of great beauty, especially Jazz.
Incidentally, this happens to be the year that Voyager 1 was confirmed to have left our galaxy and entered interstellar space.
At time of publication of this review, The Offense of the Drum was nominated for a Latin GRAMMY® (Jazz) and is a nominee for a GRAMMY® (Latin Jazz).
Songs:
Cuarto de Colores (composer:E. Castañeda)
They Came (composers: C. Cajigas, J. Lindner)
On the Corner of Malecon and Bourbon (composer:A. O'Farrill)
Mercado en Domingo (composer: P. Mayor)
Gnossienne 3 (Tientos) (composer: E. Satie)
The Mad Hatter (composer: V. Iyer)
The Offense of the Drum (composer: A. O'Farrill)
Alma Vacía (composer: M. Blanco)
Iko Iko (composer: J. Crawford)
Personnel in The Offense of the Drum
| Role - Instrument | Name |
| --- | --- |
| Piano, Music Director | Arturo O'Farrill |
| Tenor Sax | Ivan Renta (lead), Peter Brainin |
| Alto Sax | Bobby Porcelli (lead), David Dejesus |
| Baritone Sax | Jason Marshall |
| Trumpet | Seneca Black (lead), Jim Seeley, John Bailey, Jonathan Powell |
| Trombone | Tokunori Kajiwara (lead), Rafi Milkiel, Frank Cohen, Earl McIntyre (bass trombone, tuba) |
| Bass | Gregg August |
| Percussion | Vince Cheriko (drums), Roland Guerrero (congas), Joe Gonzalez (bongas) |
| Guest Artists | Pablo O. Bilbraut (Percussion, 8);Miguel Blanco (Conductor, 5, 8); Christopher "Chilo"Cajigas (Spoken Word, 2), Edmar Castaneda (Harp, 1); Ayanda Clarke (Djembe, 7); DJ Logic (Turntable, 2); Johathan Gomez (Percussion, 4); Nestor Gomez (Percussion, 4); Donald Harrison (Vocals, Alto Sax 9); Vijay Iyer (Piano, 6); Hiro Kurashima (Taiko Drum, 7); Chad Lefkowitz Brown (Tenor Sax 7), Jason Lindner (Congas, 2):, Antonio Lizana (Vocals, Alto Sax 5); Pablo Mayor (Conductor, Maracas 4); Uri Sharlin (Accordion, 5); Samuel Torres (Conductor, Cajón 1) |
| Producers | Arturo O'Farrill, Todd Barkan, Eric Oberstein, Kabir Sengal |
| Executive Producer | Kabir Sengal |
Bill Tilford - viernes, 19 diciembre 2014, 07:34 pm