Tiene Que Ser Manolin - (Xplosion Entertainment) Released 2012
CD/DVD Review: Tiene Que Ser Manolin by Manolin El Medico de la Salsa
(Xplosion Entertainment Inc. 2012) - Review by Bill Tilford, all rights reserved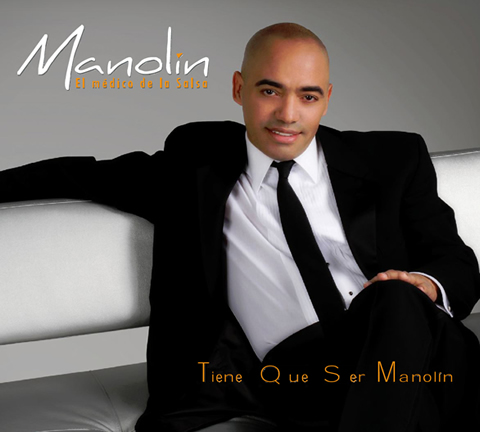 This writer first heard Manolin's music on shortwave from Cuba back in the mid-1990s, and this latest project by El Medico is in some ways a sobering reminder of how time passes. For those who may be new to his history, Manolin (born Manuel González Hernández) really did graduate as a medical doctor in Cuba but left medicine to pursue music, and he was already becoming internationally known from there by the mid-1990s. In the late 1990s, he came to Miami, where he had what could most charitably be described as a rough start to his North American musical career, and after vacillating at times between appeals to the Latin Pop market and the Timba/Salsa world, he appears to have finally landed in a place designed to incorporate all of those elements into his work and get them to peacefully coexist.
The hard realities of trying to "make it" as Timba artists in the United States have been one of the strongest forces driving the fusion of Timba with other things here - for example, Tiempo Libre incorporates Jazz and Classical influences, Timbalive incorporates Reggaeton, other groups like Rumbankete have played a balanced mix of Timba and Salsa. Manolin aims younger here, mixing in Hip Hop, Latin Pop, House, Funk and Salsa along with the Timba.
For hard-core Timba enthusiasts, the opening track for both the CD (16 tracks) and the DVD (3 tracks), Mi desastre, threatens to be exactly that with a kind of Salsa Romantica vibe. The second track on the DVD (tracks 3 and 16 on the CD), No quiero saber de amores, is a Latin House electronica thing on the DVD version, which has Manolin surrounded by dancing eye candy and is more of an MTV Latino thing than something we would normally cover in these pages. On the DVD, the third and final track is a ballad version of Mi desastre. If you're a die-hard Timbero, that's two disasters in one DVD.
BUT WAIT:
Give the DVD to your nephew if you want (the ladies aren't too undressed), and start with the CD, which casts a pretty wide net including some things that Timberos will like. Yes, you will be greeted with Mi desastre again, but maybe the Salsa Romantica fans will download enough copies of that (it's nicely done for what it is) to pay for the other tracks, which do eventually incorporate some nice Songo and Timba. For example, track four, Me encanta esa niña, starts as a kind of latin pop thing that segues into a pretty nice Timba section about halfway through. Two others, Tengo un amigo and Yo soy tu Dj, are a fusion of Timba, Salsa, Pop and Hip Hop. It's almost painful to admit this because it might help inspire imitators who really shouldn't try it, but these tracks actually work if we put our musical prejudices aside, and they might be a good way to introduce those MC Pee Pants fans in your family to Timba using some Hip Hop as bait. Se la voy a regalar and Yo me entere en Facebook flirt with Latin Funk before converting into Timba. Me gustas un montón, our favorite track, can be described as Songo/Timba without using a lot of footnotes. Ditto Cubaneando,and Mi Guaguancó is pretty straightforward without any gadget plays. If Mi desastre is the mp3 download single for the Salsa Romantica crowd, Me gustas un montón, Cubaneando and Mi Guaguancó are the downloads for Timberos. The Salsa Romantica fans get a second helping withDe tarea pa' la casa, but wait, this segues into Timba Funk too with some wailing electric guitar on the side. Shhh, don't tell the Salseros until after the track ends.
The title track, Tiene que ser Manolin (Track 13 on the CD, apparently nobody was feeling superstitious), is also a nice Timba track that more or less spells out his M.O. with a shout out to Reggaetoneros and other fellow travelers.
So what do we make of all this? It's helpful to remember that when Timba first appeared on the scene (and that was far enough back that those of us who do remember aren't getting any younger), the older generation was critical of it. There are some things in Tiene que ser Manolin that we old-timers won't like very much, but we should probably hold our tongues here and remember what things were really like when we were younger. There are a few tracks that we will enjoy, and even better, there are tracks that would be a great way to introduce the new generation to Timba music via the styles that they are already bombarded with in their daily lives. Taken as a package, this project was a bold move, and Manolin deserves some credit for trying it. We have written in many other places that our genre will only survive and thrive if we can bring new listeners to it, and if Tiene que ser Manolin helps create a few new Timberos at the end of the day, then it's worth a Desastre or three to get there.
The studio recording was one of those "cast of thousands" projects, and the liner notes don't always clearly indicate who was in which tracks, so we'll let you sort that out on your own rather than attempt to explain it here.
Kevin Moore - Thursday, 05 September 2013, 06:26 PM